Bill O'Reilly busted again: Former colleagues dispute his LA riots story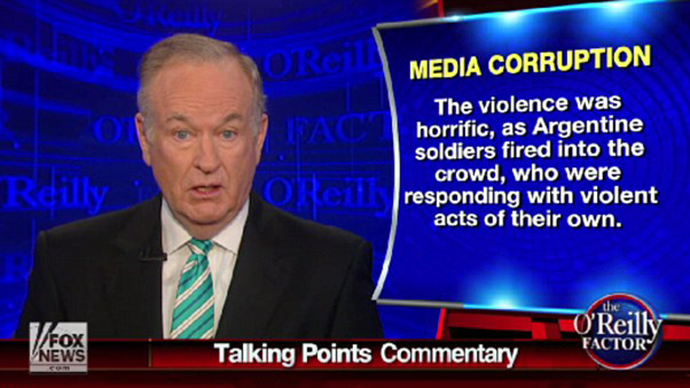 Fox News anchor Bill O'Reilly is under fire again as another one of his stories is placed under the microscope. This time, his former CBS News colleagues are disputing his reporting during the Los Angeles riots.
O'Reilly originally claimed that he and his colleagues "were attacked by protesters" when covering the 1992 riots. "They were throwing bricks and stones at us," O'Reilly told an online interviewer in 2006. "Concrete was raining down on us. The cops saved our butts that time."
Earlier this week, he told broadcaster Hugh Hewitt: "We were attacked, we were attacked by protesters, where bricks were thrown at us."
READ MORE:Bill O'Reilly busted: 'Phony' Fox News star 'lied' about JFK murder witness
However, six people who covered the riots with O'Reilly for CBS' Inside Edition at the time told the Guardian they did not recall an incident in which, as O'Reilly has claimed, "concrete was raining down on us" and "we were attacked by protesters."
His CBS colleagues were reporters Bonnie Strauss, Tony Cox, Rick Kirkham, and crew members Theresa McKeown, Bob McCall, and Neil Antin.
"It didn't happen. If it did, how come none of the rest of us remember it?" Kirkham said.
UPDATED: O'Reilly Dallas fabrication from 1977? check. El Salvador 1980? check. Buenos Aires 1982? check. LA 1992? check. #timeline

— Eric Boehlert (@EricBoehlert) February 27, 2015
Several members of the team recalled that one afternoon in the days following the peak of the riots, an angry resident attacked a camera while O'Reilly was being filmed near the intersection of Fairfax Avenue and Pico Boulevard.
"It was one person with one rock," said McCall, the sound man, to the Guardian. "Nobody was hit."
"A man came out of his home," said Antin, who was operating the camera that was struck. "He picked up a chunk of concrete, and threw it at the camera." When told of O'Reilly's description of a bombardment, Antin said, "I don't think that's really...No, I mean no, not where we were."
The Fox News host is currently under intense scrutiny for his reporting after a story surfaced in the liberal news magazine Mother Jones questioning O'Reilly's claim of being involved in a "combat situation" during the 1982 Falklands war. O'Reilly was not actually in the Falklands, but instead was reporting from Buenos Aires when protests broke out. The Fox News personality says he never claimed to be in the Falklands, but that he "covered the Falklands war."
Bill O'Reilly: Actual dead nuns, pictures of dead nuns ... what's the difference? http://t.co/RZPJMvJDck

— Daily Kos (@dailykos) February 26, 2015
O'Reilly is also being questioned about his claim that he was present at the suicide of a witness involved in the investigation into President John. F. Kennedy's assassination. The allegations against him come in the wake of lying charges made against NBC anchor Brian Williams.
READ MORE:'Combat zone tales': Fox News' O'Reilly in 10-minute rant, another journo speaks out
A spokeswoman for Fox News declined to respond to the Guardian over questions about O'Reilly's recollections of the LA riots. She said in a statement that claims casting doubt on his statements are "nothing more than an orchestrated campaign by far left advocates."
"Bill O'Reilly has already addressed several claims leveled against him," the spokeswoman said. "Responding to the unproven accusation du jour has become an exercise in futility. Fox News maintains its staunch support of O'Reilly, who is no stranger to calculated onslaughts."
Bill O'Reilly was chasing the llamas. @JamieSportsTalk@billmon1

— john sundman (@jsundmanus) February 27, 2015
O'Reilly worked for CBS' Inside Edition from 1989–1995. The LA riots erupted in 1992 after four Los Angeles police officers were acquitted of the brutal beating of African American Rodney King – a beating that was captured on videotape and shocked the nation. The reaction to the verdict resulted in a six-day riot that spread across LA, with looting and arson despite a curfew. Over 2,000 people were injured and 60 died as a result of the riots. There was $1 billion in property damage and 1,200 businesses were destroyed.
You can share this story on social media: