Florida town bans police use of mugshots for target practice, chief still on the job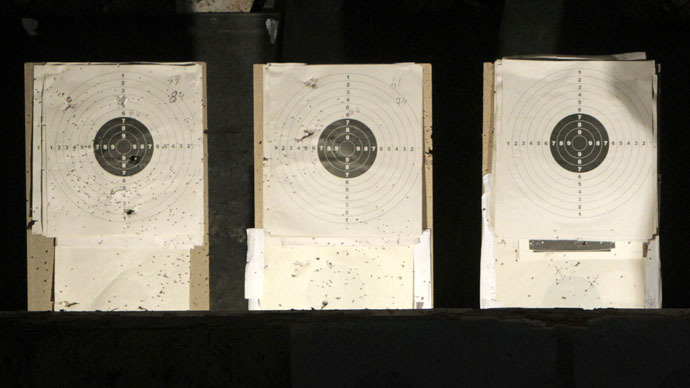 Officials in a Florida city have apologized for police using mugshots of black men for target practice. The city council has banned the use of such photographs at the range, but residents say that's not enough and the police chief should be fired.
When National Guard Sgt. Valerie Deant paid a visit to a shooting range last month in Medley, Florida, she was astounded at what she found: North Miami Beach Police had been participating in a shooting drill using the actual photographs of six black males as targets.
Deant was even more shocked when she discovered that one of the images was that of her brother, Woody Deant.
SF police shoot photos of African American men at firing range. Chief defends it. @NBC6 investigation #humantargetspic.twitter.com/xxjNLqtNo6

— Willard Shepard (@WillardNBC6) January 15, 2015
"I was like, 'Why is my brother being used for target practice?'" Deant told local channel, WTVJ, which first reported the story.
North Miami Beach police officers had been using a photo lineup of a half-dozen men arrested over the years for target practice, local ABC-affiliate WPLG reported. Many of the men still live in the area.
"I've had to live and relive seeing a bullet through my forehead and a bullet through my eye at the hands of the North Miami Beach Police Department," Woody Deant said at a news conference Monday morning outside City Hall.
"I am not a mug shot," he added. "I am not the tragic mistakes I made 14 years ago that costs the lives of my friends and my clean record and my freedom. I do not deserve to be a target for sport as a training exercise."
READ MORE:Cop fired for using Trayvon Martin images in target practice
Outrage quickly spread. Protesters gathered outside the police department Tuesday for a rally organized by Miami-based Power U Center for Social Change. The group spoke about racial profiling, inequality and justice, the Miami Herald reported.
The changing at the "We Are Not Your Targets" has started. #NorthMiamipic.twitter.com/uRypovgYMJ

— Didier Ortiz (@DiddyORTIZ) January 20, 2015
Others demonstrated outside a city council meeting Tuesday evening, using the slogan, "We are not your targets," WPLG reported. Some protesters carried poster-sized photos of Police Chief J. Scott Dennis pockmarked with bullet holes, according to the Herald.
Inside the meeting, residents demanded the chief's resignation and called for the city to apologize for the practice. Among those who spoke was Lisa Kelly, whose son Tyquan Kelly's picture was used for target practice. The photo was from nine years ago, she said.
"I want the police who did this to apologize," she said.
SF police chief says pics of humans vital for training but 2nd family angry now . #humantargets@NBC6pic.twitter.com/D1LSuSiHFO

— Willard Shepard (@WillardNBC6) January 17, 2015
On Monday, North Miami Beach Police Chief J. Scott Dennis announced an end to the policy of using real mugshots.
"This sort of mug shot drill has been suspended indefinitely and ceases to exist as part of our training," Dennis said. "A policy change has been initiated and the new procedure will be that no one will be shooting photographic images in the future."
For the city council, however, the police chief's statement was not enough.
"We need to make a statement at this level, as the elected representatives of this city, that that practice is unacceptable," Mayor George Vallejo said at the meeting. He then introduced an ordinance that would prohibit police from using real ‒ not stock ‒ photos for target practice, WPLG reported.
The ban passed.
READ MORE:Cops conducting target practice on images of children and pregnant women
City Manager Ana Garcia asked for forgiveness, saying, "This is an apology from the bottom of our hearts."
Although Dennis said Monday he was "mindful that perceptions are often as important as reality," the chief had previously defended the actions of his officers, some of whom he noted are minorities themselves.
"Our policies were not violated," the police chief was quoted by NPR as saying. "There is no discipline forthcoming for the individuals who were involved with this."
City Council bans @myNMBPolice using real mugshots for target practice, chief apologizes http://t.co/UmPCEHKb41pic.twitter.com/2dJjlpEPfi

— Billy Corben (@BillyCorben) January 21, 2015
Residents called for his resignation at the meeting.
"Just a question: How does this feel?" asked one man, holding up a poster of Dennis' face riddled with holes.
"I know how I would feel if this was my son or a family member," Dennis told WPLG after the meeting. "I understand very much, and I'm very concerned about it."
Dennis told WTVJ on Thursday that such images were crucial for "facial recognition drills," and the target-practice inventory also includes white and Hispanic faces.
Several federal and state law enforcement agencies rejected Dennis' claim that use of real people for target practice is routine procedure, the NBC affiliate reported. Most police departments purchase commercial targets for their use.
You can share this story on social media: