'Muslim free' shooting range under fire for discrimination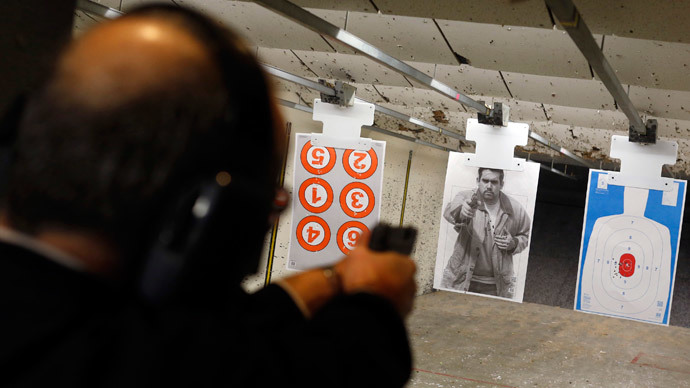 ​The owner of a "Muslim free" shooting range in Arkansas is under fire after recently refusing service to two Hindu men, allegedly because of the color of their skin.
Jan Morgan, proprietor of The Gun Cave Indoor Firing Range in Hot Springs, AK, made headlines back in September when she wrote a blog post titled, "Why I Want My Range to be a Muslim Free Zone."
"If you had received death threats by Muslims, would you want the government telling you that you had to allow them in to your home or business and hand them a loaded gun?" Morgan asked at the time. "I will do whatever is necessary to provide a safe environment for my customers."
Now, according to The Arkansas Times, potential patrons are learning firsthand that the shooting range isn't joking about its non-Muslim leanings.
"The Times was contacted over the weekend by a college student from Hot Springs who went to the Gun Cave with his father for a round of target practice," Benjamin Hardy blogged for the paper.
"When we went in, a woman asked, 'Where are you guys from?'" the anonymous source recalled to the Times. "We told her we were from Hot Springs. She said, 'this is a Muslim free shooting range,' so if we are [Muslim] and if we don't like the rule, then leave. We said that we're not Muslim, but my dad asked, 'Why is it Muslim free?' and they started having a conversation. Then, all of a sudden, I don't know what went wrong, but she stopped us from filling out the paperwork and said 'I don't think you guys should be here.' She told us to leave or she'd call the cops on us."
"We're brown; I don't know if she assumed we were Muslim," the college student explained to Hardy. "When she first asked us, she said, 'I would hope if you were Muslim you guys wouldn't be cowards and would be up front about it.'"
Local television news network WDAF-TV has since followed up on the Times' lead and identified the two men as Hindus.
"When they explained that they are Hindu, not Muslim, they were apparently told that it didn't matter," the station reported.
The Gun Cave issued a response on its official Facebook page late on Tuesday.
"We don't discriminate against people based on their skin color," the post reads. "We do however, refuse to allow people to shoot here who display behavior that is irrational or might indicate they are under the influence of alcohol or mind altering drugs."
"We are dealing in lethal weapons here. I turn anyone away that I feel presents a safety and security risk to other patrons," the post continues, with its author insisting that the range has "a number of people with all colors of skin who shoot here, including Indian/Hindu religion folks." The post is accompanied with photographs of "Indian/Hindu shooters/members."
If you align with a religion whose prophet is a mass murderer/pedophile that commands death to all non-Muslims, then YOU ARE A TERRORIST.

— Jan Morgan (@JanMorganMedia) January 11, 2015
As far as Muslims go, though, Morgan seems unwilling to alter her opinion. Less than a week before she touted the range's "Indian/Hindu" clientele, she wrote that "Muslims are murdering innocent people in the name of Allah and their documented mass murderer/pedophile prophet, Muhammad."
"I will never compromise my position," Morgan wrote, calling it the "best decision I ever made."
You can share this story on social media: