Cops conducting target practice on images of children and pregnant women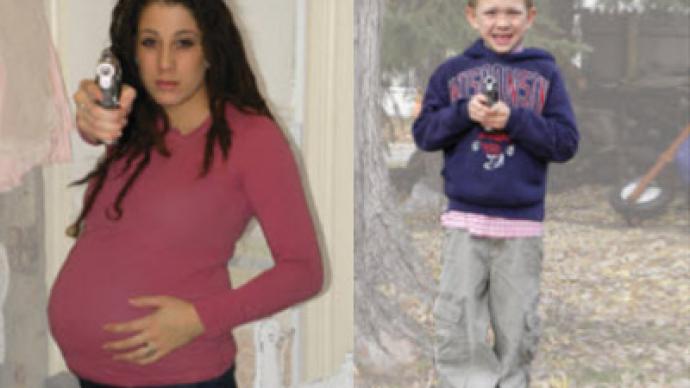 Shooting children and the elderly: is it even a good idea on paper? An American law enforcement supply company thinks so and is letting police departments purchase some rather unusual products for target practice.
For only 99 cents per sheet, Law Enforcement Targets Inc. lets customers order life-like posters that show that people of all walks of life could be potential threats to police officers. Among the targets available in their "No More Hesitation" series for shooting practice are enlarged photographs of a pregnant woman, children holding hands and a high-school aged girl.
In every image, the suspect is showing holding a gun, meant to force officers of the law to act without hesitation in even the most unusual life-or-death scenarios. In a statement emailed to Reason on Tuesday afternoon, the marketing team at Law Enforcement Targets explains the thought process involved in selling realistic targets that let people open fire on young children and the elderly alike.
"The subjects in NMH targets were chosen in order to give officers the experience of dealing with deadly force shooting scenarios with subjects that are not the norm during training,"
the statement begins.
"I found while speaking with officers and trainers in the law enforcement community that there is a hesitation on the part of cops when deadly force is required on subjects with atypical age, frailty or condition."
Image from reason.com
According to the author of the statement, one officer interviewed by LET claims he enlarged images of his own children for target practice "so that he would not be caught off guard with such a drastically new experience while on duty." Law Enforcement Targets Inc. has come to the rescue, however, and now the officer in question doesn't have to bother emptying clips into his own kids' craniums. For just a dollar plus shipping, he can order product number NMH-7, "Little Boy With Real Gun."
"Non-traditional threat dipicting [sic] a very young boy holding a real gun," reads the description. "Designed to prepare officers for worst possible situation." All of the targets available are roughly two-feet-wide by three-feet-tall.
"This hesitation time may be only seconds but that is not acceptable when officers are losing their lives in these same situations," continues the statement obtained by Reason, who first profiled the NMH series in an article published Tuesday by Mike Riggs. "The goal of NMH is to break that stereotype on the range, regardless of how slim the chances are of encountering a real life scenario that involves a child, pregnant woman, etc. If that initial hesitation time can be cut down due to range experience, the officer and community are better served."
Also available through the No More Hesitation series are "Older Man With Shotgun," "Young Mother on Playground" and "Pregnant Woman Threat."
Image from reason.com