Mass shootings kill far more than Muslim American terrorism – research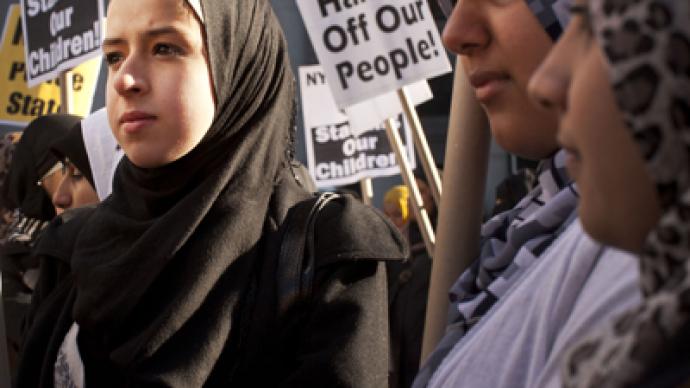 Mass shooting fatalities by far exceed the number of those killed in Muslim-related terrorism in the US, new research says. The number of terrorist incidents involving Muslim Americans has shown a dramatic drop since 2009.
­Fourteen Muslim-Americans committed or were charged with terrorist crimes in 2012, down from 21 in 2011, 26 in 2010 and 49 in 2009, according to the fourth annual report by North Carolina's Triangle Center on Terrorism and Homeland Security.
Of the 14 offenders in 2012, only one was accused of executing a violent attack (the bombing of a Social Security office in Casa Grande, Ariz.). The other perpetrators were arrested at an early stage of their terrorist plots.

The author of the research, sociology professor Charles Kurzman, who has been studying the issue for the past three years, concluded that "the number of Muslim-Americans indicted for support of terrorism — financing, false statements, and other connections with terrorist plots and organizations, aside from violent plots — fell from 27 individuals in 2010 to 8 in 2011, bringing the total to 462 since 9/11."

"Online, there's all sorts of radical material out there — exhortations to violence, [instructions], and yet despite it being out there, so few people are taking it up," Kurzman told Wired magazine.  

The research shows that excessive fear of homegrown terrorism by radicalized Muslim Americans is unfounded.  

In just 2012 alone, mass shootings claimed lives of at least 66 Americans – "twice as many fatalities as from Muslim-American terrorism in all 11 years since 9/11," Kurzman's team noted.

But despite the constant drop in the number of homegrown US Muslim terrorists, law enforcement and homeland security has not eased scrutiny of Muslim Americans.

The FBI continues geo-mapping Muslims regardless of their involvement in any crime, Wired says, moreover the Patriot Act has been extended until at least 2015 and other contentious post-9/11 laws that remain in place.

After the September 11 terrorist attacks, the New York Police Department embarked on a mission to preclude any repeat of the tragedy, which resulted in monitoring Muslim activities in New York – and far beyond.

It was discovered that the NYPD had been conducting clandestine surveillance of Muslims and collecting intelligence everywhere from local markets to mosques and even in cities abroad.

And while Muslim-Americans came opposed the surveillance, New York mayor, Michael Bloomberg stood by the NYPD practice saying that the rest of the world should be thankful for the department's activity. He defended the NYPD's right to go anywhere in the country in search of terrorists without telling local police.

Last summer, a group of Muslims filed another case against the NYPD over its domestic spying out of its jurisdiction in New Jersey.

The authors of the research do not rule out that the decline might be due to counter-terrorism policies that help to disrupt and deter home grown US Muslim terrorism. At the same time, Kurzman says, the mismatch between the scale of the terrorism problem and the scale of the government's response is surprising.

Law enforcement, including "informants and undercover agents," were involved in "almost all of the Muslim-American terrorism plots uncovered in 2012," the report says.

"Until public opinion starts to recognize the scale of the problem has been lower than we feared, my sense is that public officials are not going to change their policies," Kurzman was cited by Wired as saying.
You can share this story on social media: