​Know your government! Arizona enforces US citizenship test for high school students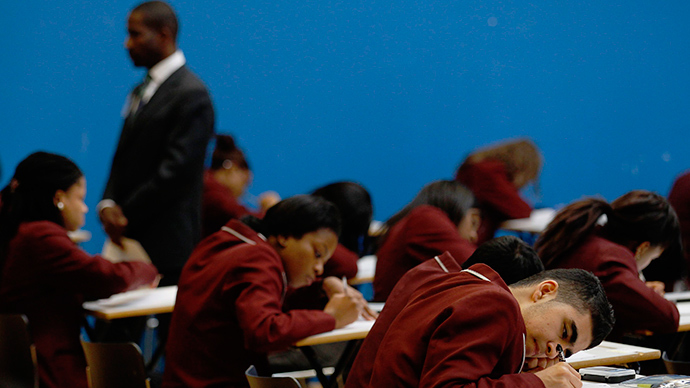 With two-thirds of US students measuring below proficiency in civics, Arizona legislation now requires high school students to pass a US citizenship exam to graduate. Critics, however, say more than rote memory skills are needed.
The new educational requirements, sponsored by the Republican-majority legislature, say high school students must answer 60 of 100 questions on basic knowledge of US government.
READ MORE:'Islam is welcome here, but we want to keep our culture' - PEGIDA to RT
Newly elected Republican governor Doug Ducey signed the bill into law Thursday evening, making Arizona the first state to sign up to the legislation.

Proponents of the initiative, sponsored by the conservative Joe Foss Institute, hope to have all 50 states adopt the citizenship test by 2017, in time for the 230th anniversary of the signing of the US Constitution. According to the institute, whose motto is "Patriotism Matters," more than a dozen states are expected to consider the proposal this year.

Students are required to pass the exam before they may receive a high school or GED diploma starting in the 2016-17 school year.

The bill won support from all 53 Republicans in the House and Senate, plus 10 of 27 Democrats.

But opponents questioned the timing of the new rules, coming as it does amid a time when Arizona is facing a huge deficit and a court order to pay back billions of dollars to schools for funding that was trimmed during the recession.

"In the midst of a budget crisis, after we purposely underfunded our public schools, we rush this piece of legislation through in the first week even before we've addressed the investment the courts have ordered us to [pay] to our public schools," congressman Juan Mendez said, as quoted by AP.
READ MORE:Netanyahu to French Jews: 'Come home to Israel from terrible European anti-Semitism'
Meanwhile, Republican House majority leader, Steve Montenegro, cited a federal study that says two-thirds of students have a poor grasp of civics.

"So this is alarming, because ... if our students don't understand that we have fundamental rights given to us, afforded to us by our constitution, things like freedom of the press, like conversation, like assembly, like religion, like speech, can that be good?" he said.
You can share this story on social media: