'Islam is welcome here, but we want to keep our culture' - PEGIDA to RT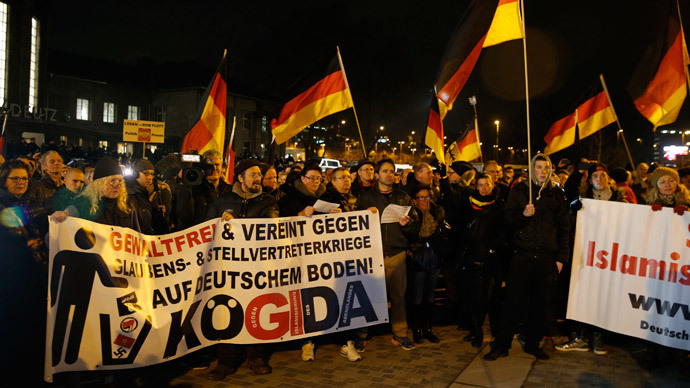 Amid the surge of anti-Islam sentiments in Europe, PEGIDA spokesman Udo Ulfkotte told RT that the movement does not promote xenophobia, but rather tries to prevent Christian culture from mixing with Islamic traditions in a multicultural cocktail.
"We want to keep our culture, to keep our traditions, to keep our Christian values," Udo Ulfkotte told RT, adding that the issue has nothing to do with disrespect for Islam but rather the fear that Sharia tradition might take roots in the Western world.
"We respect Islam here," he said, but added that it was unacceptable when a German court begins citing the Koran in its rulings. "We say this has nothing to do with our culture, with our traditions, with our judicial system. We are all equal and we don't want to have special rights for Muslims here in this country."
The growing protest movement on the streets of Germany is a big headache for German Chancellor Angela Merkel, who is trying to appease potential voters and balance her statement on multiculturalism with the general public sentiment, Ulfkotte says.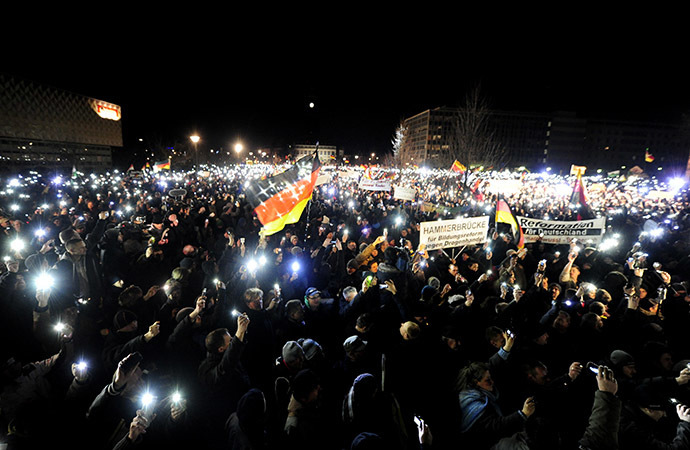 Merkel is "under heavy pressure" as the complex protest which has "nothing to do with left-wing or right-wing" keeps growing, he said. "There are many reasons for that...It is not only Islamization of Europe; we are pressed for war against Russia and Ukraine. There are many things coming together where the people are fed up and upset."
Ulfkotte does not believe that PEGIDA is spreading hate or intolerance with its rhetoric. However, he stated that the way Islam is taught, in German Muslim schools in particular, cannot be called a religion of peace.
"We don't want to spread hate. What we want to tell the people out there is please accept this and open your eyes, [Islam] is not a peaceful religion," Ulfkotte said, drawing on the examples of endless wars in the Muslim world and the Shia-Sunni conflicts. "So many Muslims killing each other, you don't need PEGIDA to say there are Islamaphobic people out there."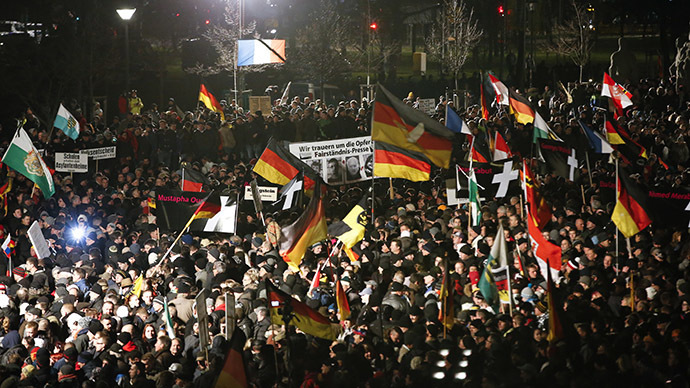 Germany is split on the issues of immigration and Islamization, with 29 percent of people saying that anti-Islamic marches were justified given the influence that Islam has on life in Germany. Thirteen percent were ready to personally join such a march, according to a recent poll by Forsa.
READ MORE: Anti-Islam & pro-tolerance demonstrators take to German streets (PHOTOS, VIDEOS)
PEGIDA's spokesman, however, said that most anti-PEGIDA and so-called "pro-tolerance" demonstrators are actually being paid or recruited through charities and organizations funded by the government.
"They have received emails that they should go to demonstrations, and they have a feeling that if they don't go to these anti-PEGIDA demonstrations they won't get any more taxpayers' money," Ulfkotte said. "So it is not the free will of the people going there."
READ MORE: Swiss activists plan PEGIDA anti-Muslim march amid rising tensions across Europe
The growing anti-Islamization movement issue, which Ulfkotte emphasized should not be confused with xenophobia, is not isolated to Germany.
"We are not different from other European countries. Look to the Netherlands, where you have one-third of the population thinking that way. Look to France, look to Hungary, look to Sweden," Ulfkotte said. "Especially it has nothing to do with xenophobia. You are welcome, all people who want to integrate here, who want peacefully to live together with us, we don't have any problems with them."
You can share this story on social media: