Arson at German paper that reprinted Charlie Hebdo cartoons (VIDEO)
A German newspaper, the Hamburger Morgenpost, that reprinted the Charlie Hebdo cartoons says it suffered an arson attack overnight.
The incident happened at about 2 am local time. Unidentified people threw stones and an incendiary devices into the building housing the "Hamburger Morgenpost" tabloid newspaper in Hamburg, Germany's second largest city.
"Rocks and then a burning object were thrown through the window," a police spokesman told AFP. "Two rooms on the lower floors were damaged but the fire was put out quickly."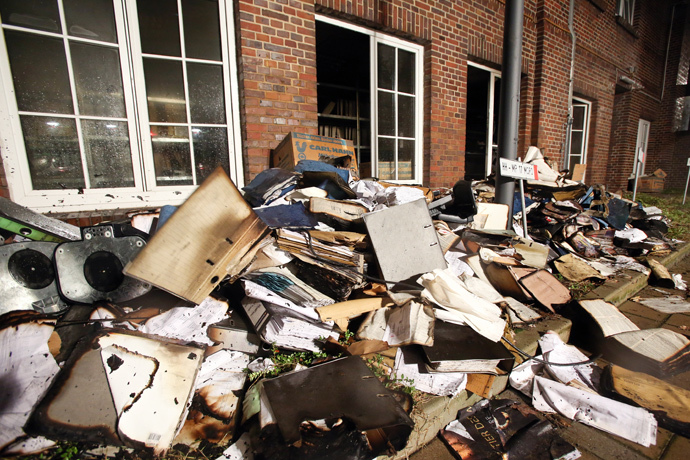 READ MORE: Vigils held across Europe in support of Charlie Hebdo, press freedom (PHOTOS)
Nobody was hurt in the attack, police say. The newspaper said there were no people inside the building when the attack happened.
The attack was launched from a courtyard in the newspaper's building and hit its archive room, where some files burned.
"It's true: Tonight there was an arson attack on our newspaper," the Hamburger Morgenpost said on Twitter.
Es ist wahr: Heute Nacht gab es einen Brandanschlag auf unsere Redaktion: http://t.co/fFRbA4Yd5u

— Hamburger Morgenpost (@mopo) January 11, 2015
Police have arrested two men who were behaving suspiciously in the area at the time of the attack, said the newspaper. The authorities have launched an investigation.
The Hamburger Morgenpost reprinted cartoons created by the Charlie Hebdo magazine whose HQ in Paris was attacked on January 7. Twelve people, including famous cartoonists, were killed in the massacre.
Meanwhile, German police arrested a suspected supporter of the so-called Islamic State (IS) and raided his home in the western state of North Rhine-Westphalia, Reuters reports. The 24-year-old suspect is suspected of having joined the group following a year-long trip to Syria.
There are no indications that he was planning any sort of attack or was connected to the events in Paris.
After #CharlieHebdo shooting #HamburgerMorgenpost published 3 cartoons on front page http://t.co/fvVxYMCfFupic.twitter.com/ir27YU9TOv

— RT (@RT_com) January 11, 2015
READ MORE: Charlie Hebdo attack: Chief editor Charb, cartoonists Cabu, Wolinski, Tignous killed

After the Paris shooting, the newspaper published three Charlie Hebdo cartoons on its front page. "This much freedom must be possible!" said the headline.
Police, however, didn't comment on possible links between the arson attack on the German newspaper and the Charlie Hebdo massacre, saying it was "too soon" to know for certain.
You can share this story on social media: