Déjà vu? Mitt Romney considering 2016 presidential run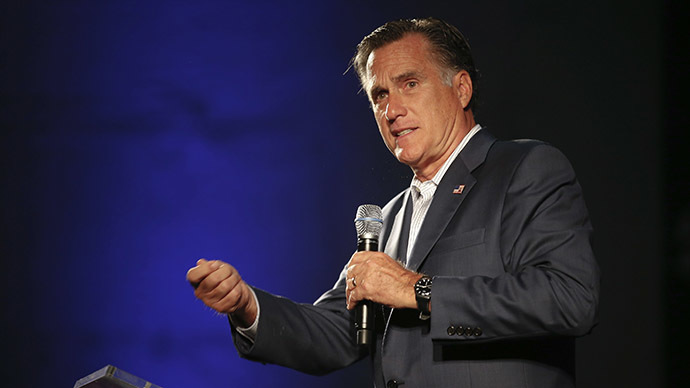 Former Massachusetts Gov. Mitt Romney adamantly denied that he would run for president again in 2016, but apparently that's all changed now: The former Republican candidate is reportedly considering taking another shot at the nation's highest office.
The news was first reported by the Wall Street Journal, which stated that Romney told donors in New York City on Friday that he is "seriously considering" a presidential run in 2016. Romney spoke to roughly 30 of his previous campaign's largest donors, pointing to turmoil around the world and concerns over the economy as reasons he is weighing another bid.
READ MORE:Jeb Bush & Chris Christie lead pool of 2016 GOP hopefuls – poll
Romney's former national finance co-chairman, Spencer Zwick, was at the meeting and also confirmed to the Washington Post that 67-year-old Romney is serious about his statement.
"I believe Mitt Romney is too much of a patriot to sit on the sidelines and concede the presidency to Hillary Clinton or Elizabeth Warren when he knows that he can fix the country," Zwick told the newspaper. "He traveled the country in 2014, met with voters, met with citizens, and I think at the end of the day he believes he could actually make a difference."
Remember November? Romney made more than 80 phone calls to candidates on election night http://t.co/kQ2VSH2vYX

— Robert Costa (@costareports) January 9, 2015
Still, the news comes as a surprise to many, particularly since Romney openly said his political career was all but finished since his loss to President Barack Obama in the 2012 election. As noted by CNBC, last year Romney told 'Meet the Press' he would not run again.
"Look, I want to find the best candidate for us to take our message to the American people," he said at the time. "That we can bring better jobs, higher incomes, and more security globally. We can do that. And I'm convinced that the field of Republican candidates that I'm seeing is a lot better position to do that than I am. So I'm not running."
Still, Romney did not close the door on the option in private, and despite previous statements by his wife, Ann, an unnamed source told the Post she is now "very encouraging."
READ MORE:Eye on 2016? Jeb Bush resigns from board posts
The move comes as another establishment favorite, former Florida Gov. Jeb Bush, announced he is moving closer to running for president. Bush has begun attracting donors from across the party, and Romney's latest statement seems to be an attempt to keep his loyal donors from jumping ship.
"It was indicative of what many people have been telling him: That if he's going to run or if he's interested in running, he should not wait," said Bobbie Kilberg, who helped raise money for Romney in 2012, to the Journal. "If he wants to run, he needs to get in before the spring."
If Romney does toss his hat in the ring, he would join what's turning out to be a logjam of Republicans thought to be considering presidential runs. Sens. Rand Paul (Ky), Ted Cruz (Texas), Marco Rubio (Fla.) are all in the mix, as are Governors Rick Perry (Texas), Christ Christie (N.J.) and Scott Walker (Wis.)
You can share this story on social media: