Texas trembling! Lone Star State hit by 9 earthquakes in 1 day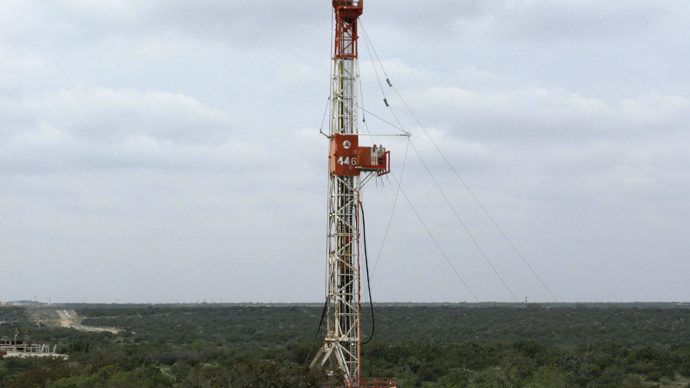 Nine quakes in less than 24 hours (Tuesday am to early Wednesday morning) have been registered by the US Geological Survey in the North Texas town of Irving, a suburb of Dallas, America's fourth most populous metropolitan area.
The magnitude of the tremors were measured between 1.6 and 3.6, with three of them having a magnitude of 3.0 or higher. No damage to buildings or injuries among locals have been reported. Geologists say humans generally feel earthquakes with magnitude stronger than 2.5.
North Texas has suffered a wave of mild quakes over the last months, but the series on Tuesday was the "largest since the earthquakes started happening there in the last year," Jana Pursley of the US Geological Survey told AP.
Map of where people reported to the @USGS feeling today's M3.5 earthquake in Irving. pic.twitter.com/JmbBV1VLcP

— Brian New (@BrianNewCBS) January 6, 2015
Scientists from Southern Methodist University in Dallas are reportedly planning to install seismic sensors in Irving to ascertain the reason for the area's increased seismic activity.
Revised map w/latest info about strength, location of #IrvingEarthquakes STORY: http://t.co/S8XyC6Qh0Apic.twitter.com/CRVocSgTY1

— WFAA TV (@wfaachannel8) January 7, 2015
North Texas has experienced 25 quakes since late October, nearly a quarter of all quakes registered in this region since 2008. Before 2008 there was only one tremor registered in the Fort Worth Basin that lies beneath the Dallas urban area.
The Lone Star State is oil fracking technology's birthplace in the US, and many of the state's citizens see a direct correlation between years of intensive fracking oil extraction and earthquakes becoming increasingly commonplace.
A month ago, Denton, a Texas town of 123,000 north of Dallas, became the first town in the state to enact a ban on hydraulic fracturing, more commonly known as fracking. Denton lies on top of a natural-gas goldmine called the Barnett shale formation, where the much-maligned oil and gas extraction method started.
READ MORE: Fracking ban goes into effect in its birthplace
Texas is not the only American state that has experienced earth tremors, which appear to be connected with extensive oil extraction.
In March 2014, hydraulic fracturing – or fracking – caused 77 earthquakes in the small Ohio town of Poland Township, a place that had no previous experience of seismic activity.
READ MORE: Fracking caused earthquake boom in Ohio town – study
A study published in October in the Seismological Research Letters journal maintains that hydraulic fracturing had a direct connection to some 400 micro-earthquakes in Ohio.
READ MORE: Fracking triggered 400 earthquakes in Ohio, study finds
The last five years have seen Oklahoma experience more than 2,500 earthquakes, the vast majority of which are being connected to fracking.
READ MORE: Some 2,500 earthquakes in Oklahoma linked to fracking
In Colorado, state regulators halted the disposal of fracking wastewater into an injection well in Weld County, following a small earthquake.
READ MORE: Colorado halts fracking wastewater injections after earthquakes hit the state
The US Geological Survey (USGS) is predicting that over the next 50 years about half the country will have an increased risk of seismic activity.
While fracking has been linked to increased seismic activity in states like Oklahoma, Idaho, Ohio and Texas, the USGS said it is still researching "induced earthquakes," or those events that "may be associated with human activities such as the disposal of wastewater in deep wells."
READ MORE: Shake, rattle and roll: Earthquake risk increased for half of US
You can share this story on social media: