Fracking ban goes into effect in its birthplace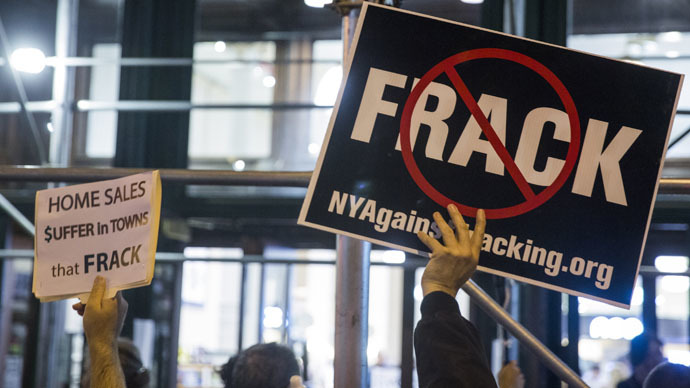 An unprecedented ban on fracking went into effect Tuesday in Denton, Texas, a town of 123,000 located on top of the natural-gas goldmine that is the Barnett shale formation, the birthplace of the much-maligned oil and gas extraction method.
Denton voters approved the ban last month, making it the first city or county to do so in the energy-rich, fracking-heavy state of Texas.
Shortly after the Nov. 4 vote, the Texas Oil & Gas Association, an energy industry group, and the Texas General Land Office filed a lawsuit seeking to reverse the ban.
"Whatever happens next will take place in a courtroom," Ed Ireland, executive director of the Barnett Shale Energy Education Council, an energy industry mouthpiece, told Reuters.
The Barnett shale formation, which spans 24 counties in north Texas, is considered the spot where hydraulic fracturing, or fracking, originated thanks to energy behemoth Exxon Mobil. The company's CEO, an ardent fracking evangelist, was involved in a lawsuit as of earlier this year to rid his own suburban Texas neighborhood of fracking, operations of which were "creating a noise nuisance and traffic hazards," according to the suit.
To unleash oil or natural gas, fracking requires blasting large volumes of highly-pressurized water, sand, and other chemicals into layers of rock. The contents of fracking fluid include chemicals that the energy industry and many government officials will not name, yet they insist the chemicals do not endanger human health, contradicting findings by scientists and environmentalists. Once used, toxic fracking wastewater is then either stored in deep underground wells, disposed of in open pits for evaporation, sprayed into waste fields, or used over again.
Fracking has been linked to groundwater contamination, an uptick in earthquakes, exacerbation of drought conditions, and a host of health concerns for humans and the local environment.
Dentonites, as well as residents of other Texas cities like Fort Worth, have quarreled with fracking companies operating in the Barnett shale. Their complaints echo reams of research that have found the gas-extraction process to be detrimental to local communities located near fracking sites.
Activists and concerned citizens have cited Denton's ban as a sign of hope against the oil-and-gas industry's current push to capitalize on the contemporary fracking boom in America.
"Denton, Texas is where hydraulic fracturing was invented," Bruce Baizel, Earthworks energy program director, said after the Nov. 4 vote, according to Reuters. "If this place in the heart of the oil and gas industry can't live with fracking, then who can?"
Anti-fracking groups were outspent 10-to-1 during the ban campaign, Reuters reported citing local media. Polls showed the measure to ban fracking passed with 58 percent support out of the 25,376 ballots cast.
"We're glad our city is listening. We wish we could say the same about our state," said Cathy McMullen, leader of an anti-fracking group instrumental in the ban proposal.
Despite voter's wishes, the pending lawsuit filed by state land regulators and industry interests means Denton's ban is not in the clear just yet. Texas Railroad Commissioner David Porter said in November that he believed "reason and science will triumph" and that the ban will be reversed eventually. The Texas Railroad Commission regulates the energy industry in the state.
Denton is certainly not the only American locality to address fracking's potential dangers. Dozens of cities, towns, villages, and counties have passed measures against the practice, according to Food and Water Watch.
In November, cities in Ohio and California also voted on fracking-ban measures, with mixed results. The Ohio cities of Gates Mills, Kent, and Youngstown voted down bans, while the town of Athens approved one. Santa Barbara County, California rejected a ban, while Mendocino and San Benito counties voted to outlaw the practice.
The local ordinances against fracking run afoul of state law that allow the process in both Ohio and California. Similar local bans have been passed in states like Colorado, where state officials have worked to supersede voter-approved bans through the legal system.
Denton, 30 miles (50 km) north of Dallas, is home to about 270 drilling wells, according to Reuters.
You can share this story on social media: