'Fracking loophole' allows drilling companies to use unregulated toxins – report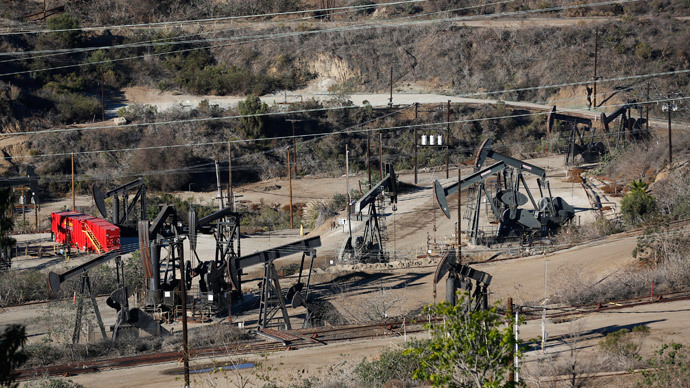 A number of US oil companies are taking advantage of the so-called "Halliburton Loophole" to circumvent federal legislature regulating diesel-based fluids in fracking, instead exploiting the environment with even more toxic chemicals, new report says.
"Because of a gap in the Safe Drinking Water Act, companies are allowed to inject other petroleum products (beyond diesel) without a permit, and many of these non-diesel drilling fluids contain even higher concentrations of the same toxins found in diesel,"report by the Environmental Integrity Project released on Wednesday reads.
Titled "Fracking's Toxic Loophole", the report says that the 2005 Energy Policy Act authorities the Environmental Protection Agency's (EPA) to "regulate diesel-based fracking fluids because of the toxicity of BTEX compounds" found in diesel.
However due to the so-called "Halliburton loophole" in the legislature the federal government is not applying the same protection standards to other fracking fluid other than diesel-based.
READ MORE:California aquifers contaminated with billions of gallons of fracking wastewater
Overall, the Halliburton Loophole represents a significant reduction in federal oversight of drilling and fracking operations, the report claims.
"This double standard illustrates what happens when Congress manipulates environmental statutes for the benefit of polluters, instead of allowing EPA to make public health decisions based on the best available science," the report reads.
Looking at the limited data available through FracFocus, Material Safety Data Sheets, and state agency websites the study discovered that at least six fracking fluid additives available on the market contain more benzene than diesel fuel. In addition another at least 21 fluids have much higher concentrations of ethylbenzene than benzene. Chemicals on the market also have high levels of xylene and toluene, which can lead to increased health risks.
Citing FracFocus data, the study points out that at least 153 wells in 11 states were fracked with fluids "containing ethylbenzene between January 2011 and September 2014." Of those, 77 wells were found in Oklahoma, 23 in North Dakota, followed by Texas with 20 wells. The report says that it is not clear how often these toxic petroleum products are being used.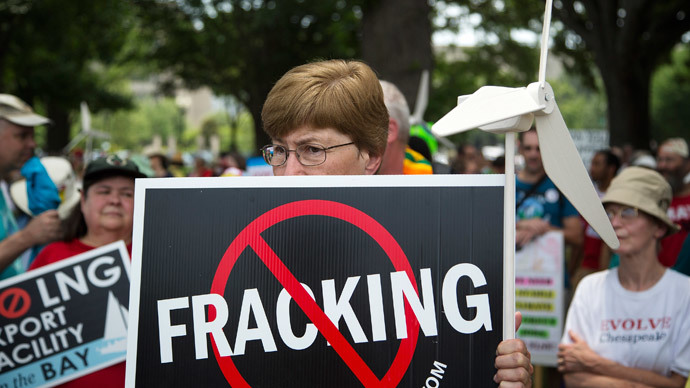 The documented cases include the injection of a mix of crude oil, butane, and other fluids with up to 48,000 gallons of 4.1 percent benzene into a well in Dimmit County, Texas by BlackBrush O&G, LLC. While Discovery Operating Services, reported using nearly 1,000 gallons of benzene in eleven wells in Midland and Upland Counties in Texas.
"Benzene is known to increase cancer risk, and the Safe Drinking Water Act Maximum Contaminant Level (MCL) is designed to limit exposure to no more than five parts per billion. However, thanks to the Halliburton loophole, the Safe Drinking Act regulates diesel-based fluids but no other petroleum products with much higher benzene concentrations," the report reads.
The study also cites a case in Oklahoma where Citation Oil and Gas Corporation of Texas injected mix containing up to 4,538 gallons of ethylbenzene, "equivalent to the amount found in nearly half a million gallons of diesel fuels."
"Ethylbenzene is classified as a probable carcinogen, and cancer risk is considered significant when concentrations exceed the Maximum Contaminant Level of 0.7 parts per million in drinking water," the report says.
Eric Schaeffer Executive Director of the Environmental Integrity Project and former Director of Civil Enforcement at EPA says that the loophole must be repealed.
"To protect public health, Congress should repeal the Halliburton Loophole and EPA should broaden the categories of fracking fluids that require Safe Drinking Water Act permits," said Schaeffer. "Without these reforms, we are perpetuating a loophole that allows the unregulated injection of unlimited quantities of highly toxic pollutants into the ground."
You can share this story on social media: