1 mn gallons of oil-drilling byproducts leaked into N. Dakota drinking water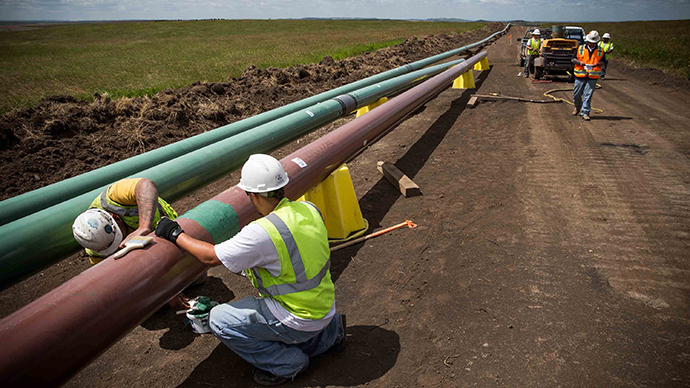 A North Dakota pipeline has hemorrhaged about 1 million gallons of oil-drilling saltwater into the ground of a native Indian reservation, with some of the byproduct suspected to have leaked into a lake that provides drinking water.
The spill of a toxic byproduct of oil and natural gas production at the Fort Berthold Indian Reservation was discovered on Tuesday.
The cleanup is expected to last for weeks, according to Miranda Jones, vice president of environmental safety at Crestwood Midstream Partners LP. A subsidiary of Crestwood - Arrow Pipeline LLC - owns the underground pipeline.
Jones believes the leak started over the Fourth of July weekend, but was only detected when the company was sorting through production loss reports, according to AP.
"This is something no company wants on their record, and we are working diligently to clean it up," Jones said.
Yet Karolin Rockvoy, a McKenzie County emergency manager, visited the site of the leak and said, based on the amount of devastation done to local vegetation, the spill had probably gone undetected for some time.
The pipeline was not equipped with technology that alerts operators of a leak, Jones said. Last year, the state legislature rejected legislation mandating pipeline flow meters and cutoff switches.
It is as yet unknown how much of this saltwater - between 10 and 30 times saltier than sea water and considered an environmental hazard by the state of North Dakota - found its way into Bear Den Bay, which leads to Lake Sakakawea.
The lake supplies water for the reservation, where the Mandan, Hidatsa, and Arikara tribes live in an area of western North Dakota that is experiencing an unprecedented drilling boom.
Crestwood Midstream Partners LP and tribal officials maintain, though, that the spill is controlled and has not impacted the lake.
"We have a berm and a dike around it, around that bay area, to keep it from going into the lake," said the Three Affiliated Tribes Chairman Tex Hall.
The briny saltwater byproduct from drilling could contain petroleum and residue from hydraulic fracturing, or fracking, an energy intensive process that involves the injection of highly pressurized water, sand, and chemicals into layers of rock. The practice concerns geologists, and human and environmental health officials alike.
Kris Roberts, environmental geologist with the North Dakota Department of Health, said the spill had already caused widespread damage at the site.
"We've got dead trees, dead grasses, dead bushes, dying bushes," he said, according to AP.
Saltwater spills in the state have increased as the North Dakota energy boom has evolved. The state produced 25.5 million barrels of brine in 2012. There were 141 pipeline leaks reported in the state that same year, 99 of which spilled around 8,000 barrels of saltwater, AP reports.
State regulators say about 6,150 barrels of the leaked saltwater were recovered. One barrel equals 42 gallons of fluid.
Drilling at the Fort Berthold Indian Reservation represents a major portion of the state's oil production, as more than 300,000 of North Dakota's 1 million barrels of oil produced daily come from the area, according to figures from the state's Department of Mineral Resources.
Possibly the worst environmental disaster ever in the state occurred in 2006, when a broken oil pipeline leaked more than a million gallons of saltwater into a creek, aquifer, and pond. Saltwater from the rupture spewed unnoticed for weeks into a tributary of the Yellowstone River near Alexander, North Dakota, causing the death of many fish, turtles, and plants.
Cleanup efforts connected with that spill are ongoing.
Saltwater pipelines in western North Dakota have since been connected in an elaborate network that empties into hundreds of disposal wells, where the brine is permanently stored underground.
Fracking wastewater injected into storage wells has been linked to drastically increased seismic activity in areas with similar energy booms as North Dakota, including Oklahoma.
The US Geological Survey has said that "the injected wastewater counteracts the frictional forces on faults and, in effect, 'pries them apart', thereby facilitating earthquake slip."
You can share this story on social media: