'The Interview' premiere canceled in wake of Sony hacker '9/11-style' terror threats
Published time: 17 Dec, 2014 15:38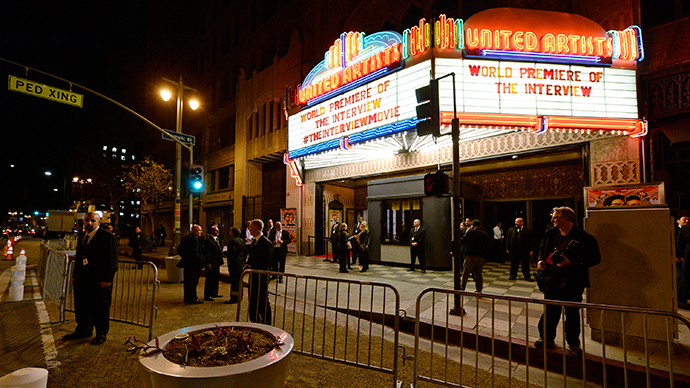 The premiere of 'The Interview', the comedy ridiculing the North Korean leadership, has been canceled in New York, allegedly due to a 9/11-style terror threat. But US security officials say "there is no credible intelligence" of an attack at this time.
The Sunshine Cinema in Lower East Side has made the decision to cancel the Thursday showing.
Alarm over a possible attack was sparked by threats from the group responsible for the infamous Sony Pictures hacks. They started with releasing celebrity and executive emails and financial details, but have graduated to a 9/11-style terror threat in the event the premiere takes place.
'The Interview' has already been blamed for its political effects when the embarrassing Sony hacks began – an angry letter from the North Korean leadership to the UN Secretary-General Ban Ki-moon called it "an act of war."
It was first thought the data leaks were all the work of North Korea, as the timing appeared suspicious. And North Korea earlier threatened "merciless retaliation" if the film were ever released. Although North Korea praised the hack, it denied involvement. The FBI confirmed this.
READ MORE: N. Korea praises Sony mass hack as 'righteous deed' – but denies involvement
While the identity of the actual hackers is still being worked out, the group now has a much more sinister message for Sony: either the movie doesn't air, or "we recommend you to keep yourself distant from the places at that time."
They mention the September 11 attacks on New York, causing a visible panic among the public. "If your house is nearby, you'd better leave," the hackers added.
That is the main theory behind why the movie premiere was canceled. Police departments in New York, as well as Los Angeles, have been put on heightened alert, with officials promising to make the following days as safe for moviegoers as possible.
But an official with the Department of Homeland Security says, according to Reuters, that "at this time there is no credible intelligence to indicate an active plot against movie theaters within the United States."
Sony had no comment on whether the threats are what caused the cancelation. A spokeswoman for Landmark, the company that operates the Lower East Side theater, also declined to comment.
According to testimony from a person familiar with the decision, Sony said earlier it didn't intend on canceling the showing, but added that it wouldn't object to movie theaters doing that. The same source says Sony received a notice late Tuesday from a major theater chain owner, Carmike Cinemas, that they were pulling the movie.
But the movie is already making waves in different ways. Its main stars, Seth Rogen and James Franco, have canceled all their Tuesday appearances, and Rogen, the film's co-director and one of its writers, was reportedly prompted to make changes to the movie because of its strong political overtones.
US law enforcement agencies are investigating who is responsible for the hacking.