Chorus against US police brutality: Protest songs go viral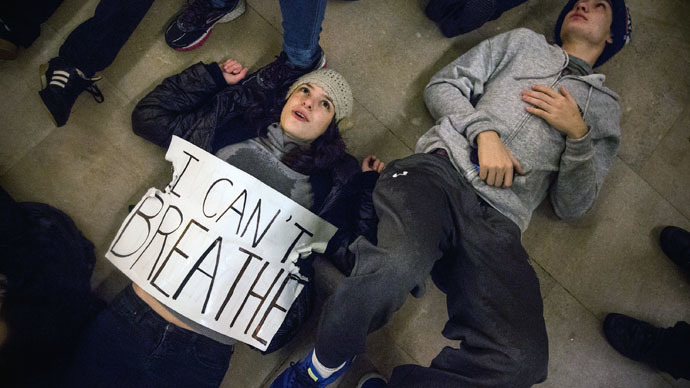 Chants of "I can't breathe" and "Hands up, don't shoot" aren't enough for US protesters. In a new way to condemn police killings of unarmed black men, demonstrators are coming up with original protest songs that are going viral on social media.
The deaths of Eric Garner and Michael Brown have galvanized Americans, who are not only taking to the streets in cities all over the country, but are also creating songs of protest the like of which have not been heard since the 1960s, according to AP.
My cat is sad because he is singing a heartfelt, unappreciated protest song with poetic lyrics about a better world. pic.twitter.com/YwrZWLmlb6

— WHY MY CAT IS SAD (@MYSADCAT) December 10, 2014
People are sharing their new songs on social media, and major-label artists are also joining in. Alicia Keys, Long Beach rapper Crooked I, Rage Against the Machine guitarist Tom Morelo and hip-hop producer J. Cole have already released tribute songs to the police victims.
A topical holiday theme is also proving a hit. A number of classics have been rewritten, such as: "All I Want for Christmas Is An Indictment" and "O Little Town of Ferguson."
"Facts aren't fueling this fire. Feeling is what is fueling this fire, and until we express those feelings and those feelings are understood, we aren't going to get too far," Broadway performer and songwriter Daniel Watts told AP. Watts starred in a professionally choreographed Times Square flash mob, dedicated to Eric Garner's death in New York.
READ MORE: Chicago cops blast 'Black lives matter' protesters with 'Sweet Home Alabama' (VIDEO)
"I still hear my brother crying, 'I can't breathe.' Now I'm in the struggle singing. I can't leave."
These are the lyrics of a song by Luke Nephew. It was sung by hundreds of people last week, who staged protests in New York by blocking bridges. The demo took place after a grand jury refused to prosecute the white officer who used a lethal and illegal chokehold on Eric Garner.
Nephew is bemused by how little American social movements have used singing as a means of protest in the past decades. "It's amazing how much of a vacuum there is," he told AP. "God bless Pete Seeger. But where is his children's generation?"
His song managed to inspire Instagram with an "I Can't Breathe" challenge. Catrina Brooks, a former "X-Factor" contestant, was among dozens of participants, with her 15-second record racking up nearly 750,000 views.
#ICANTBREATHE "I can hear my brother crying I can't breathe, now I'm in a struggle and I can't leave, Calling out the violence of these racist police we ain't gonna stop til our people are free" My amazing big sis @darlenemccoy & @kelvindidit challenged me to do this and I challenge you to repost & share this or sing it and simply stand with us! #EricGarner #MichaelBrown #TrayvonMartin #BLACKlivesMatter #ALLlivesMATTER #Injustice ! ❤️❤️✊

A video posted by CaTrina Brooks (@catrinabrooks) on Dec 12, 2014 at 11:05am PST
Drummer for the hip-hop band the Roots Questlove used Instagram and Twitter to highlight that "protest songs don't have to be boring or non-danceable."
I urge and challenge musicians and artists alike to push themselves to be a voice of the times that we live in. I know that many see what happened to Dixie Chicks' #NatalieMaines @mainesmusic (she bravely expressed her opinion/dismay on the Bush administration declaring war & was unjustly targeted....while in hindsight being CORRECT) suddenly there was an onslaught of radio silence from artists across the board (correction not everyone was silent, but the silence was deafening) although I'm kinda/sorta addressing the hip hop nation I really apply this challenge to ALL artists. We need new Dylans. New Public Enemys. New Simones. New De La Roachas. New ideas! But it just doesn't stop there!! We need outlets (hello #ClearChannel #RadioOne #Vh1) to balance the system. Yeah I'm just as guilty of feeling the high of all that I despise ("Devil's Pie" D'angelo) but the reason why this nation seems to be moving 3 steps ahead in some areas.....but then 7 steps backwards in every area is a lack of balance. I'm not saying every song gotta be "Fight The Power" but in times like these we need to be more community minded (taking a wild guess that "urban radio's" format didn't change much from the pre program stuff (using that word *politely*) we've been hearing for years. & when I say challenge I don't mean breathless race to the finish on who makes the more banging "Fuck Tha Police" sequel. I mean real stories. Real narratives. Songs with spirit in them. Songs with solutions. Songs with questions. Protest songs don't have to be boring or non danceable or ready made for the next Olympics. They just have to speak truth. I laugh & have fun w "Bitch You Guessed It" like everyone else. But my soul is aching man. Seriously just ONE or Two songs that change the course. This is something I feel the need and urgency to put out there. #EricGarner #MikeBrown #JusticeForAll #FeedMySoul #HandsUpDontShoot #ICantBreathe

A photo posted by Questlove Gomez (@questlove) on Dec 12, 2014 at 9:09am PST
Some protesters are finding inspiration in golden oldies, such as Michael Jackson's "They Don't Really Care About Us," and some recall "Ohio" by Crosby, Stills, Nash & Young, written after the shootings of four unarmed students at Kent State University in 1970.
The carousing trend, however, remains just one side the nationwide protests that have been going on since August. Some have been marred by violent clashes, such as the demonstration (https://www.rt.com/usa/212219-berkeley-protest-clashes-teargas/) in Berkeley, California. This week #EricGarner, #Ferguson protests also crossed the ocean, and demonstrations against police brutality took place in Japan and the UK (https://www.rt.com/news/213327-london-protest-mall-garner/).
Mass 'DIE IN' shuts down #Westfield shopping centre. At least 76 people have been arrested http://t.co/i1FUSOb2bDhttps://t.co/Nvit39zBF3

— Ruptly (@Ruptly) December 11, 2014