ISIS trying to sell beheaded body of James Foley for $1mn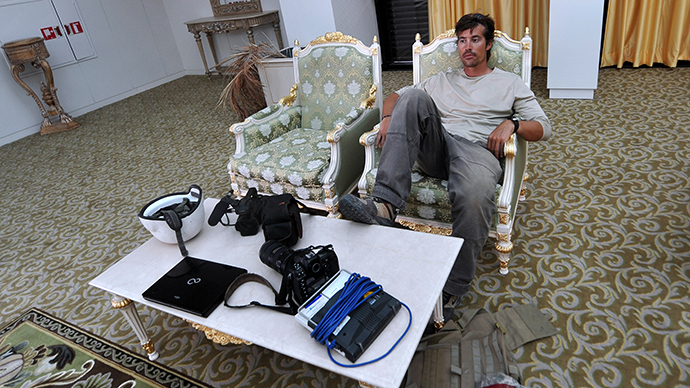 The Islamic State shocked the world in August when it released a video depicting the brutal murder of American photojournalist James Foley, and now it is trying to capitalize on that killing by selling the man's body for $1 million.
Three middlemen – one a businessman, one a former rebel fighter in Syria, and one a senior official in the Free Syrian Army – told Buzzfeed that the Islamic State (IS, or ISIS/ISIL) is trying to sell Foley's remains to either the United States government or the journalist's family.
READ MORE:Islamic State militants behead missing American journalist
Under the known terms of the proposed deal, the militants would hand over Foley's body in Turkey in exchange for the money. The extremist group, which gained wide swathes of territory in Iraq and Syria over the summer, said it would offer a DNA sample to prove the remains really belonged to Foley.
"They ask for $1 million, and they will send DNA to Turkey, but they want the money first," said the former rebel to the website. "They will not give the DNA without the money."
I am looking forward to do the day when this long, unspeakable nightmare is finally over for James Foley's family http://t.co/kfxsavaCYS

— Max Fisher (@Max_Fisher) December 11, 2014
The tactic has been met with considerable scorn online and in the media. But for IS, a successful deal could mean another source of funding for its violent campaign to establish a caliphate. The group has successfully sold hostages to many foreign governments, allowing it to secure millions of dollars, but the United States and Britain have thus far refused to pay ransoms.
Having executed three Americans already, it is possible that the militants believe their remains could bring their families to the table with cash. It is unclear if the group is also trying to sell the bodies of journalist Steve Sotloff and former solider Peter Kassig.
ISIS is trying to sell James Foley's headless body to his parents for $1M. Anybody REALLY care if we waterboard these lowlifes?

— Robert O'Neill (@mchooyah) December 11, 2014
However, even if Foley's family is interested in buying his remains, the US government could intervene and stop the deal from taking place. Before the journalist's murder, the family expressed interest in paying the ransom demanded by IS, but Foley's mother and brother said government officials had threatened them with prosecution if they moved forward and tried to raise money.
READ MORE:Kerry to Congress: Don't limit ISIS war or block ground troops
If the government itself buys Foley's body or allows the family to deal with IS, though, it could be hit with severe criticism, the Free Syrian Army official told BuzzFeed.
"It will be like a shame for the US government," the official said. "People will ask why you brought the body but you didn't bring him when he was alive."
ISIS Has Offered to sell the Corps of American James Foley for One Million Dollars! If you EVER had a doubt ISIS is SUB HUMAN I No Longer Do

— Richard M O'Bryan (@RichardOBryan) December 11, 2014