Kerry to Congress: Don't limit ISIS war or block ground troops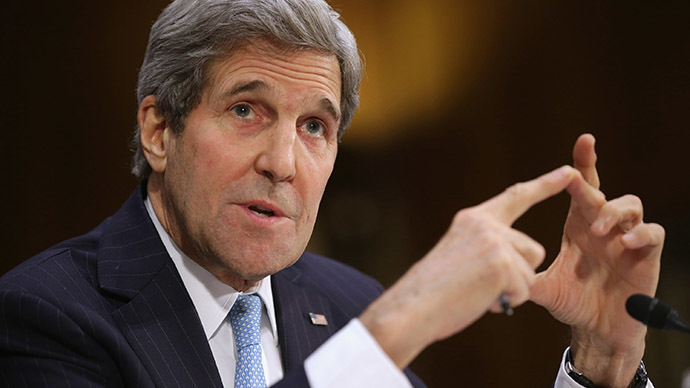 Secretary of State John Kerry told the Senate Foreign Relations Committee that any congressional authorization of military force against Islamic State militants should not prohibit the use of ground troops or limit the battles in Iraq and Syria.
Kerry said that President Barack Obama "has been crystal clear" about his preference to rely on local forces to defeat the Islamic State in Iraq and Syria (IS, also known as ISIS/ISIL). But Kerry told the Senate committee that any measure authorizing the use of military force (AUMF) should not ban the use of American ground forces, or place a "geographic limitation" on the effort.
"[W]e certainly believe this is the soundest policy, and while the president has been clear he's open to clarifications on the use of US combat troops to be outlined in an AUMF, that does not mean we should preemptively bind the hands of the commander in chief – or our commanders in the field – in responding to scenarios and contingencies that are impossible to foresee," Kerry said.
READ MORE:US funding may 'open the floodgates' of arms to undesirable Iraqi & Syrian groups - Amnesty
Kerry said the administration does not anticipate taking operations beyond Iraq or Syria, but if IS poses a threat to American interests or personnel in other countries, it wouldn't want any constraints set up by the AUMF to use force in other locations.
"In our view, it would be a mistake to advertise to ISIL that there are safe havens for them outside of Iraq and Syria," Kerry told lawmakers, as quoted by The Hill. He added that "none of us can anticipate" possible security scenarios in the future, such as a high-stakes hostage situation or if IS comes upon a chemical weapons cache.
Sec Kerry testifying before the #Senate Foreign Relations Committee on AUMF against #ISIS#capitolHillpic.twitter.com/UJm8vdnhKd

— Michelle Macaluso (@Michelle_Mac1) December 9, 2014
However, Committee Chairman Robert Menendez (D-NJ) called that approach "open ended."
READ MORE:UN details Israel helping Syrian rebels at Golan Heights
The Senate Foreign Relations Committee plans to take up the authorization on Thursday. As it currently stands, the three-year authorization would ban ground troops but give the president authority to target IS and other groups fighting on its behalf. It would also require the administration to report back to lawmakers every 60 days.
"In my view, deployment of ground troops at this time would be Groundhog Day in Iraq all over again," said Menendez, according to The Hill.
Menendez noted that his version does not "constrain" the administration because it allows ground forces "as necessary for the protection or rescue of US soldiers or citizen or for intelligence operations, spotters to enable airstrikes, operational planning; or other forms of advice and assistance."
Still, few expect Congress to approve the new war powers before the end of the session this year.
READ MORE:US coalition launches 55 airstrikes on ISIS over weekend
BREAKING: John Kerry flirting with the Senate Foreign Relations Committee - live. pic.twitter.com/LvNB6IOyQg

— Rudolf E. Havenstein (@RudyHavenstein) December 9, 2014
"Whatever passes out of committee this week is not going to become law," Sen. Bob Corker (R-Tenn.), the incoming chairman of the Committee, told AP. He said the Committee also wants to hear from intelligence and defense officials.
In January, Republicans will control both the Senate and the House.
You can share this story on social media: