US coalition launches 55 airstrikes on ISIS over weekend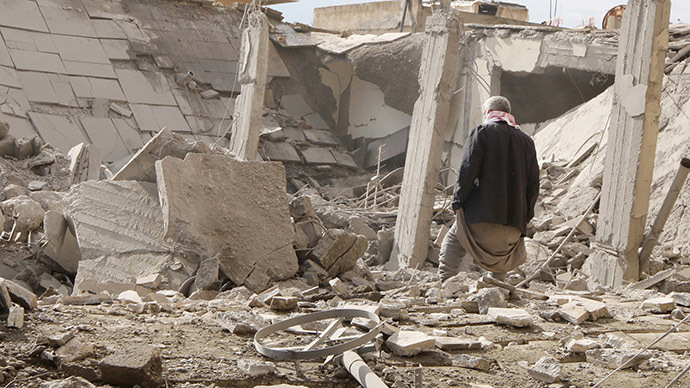 Hitting Islamic State buildings, vehicles, tanks, and fighting units, the US Central Command said its latest bombing campaign against militants in Iraq and Syria took place over four days and involved 55 airstrikes.
The airstrikes carried out by US-led military forces – part of the Pentagon's 'Operation Inherent Resolve' strategy to attack and destroy the Islamic State (IS, or ISIS/ISIL) – hit 28 targets in Syria over the past four days, according to a statement released by CENTCOM.
The airstrikes were conducted using fighter, bomber, and remotely-piloted aircraft. In a separate bombing mission, US and partner nations conducted 28 airstrikes against IS in Iraq using attack, fighter and remotely-piloted aircraft.
READ MORE:Islamists plan Christmas attacks on 5 planes in major European hubs – report
In Syria, "17 airstrikes near Kobani destroyed two IS-occupied buildings, three IS tanks, three IS fighting positions, an IS armored personnel carrier, three IS vehicles and two IS staging areas, and also struck seven tactical IS units," according to CENTCOM. Near Aleppo, a US airstrike struck a target associated with a network of veteran Al-Qaeda operatives, sometimes called the "Khorasan Group."
In Iraq, CENTCOM carried out 13 airstrikes near Mosul, destroying four tactical IS units, two large IS units, two fighting positions, three armored vehicles, seven vehicles, two IS trucks, and a bulldozer. Near Tal Afar, five airstrikes destroyed 19 IS vehicles, two IS bunkers, an IS compound and hit a tactical IS unit.
READ MORE:'One of deadliest attacks': 50 ISIS militants reported dead in Kobani assault
The strikes began in Iraq in August, after the Islamic State group captured Mosul and launched an offensive that seized areas of the country's western desert, threatening to approach Baghdad.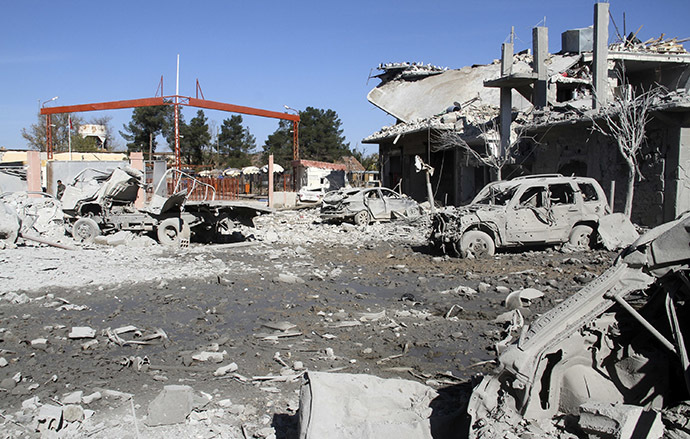 The campaign was later extended to Syria after President Barack Obama vowed to "degrade and ultimately destroy" the IS threat through strikes and increased support for Iraqi and Kurdish forces.
Coalition nations conducting airstrikes in Iraq include the US, Australia, Belgium, Canada, Denmark, France, the Netherlands, and the United Kingdom. Coalition nations conducting airstrikes in Syria include the US, Bahrain, Jordan, Saudi Arabia, and the United Arab Emirates.
CENTCOM reports 55 (!) airstrikes over weekend. Including 9 on Raqqa and 1 on the group formerly known as Khorasan. pic.twitter.com/JlA1xD1TQG

— Zeddonymous (@ZeddRebel) December 1, 2014
While these strikes occur, there are discussions underway about Turkey's involvement at its border with Syria. The Department of Defense and the State Department appear to differ over the idea of creating a buffer zone along the Syria-Turkey border, according to a story in The Wall Street Journal. Citing unnamed US and Turkish officials, the report said an agreement could include a buffer zone along part of the Syrian border to protect refugees and opposition forces that would prohibit aircraft from the Syrian government. Turkey has long sought such a safe zone.
"We are in discussions with the Turks. Right now, we don't believe a buffer zone is the best way to relieve the humanitarian crisis there in northern Syria," Colonel Steve Warren, a Pentagon spokesman, told reporters. "But they are close allies, partners and friends, and we are in discussions with them about the way forward."
READ MORE:Syria: US-led strikes failed to weaken ISIS
State Department spokeswoman Jen Psaki later said the US was actively discussing a range of proposals with Turkey over border security with Syria, including a possible no-fly zone or safe area, though officials were not ready to implement a specific plan.
"There has been an ongoing discussions about a range of proposals that Turkey has put forward, and they have taken many forms...but we continue to have differences and haven't made a decision about a specific course of implementation," Psaki told reporters.
Syrian President Bashar Assad has been using the US-led airstrikes as cover for his own air campaign against Syrian rebels, hitting the ISIS stronghold of Raqqa in retaliation for the group's killing of Syrian soldiers.