50 civilians dead in US-led airstrikes against ISIS in Syria – UN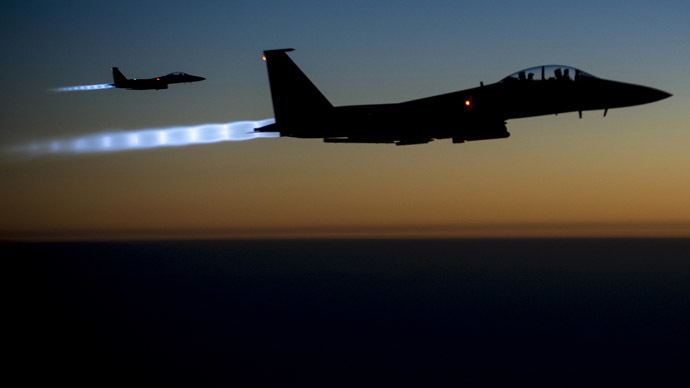 The US-led coalition against the Islamic State (IS, formerly ISIS/ISIL) in Syria has killed 865 people since the start of the airstrikes in late September, at least 50 of them civilians, a new report from the UN chief reveals.
Secretary-General Ban Ki-moon warned that the strikes alone cannot defeat the militant Islamist group and cited estimates of civilian casualties caused by the bombing.

"The international coalition continued airstrikes against ISIL in Syria on a near-daily basis with reports of some 865 people killed, including 50 civilians, in Aleppo, Deir ez-Zor, Hasakeh, Idlib and Raqqa since strikes began," the report said.

READ MORE: ISIS daily profits from oil, theft, human trafficking exceed $3mn – report

Meanwhile, the "armed opposition and designated terrorist groups continue shelling government-controlled areas, including in civilian-populated areas... including in Damascus, Homs, Hama and Quneitra," according to the report.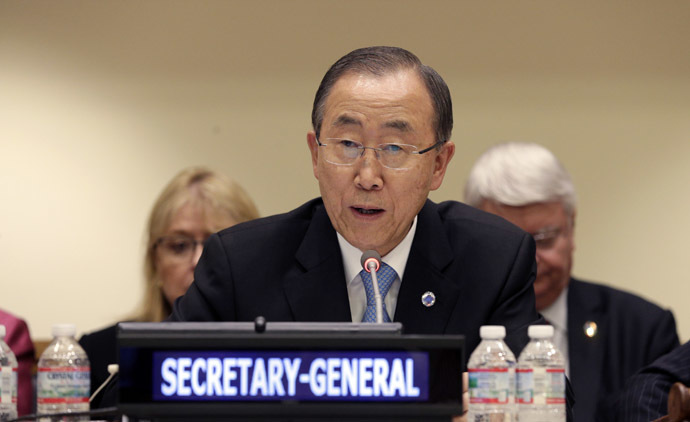 Ban warned that "a military campaign alone [against the IS] could lead to further radicalization and spark a cycle of renewed violence," adding that the Islamic State intensified its recruitment efforts inside and outside of Syria.

READ MORE: Kids' crusade: ISIS abducting & indoctrinating children – UN

The document focused on the July 14 resolution, which approved delivery of aid into rebel-held areas in Syria without the government approval through the four border crossings. Ban confirmed that the UN team was able to access an average of 66 hard to reach areas per month since the resolution was passed, up from an average of 38 per month during the four months prior to the vote.

Following the report, UN humanitarian chief Valerie Amos told the Security Council that an estimated of 12.2 million people need assistance in Syria – a rise from 10.8 million in July. At the same time, Amos said that aid coming in from Turkey and Jordan is making a difference and called on the UNSC to extend the authorization that expires on January 9.

READ MORE: Int'l anti-ISIS brigade: Westerners flock to fight for Kurds

Critics of the US-led bombing warfare against ISIS in Iraq and Syria have asserted that not only is this tactic ineffective – it also encourages more people to join radical groups.

"It is completely unsuccessful from the standpoint of destroying ISIS, but it's an enormous success story for ISIS. It is actually helping the Sunni Islamists recruit new people – more than a thousand every month from across Asia, Africa, and the Middle East," retired US Army Colonel Douglas MacGregor told RT.

According to MacGregor, Washington should not step into the conflict and leave it at the regional level.
You can share this story on social media: