NBA players join nationwide protests as marches go on in California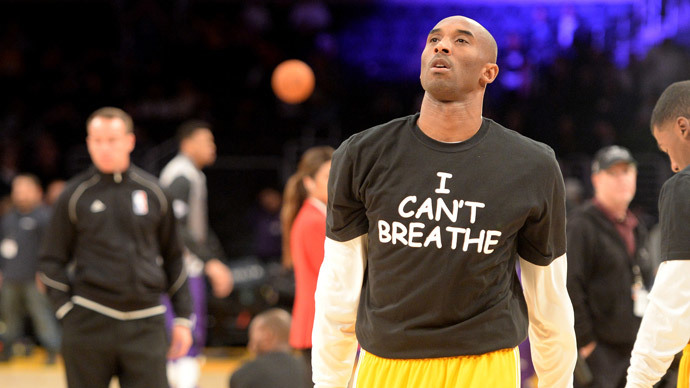 More NBA players, including Kobe Bryant, joined in on national demonstrations against racial profiling and police violence on Tuesday, as protests for the fourth consecutive night in California's Bay Area led to another brief freeway shutdown.
Bryant, of the Los Angeles Lakers, and other players wore shirts during pregame warm-ups on Tuesday that read "I CAN'T BREATHE," a reference to the final words of Eric Garner, a black man killed by a New York City police in July by way of a chokehold. A Staten Island grand jury chose not to indict white officer Daniel Pantaleo in the killing despite a clear video of the incident.
On Monday night, as hundreds of protesters gathered outside the Barclays Center in Brooklyn, NBA players from the Cleveland Cavaliers and the Brooklyn Nets, including Lebron James and Kevin Garnett, donned "I can't breathe" t-shirts before their game.
"When you believe in something and you stand up for something, you believe in whatever comes with it as well," Jarrett Jack, Nets player and organizer of the teams' demonstration, said about possible ramifications of the players' attire, according to USA Today.
"That's the thing people knew going into it and we understood it. If (a fine) comes our way, it does. If not, that's it. Some things are worth more than the monetary value of it, so to speak. I applaud the guys who did it. We were on the same page as far as how we felt. We felt strongly about it and just wanted to go out there and take a stance."
NBA Commissioner Adam Silver said he supports players offering their opinions but would prefer they wear clothing made by the NBA's official outfitter, Adidas.
The New York grand jury decision came one week after a similar decision in Missouri, as a St. Louis County grand jury chose not to indict white Ferguson police officer Darren Wilson in the fatally shooting of unarmed black teenager Michael Brown in August. The decisions - along with a spate of recent police shootings of young, unarmed black men in Cleveland, Phoenix, and Brooklyn - have sparked a new round of unrest around the US, as protesters have voiced disgust and anger over racial profiling, police brutality, and inequities within America's legal system.
Outrage continued Tuesday evening in the Bay Area cities of Berkeley and Oakland, as about 150 protesters, according to the Oakland Tribune, began the night by gathering at the Berkeley police station at around 7 p.m. PT.
Many were upset that the Berkeley City Council had cancelled a scheduled meeting where many demonstrators had hoped to voice frustration with the forceful police response to protests. Berkeley Mayor Tom Bates said the meeting was called off since the size of the room the council regularly meets in can only hold 125 people, the Tribune reported, and officials could not find a replacement facility.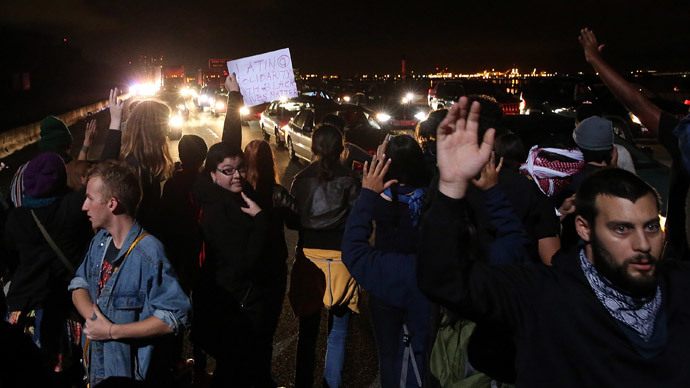 Bay Area Rapid Transit (BART) officials decided to close the downtown Berkeley and MacArthur stations as protesters passed those areas, the Tribune reported.
Demonstrators headed south toward Oakland at around 8 p.m., marching along Telegraph Avenue before climbing a hill to stop traffic on State Highway 24 at 40th Street.
Police fired non-lethal projectiles from the elevated highway into the gathered crowd. Law enforcement reported some trash fires in the street. California Highway Patrol spokesman Daniel Hill said some protesters threw rocks and incendiary devices at officers, Reuters reported.
According to the Tribune, a photographer for Reuters was hit with chemical spray, though who was responsible was not clear. A San Francisco Chronicle photographer's camera was struck and damaged by a California Highway Patrolman's baton.
Police eventually pushed protesters away from traffic, and several hundred people headed south, amassing at Oakland City Hall at around 10:30 p.m., as the city council's meeting there was still in session.
Hill said about 13 people were arrested. Berkeley police said six people were arrested there.
"All these incidents - it's not just one occurrence. And that's why I'm outraged," Marsalis Johnson, 19, a protester in Oakland, told Reuters. "As a young black man I always feel like a target."
On Monday night, Protests in Berkeley involved more than a thousand people, according to reports, several hundred of whom stormed a major California freeway. About 150 were eventually arrested, predominantly for obstruction of traffic, the California Highway Patrol said.
Berkeley Mayor Bates said 20 police officers have been injured amid the protests, the Tribune reported, adding that officials have not offered any information on how many demonstrators had been injured facing down police in riot gear and sophisticated anti-assembly weaponry.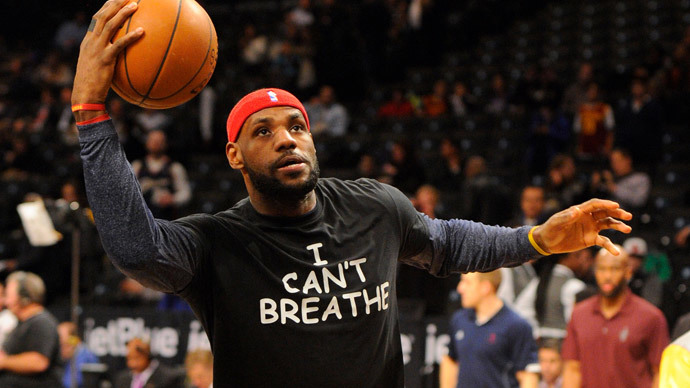 Bates was reportedly questioned by two Berkeley High School students about his feelings on police brutality and the shooting of Michael Brown in Ferguson.
"I wanted to know if our mayor was on our side," said Raymond Lankford, 18, adding that Bates didn't stop to talk for very long. "I felt like he could have been more sincere. Sometimes it takes violence for you to get an answer."
Kadar Hall, 18, who joined a march on Monday, talked about his feelings about police.
"I see them and I'm afraid," Hall said. "It's a spooky feeling that they can kill me and get away with it. It feels like people take blackness as a threat. It's not a weapon, it's just their skin color."
In Phoenix, police said it was officer Mark Rine, a seven-year veteran of the department, who was responsible for killing an unarmed 34-year-old black man Rumain Brisbon on Dec. 2. The revelation came hours before a demonstration was planned to call for the officer's name.
About 200 people marched on police headquarters in downtown Phoenix on Monday night. Brisbon was fatally shot over accusations of drug dealing.