Mississippi teen burned alive, last words may help cops find killer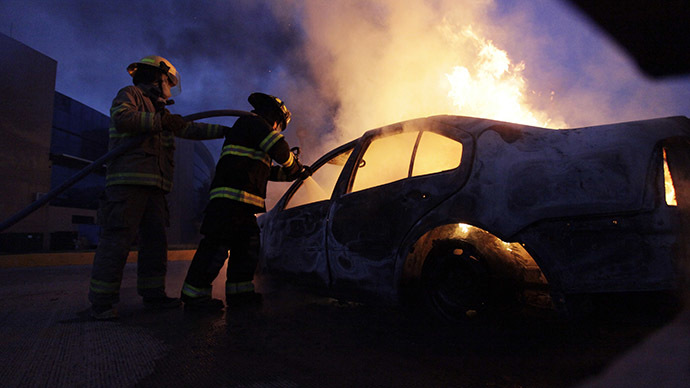 A Mississippi teenager was burned alive when someone poured gasoline over her and set her alight, but her last words have taken on important significance. Before dying, she was picked up by police and reportedly shared details about her attacker.
The Panola County Sheriff's Office, located in a rural area of Mississippi, responded to a call about a burning car and found 19-year-old Jessica Chambers, still alive and still on fire. She was taken to hospital in Memphis, where she died. Autopsy reports showed she died from severe burns on 98 percent of her body.
Authorities in Mississippi searching for suspect that set 19 yr. old Jessica Chambers on fire Saturday. @wapiradiopic.twitter.com/8A2Sdcoicz

— Valerie Vining (@ValerieVining) December 9, 2014
"They have ripped everything I have," Lisa Chambers, Jessica's mother, told the Clarion Ledger. "She left to go clean out her car and was going to get her something to eat."
She never returned home.
"From what we were told, the only part of her body that wasn't burned was the bottom of her feet," said Amanda Prince, Jessica's sister.
READ MORE:Atlanta boy missing for 4 yrs found alive behind fake wall at father's house
Prince told reporters that police said someone was inside Jessica's car before the attack, and the attacker may have poured a flammable liquid down her throat and nose before setting her on fire. It wasn't clear if she was knocked out or fought back, but there was a gash on her head, Prince added.
WTF?!?!? Lighter fluid squirted down throat, set on fire, killing Mississippi teen Jessica Chambers https://t.co/oplX0C2Opc#Anonymous

— #pUNkIsAStateOfMind (@punkboyinsf) December 9, 2014
Ben Chambers, Jessica's father, who does maintenance work for the Panola County Sheriff's office, said firefighters found Jessica walking down the road, still on fire.
"It takes my breath sometimes," Chambers told the Clarion Ledger. "It's hard to even breathe."
Before she died, though, Jessica might have told investigators who committed the crime - but authorities won't discuss what she said.
READ MORE:Ferguson grand jury reaches decision
Panola County Sheriff Dennis Darby said authorities are looking for a person of interest, but so far there have been no arrests and no one is in custody.
Detectives are examining a cellphone found near the scene and checking it for evidence, which should help establish a timeline of events for Saturday.
READ MORE:US child homelessness at all-time high
There is also surveillance video from a gas station in Courtland that shows Chambers in her final hours. She runs into someone she knows and is called off-camera. She can be seen from a different view returning alone. In the background, a man in a striped shirt is seen filling up what looks like a gas can, before walking away with it. Authorities are reportedly looking into that video.
The Mississippi Bureau of Investigation is conducting a probe into the homicide.