Atlanta boy missing for 4 yrs found alive behind fake wall at father's house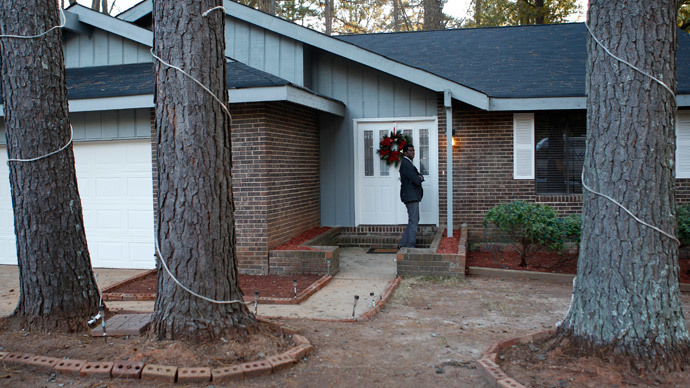 A 13-year-old boy, who was reported missing back in 2010, has been found alive, imprisoned behind a fake wall in his father's Georgia home.
Five people who were living in the residence in Jonesboro, some 17 miles south of Atlanta, were arrested following the boy's discovery. His father was among those taken into custody, according to the police in Clayton country.
The child's father had placed the boy behind a fake wall in a linen closet, law enforcers in Clayton country said.
The boy, whose name hasn't been released, managed to send his mother a text message and report his whereabouts. The woman then called the police, who first arrived at the house at 11 pm local time on Friday to conduct a welfare check on the child.
Following their first check, however, the officers were unable to locate the boy, and left the premises empty-handed after several occupants denied the child was there.
Several hours later, police received another call about the boy and decided to return to the house.
During the course of a second search, the boy managed to call his mother again and tell her where he was being held. She in turn directed the police to the false wall, obscured by towels, where they found him.
"We opened the compartment area where he was and I saw him and asked him to come forward," Clayton County Police Sgt. Joanne Sutherland told WSB-TV. "He was horrified. He was frozen with fear."
The teenager was reunited with his mother early on Saturday.
The father, identified by the Atlantic Journal Constitution as 37-year-old Gregory Jean, along with 42-year-old Samantha Joy Davis are facing charges of false imprisonment, cruelty to children and obstruction. The three other people arrested were juveniles and are facing obstruction charges.
The teen went missing in 2010 while visiting his father in Florida, WSBTV reported.
He wasn't always kept off the streets, however, and was seen by neighbors on more than one occasion.
"We just thought that they liked to keep to themselves," neighbor Julie Pizarro told Reuters.
Neighbors assumed the boy was being home schooled, with Pizarro saying the boy could often be seen doing yard work.
"You can see the yard is immaculate," she said. "The boy kept it that way."
That the boy was let out of the house prompted questions as to why he was not discovered earlier.
Police told Atlanta's Channel 2 that the mother had apparently filed a report with Child Protective Services but not with police, possibly because as an immigrant she was unfamiliar with the welfare system. As a result, no missing person's report was ever filed.
Although the boy was reunited with his mother on Saturday, he will remain with family services for the time being, AFP reports.
Despite his traumatic ordeal, police say the boy appeared to be in good physical health.