US child homelessness at all-time high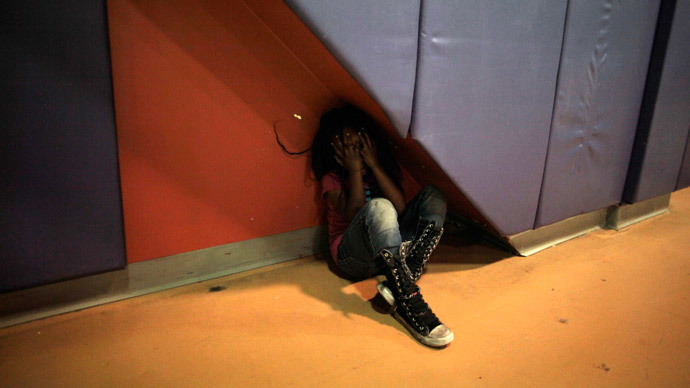 In the United States, one child in every 30 - or 2.5 million children - was homeless in 2013, marking an all-time high, according to a new comprehensive report that blames the country's high poverty rate and lack of affordable housing, among other causes.
The report, 'America's Youngest Outcasts,' released by the National Center on Family Homelessness was prepared using the "most recent federal data that comprehensively counts homeless children, using more than 30 variables from over a dozen established data sets."
The 2.5 million figure is based on the US Department of Education's count of 1.3 million homeless children in public schools, and estimates of homeless preschool children left out of DOE data.
The National Center on Family Homelessness - part of the private, nonprofit American Institutes for Research - said the top causes of youth homelessness include America's high poverty rate; lack of affordable housing across the US; the lingering ramifications of the Great Recession; racial disparities; high rates of and challenges that come with single parenting; and the manner in which trauma, especially domestic violence, "precede and prolong homelessness for families."
From 2012 to 2013, child homelessness in the US went up by eight percent overall, as 31 states and the District of Columbia had increases, according to the report.
"The impact of homelessness on the children, especially young children, is devastating and may lead to changes in brain architecture that can interfere with learning, emotional self- regulation, cognitive skills, and social relationships," the report stated. "The unrelenting stress experienced by the parents, most of whom are women parenting alone, may contribute to residential instability, unemployment, ineffective parenting, and poor health."
Carmela DeCandia, director of the National Center on Family Homelessness and co-author of the report, said that the federal government has not made the same progress in reducing child homelessness as it has in combating homelessness among veterans and long-term homeless adults.
"The same level of attention and resources has not been targeted to help families and children," she told AP. "As a society, we're going to pay a high price, in human and economic terms."
With 527,000 homeless children last year, California accounted for more than one-fifth of the overall tally.
The Golden State was third-worst in overall rankings for child homelessness in the US. Only Alabama and Mississippi, respectively, were ranked lower. The rankings were based on the extent of child homelessness in the state; risk factors for child homelessness, i.e. home foreclosure rates, poverty, lack of health insurance, and other economic factors; child well-being; and state policy and planning initiatives.
Minnesota, Nebraska, and Massachusetts ranked highest based on those measurements.
Shahera Hyatt, director of the California Homeless Youth Project and a former homeless youth herself, told AP she was not surprised by her states' dismal ranking and high number of homeless kids.
"These terms like 'couch surfing' and 'doubled-up' sound a lot more polite than they are in practice," she said. "For teenagers, it might be exchanging sex for a place to stay or staying someplace that does not feel safe because they are so mired in their day-to-day survival needs."
The report said solutions to youth homelessness must include more affordable housing, education and employment opportunities for homeless parents, and special services for mothers forced into homelessness due to domestic violence.
"Without decisive action and the allocation of sufficient resources, the nation will fail to reach the stated federal goal of ending family homelessness by 2020, and child homelessness may result in a permanent Third World in America," the report concluded.
Advocates are also pushing the federal government to better account for child homelessness in the US. The new report used Department of Education figures, which include homeless families temporarily staying in motels or with other families or relatives. The US Department of Housing and Urban Development (HUD), meanwhile, only conducts an annual one-day tally of homeless people in shelters, parks, underpasses, vacant lots, and the like. HUD's latest count, for just one night in January 2013, came to 610,042 homeless people, including 130,515 children.
Critics say HUD's method drastically underestimates child homelessness, thus negatively impacting potential solutions to the problem.
"Fixing the problem starts with adopting an honest definition," said Bruce Lesley, president of the nonprofit First Focus Campaign for Children, according to AP. "Right now, these kids are sort of left out there by themselves."
Lesley's group and others have pushed a bill with bipartisan support in Congress that would push HUD to account for homelessness more like the DOE. Yet, the bill does not address increased spending for initiatives that would combat the problem.
"It's often one family living in extreme poverty going to live with another family that was already in extreme poverty," Hyatt said. "Kids have slept in closets and kitchens and bathrooms and other parts of the house that have not been meant for sleeping."
You can share this story on social media: