Rikers Island guard arrested in death over inmate who 'baked to death'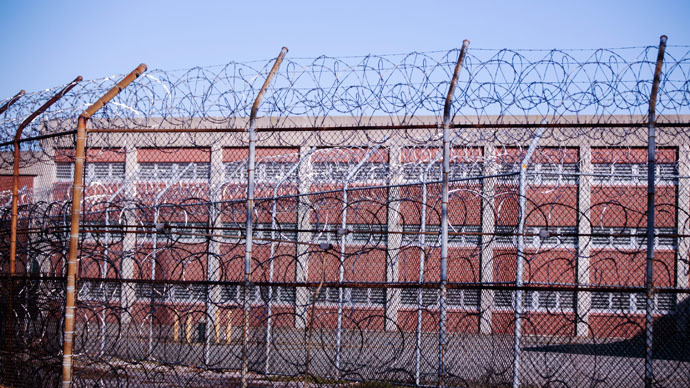 A correctional guard at the Rikers Island prison has been arrested over the death of a homeless former Marine who was left inside a 101-degree jail cell earlier this year. The guard faces multiple counts of falsifying records and misconduct.
If the guard is found guilty, she could face four years in jail.
New York City Department of Corrections Officer Carol Lackner was charged for allegedly falsifying business records and for official misconduct – making logbook entries stating she toured the cell every half hour to check on Jerome Murdough, and other inmates in his unit, despite video contradicting those reports, prosecutors said Monday.
@AP Rikers guard arrested and charged? There must be some mistake...

— Dark Mark (@DarkMarquee) December 8, 2014
A Department of Investigation (DOI) report found Lackner also left her shift before her relief had arrived.
"Fabricating documents and covering up misconduct are serious crimes that foster the broader problems of violence, contraband smuggling, and security breaches at the City jails," DOI Commissioner Mark Peters said.
Lackner was initially placed on modified duty. After Monday's arrest she has been suspended.
"The safety of staff and inmates in the jail system is my top priority. As part of meaningful reform at the Department of Correction, we are doing everything possible to prevent a similar tragedy from happening again," said Department of Corrections Commissioner Joseph Ponte, adding that Murdough's death was "a tragedy."
READ MORE:Mother whose son 'baked to death' in prison is awarded $2.25 mn
The Associated Press first reported the death of Murdough in the overheated cell after a city official, speaking on condition of anonymity, said the man "basically baked to death" when he was left unchecked for at least four hours. Malfunctioning equipment caused his cell to overheat on February 15, 2014.
Murdough was arrested for sleeping in a public housing stairwell on a cold night. He was charged with misdemeanor trespassing and, unable to make the $2,500 bail, was sent to Rikers. A week later, he was dead.
READ MORE: Imprisoned Occupy activist alleges medical negligence at Rikers Island
Murdough suffered from bipolar disorder and schizophrenia, according to his family, and was on psychotropic drugs that experts say make people more sensitive to heat.
More to consider: Murdough was arrested for being homeless. http://t.co/Z8u4a3Jhyy

— Women's Prison Assoc (@WPA_NYC) December 9, 2014
The medical examiner ruled the death was caused by hyperthermia due to environmental exposure to heat. His medication also played a role. The death was ruled to be accidental.
In October, Murdough's mother reached a $2.25 million settlement with New York City. The city did not admit liability as part of the settlement.
The arrest comes as part of an ongoing investigation by the Department of Investigation into illegal activity at Rikers Island, which so far has resulted in the arrest of 11 correctional officers, supervisors and other staff that work in city jails.
READ MORE:Overhaul: NYC to spend $130mn reducing mentally-ill prison population
Last week, New York Mayor's Bill de Blasio introduced new measures to try and avoid sending mentally ill people to Riker's Island.
You can share this story on social media: