Glenn Beck can be sued in Boston Bombing libel lawsuit - federal judge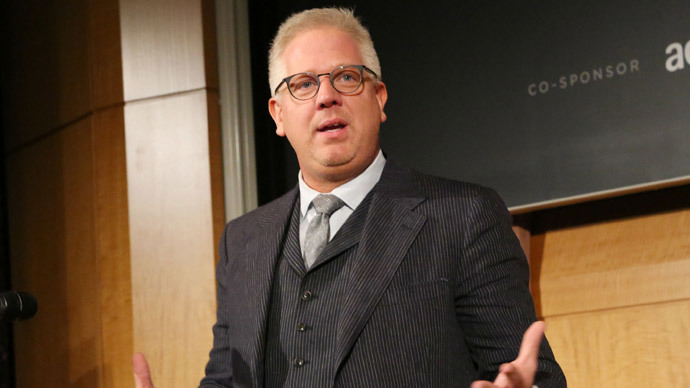 A libel lawsuit against conservative radio host Glenn Beck can proceed, a federal judge ruled. The commentator accused a Saudi national of being a conspirator in the April 2013 Boston Marathon Bombing, even after law enforcement had cleared him.
Abdulrahman Alharbi, then 20, was among the hundreds hurt during last April's marathon in the metropolitan Massachusetts city after a pair of homemade pressure cooker bombs exploded near the finish line, killing three. In January, attorneys for the man filed suit against Beck in response to the repeated erroneous on-air remarks made about their client in the aftermath. The founder of The Blaze sought to have the case dismissed, saying that Alharbi was a "limited purpose or involuntary public figure."
Right Wing Watch described Beck's motion as "a novel legal argument":
"Of course, it was Beck himself who continued to focus attention on Alharbi, meaning that Beck's legal team was essentially arguing that Alharbi became a public figure as a result of Beck's attacks... which they said means that Alharbi cannot now sue Beck for those very same attacks because he was a public figure," the website wrote.
If US District Court Judge Patti Saris had found that the Saudi was a public figure, then he would have had to prove actual malice — that Beck intentionally lied or recklessly disregarded the truth. But instead, she denied the defendant's motion to dismiss.
Saris wrote that Beck "made numerous false statements about Alharbi on his radio show, even after he was cleared." She shot down the idea the Saudi national attempted to "thrust himself into a controversy," and stating that Alharbi does not fall into various categories of what constitutes a public figure.
"As a private figure, Alharbi is not required to allege actual malice in order to make out a claim for defamation. Instead, the level of fault required on the defendants' part is merely negligence…," she concluded. "The facts alleged in Alharbi's complaint easily permit an inference that the defendants were negligent as to the truthfulness of their reports after the authorities cleared his name. The Court need not determine whether the allegations create a plausible claim of actual malice."
In the days after the bombing, federal authorities eventually narrowed in on brothers Dzhokhar and Tamerlan Tsarnaev as their main suspects, but Beck — a radio and television personality who previously spent years hosting a program on Fox News — broadcasted his own bombastic theories for weeks, including allegations that tied Alharbi to the terror attack.
Indeed, Alharbi was questioned by authorities shortly after the incident — as were many others, the lawsuit said. But while officials ultimately cleared the student of any involvement in the plot, Beck insisted to his audience that there was more to the story.
According to the lawsuit, for weeks Beck continued to try and link Alharbi to the terrorist attack, and repeatedly referred to him as "the money man" who helped to fund the blast.
"While the media continues to look at what the causes were of these two guys, there are, at this hour, three people involved," Beck said during an April 22, 2013 episode of his radio program.
"We know who this Saudi national is... We know who this man is and, listen to me carefully, we know he is a very bad, bad, bad man," he said in another cited by the Washington Post.
"On and after April 15, Beck broadcast repeated statements distributed and published to others…identifying Alharbi as an active participant in the crimes that were committed in Boston," Alharbi's lawyer, Peter Haley, wrote in a six-page suit filed this April.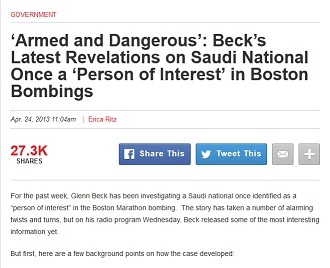 "Beck... repeatedly questioned the motives of federal officials in failing to pursue or detain Alharbi an repeatedly and falsely accused Mr. Alharbi of being a criminal who had funded the attacks that took place at the Boston marathon," the filing continued. "Those statements were made widely and publicly. The statements were false and caused grave injury to the plaintiff."
According to Alharbi's attorneys, their client was condemned as a terrorist by complete strangers due to Beck's allegations, despite having been long-cleared by federal authorities involved in the investigating the bombing.
"Alharbi has received numerous messages, internet postings and other communications based on Beck's false statements accusing him of being a murderer, child killer and terrorist," the suit read.
"It's not easy to forget," Alharbi told Islamic Monthly in an interview published after the April 15 bombings. "Because you just going to write my name and search about [me], you are going to think I am from Al-Qaeda and, like terrible things."
In her ruling, Saris wrote that the media reports that Alharbi was briefly investigated by authorities was not sufficient to render the student, who also incurred minor injuries at the finish line, a public figure.
"Choosing to attend a sporting event as one of thousands of spectators is not the kind of conduct that a reasonable person would expect to result in publicity. Quite to the contrary, a spectator at an event like the Boston Marathon would reasonably expect to disappear into the throngs of others, never attracting notice by the press. Because he did not 'assume the risk of publicity,' Alharbi does not meet the definition of an involuntary public figure," the judge wrote.
If Beck does not settle the lawsuit out of court with Alharbi, the case will likely move into the discovery phase, where the two sides will exchange information and take depositions from those involved, Politico reported.
Attorneys for Alharbi are asking the court to determine the amount of damages they think the alleged defamation brought on by Beck caused, and are hoping to have legal costs incurred by the defense as well.