Boston Marathon bombing victim sues Glenn Beck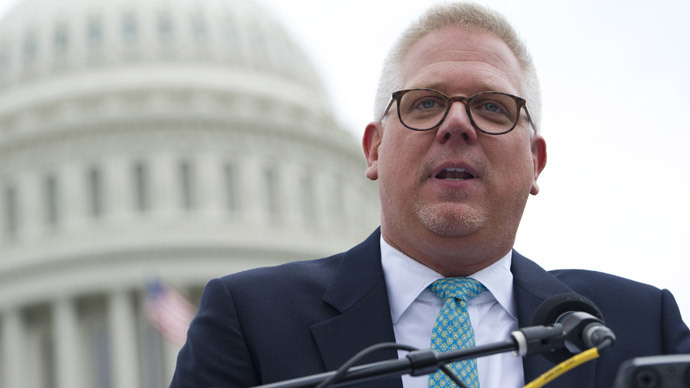 A Saudi Arabian man injured by one of the two bombs that detonated at last year's Boston Marathon is suing conservative commentator Glenn Beck in federal court for defamation.
Abdulrahman Alharbi, then 20, was among the hundreds hurt during last April's footrace in the metropolitan Massachusetts city after a pair of homemade pressure cooker bombs exploded near the finish line, killing three. Now nearly a year later, attorneys for the man have filed suit against Beck in response to erroneous on-air remarks he made repeatedly about their client in the aftermath.
Federal authorities eventually narrowed in on brothers Dzhokhar and Tamerlan Tsarnaev as their main suspects in the days that followed the bombing, but Beck — a radio and television personality who previously spent years hosting a program on Fox News — broadcasted his own bombastic theories for weeks, including allegations that tied Alharbi to the terror attack.
Indeed, Alharbi was questioned by authorities shortly after the incident — as were many others, the lawsuit filed on Friday reads. But while officials ultimately cleared the student of any involvement in the plot, Beck insisted to his audience that there was more to the story.
According to the lawsuit, for weeks Beck continued to try and link Alharbi to the terrorist attack, and repeatedly referred to him as "the money man" who helped to fund the event.
"While the media continues to look at what the causes were of these two guys, there are, at this hour,three people involved," Beck said during an April 22 episode of his radio program.
"We know who this Saudi national is. … We know who this man is and, listen to me carefully, we know he is a very bad, bad, bad man," he said in another cited by the Washington Post.
Attorneys for Alharbi are now suing Beck, as well as his website The Blaze and the radio entities that carried the pundit's program, for defamation and defamation with malice.
"On and after April 15, Beck broadcast repeated statements distributed and published to others…identifying Alharbi as an active participant in the crimes that were committed in Boston," Alharbi's lawyer, Peter Haley, wrote in a six-page suit filed last week.
"Beck . . . repeatedly questioned the motives of federal officials in failing to pursue or detain Alharbi an repeatedly and falsely accused Mr. Alharbi of being a criminal who had funded the attacks that took place at the Boston marathon," the filing continues. "Those statements were made widely and publicly. The statements were false and caused grave injury to the plaintiff."
According to Alharbi's attorneys, their client was condemned as a terrorist by complete strangers due to Beck's allegations, despite having been long-cleared by federal authorities involved in the investigating the bombing.
"Alharbi has received numerous messages, internet postings and other communications based on Beck's false statements accusing him of being a murderer, child killer and terrorist," the suit reads.
"It's not easy to forget," Alharbitold Islamic Monthly in an interview published since the April 15 bombings. "Because you just going to write my name and search about [me], you are going to think I am from Al-Qaeda and, like terrible things."
Similarly, two men accused of participating in the attack by the New York Post — and displayed prominently on the front page of the cover after last year's attack — have sued that publication for defamation in Massachusetts court. That case is still pending.
Attorneys for Alharbi are asking the court to determine the amount of damages they think the alleged defamation brought on by Beck caused, and are hoping to have legal costs incurred by the defense as well.
As of Tuesday morning, Beck had yet to respond publically to the lawsuit.
You can share this story on social media: