US claims Iran is bombing ISIS in Iraq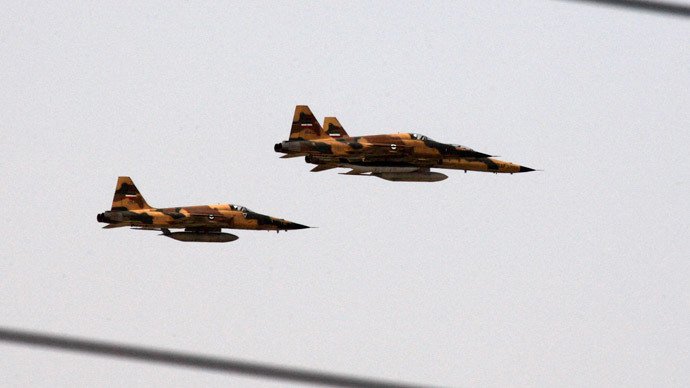 The United States understands that Iran is also bombing areas of Iraq where extremist group Islamic State is operating, a defense official has confirmed, but it will not respond to Tehran's presence unless there is an immediate threat to US forces.
"We are aware of that. I wouldn't say we're necessarily concerned with it - we kind of have our eyes on it," the official told The Huffington Post, adding that Iran is bombing targets close to its own border with Iraq.
The US is currently leading its own airstrike campaign - assisted by Western allies like the UK and regional partners like Saudi Arabia - against Islamic State (also known as ISIS or ISIL) in Iraq and Syria, countries where the group has come to control large swaths of territory.
The official's claims come days after IHS Jane's Defence Weekly, a British defense analysis organization, and Israeli news outlet Haaretz both reported that an Iranian jet had flown through Iraqi airspace.
"We are there pretty heavily in the air if you include [intelligence collection], so just looking at those facts we have a pretty good picture of what's happening in Iraqi airspace," the official said. "We would not be operating in Iraq without having a clear picture."
Iran is closely allied with the neighboring Iraqi government and Shiite militias that have vowed to fight Islamic State. Tehran was first to offer assistance to Iraq to counter Islamic State. Then the US began its bombing campaign against Islamic State in August, first targeting the group in Iraq before adding airstrikes in Syria.
The White House would not comment on the defense official's claims to Huffington Post. The State Department did not immediately respond to a request for comment.
US officials have acknowledged that, in conducting airstrikes in Iraq and Syria, it is operating within Iran's spectre. The defense official told Huffington Post that the US would only react if Tehran threatened American military advisers on the ground in Iraq.
"We are there at the invitation of the Iraqi government," he said. "It's not like it was in 2010. We're there at the invitation of the Iraqi government, so it's not for us to say what they should allow, what they shouldn't allow."
"It's their country. Our only concern would be if there are any type of force protection issues. Like I said, we have a pretty good understanding of what's in the air."
The US has also claimed that it would like to avoid jeopardizing the ongoing negotiations over Iran's nuclear program. Those talks are set to resume this month.
White House Press Secretary Josh Earnest said last month that the US and Iran were not working in tandem against Islamic State.
"We won't share intelligence with them, but their interest in this outcome is something that's been widely commented upon and something that on a couple of occasions has been discussed on the sidelines of other conversations," he said.
For its part, Iran's leadership has made clear it is not targeting Islamic State in efforts to assist the US.
In September, Iran's supreme leader Ayatollah Ali Khamenei said that the US offered to discuss a coordinated effort with Iran against Islamic State.
"The American ambassador in Iraq asked our ambassador (in Iraq) for a session to discuss coordinating a fight against Daesh (Islamic State)," said Khamenei, the state-run Islamic Republic News Agency reported, according to Reuters.
"Our ambassador in Iraq reflected this to us, which was welcomed by some (Iranian) officials, but I was opposed. I saw no point in cooperating with a country whose hands are dirty and intentions murky."
You can share this story on social media: