Iran nuclear talks extended till end of June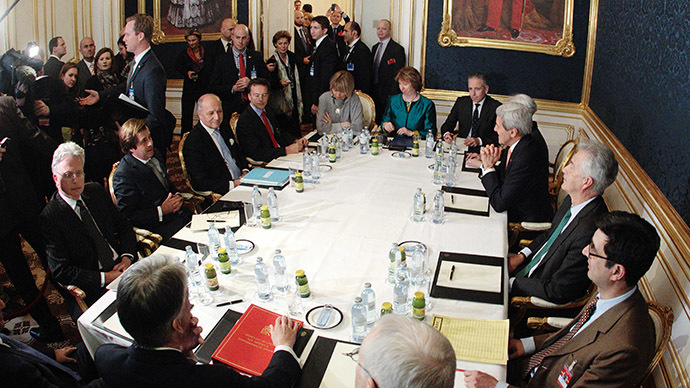 Iran's nuclear talks with the six world powers will carry on till the end of June, officials taking part in negotiations have confirmed. The parties failed to reach a conclusion by the deadline of November 24.
Iranian Foreign Minister Mohammad Javad Zarif along with EU official and spokeswoman for the six powers negotiating with Iran, Catherine Ashton, said that all sides "remain convinced that ... a comprehensive solution can be reached," according to a joint statement.
Zarif and Ashton now up, hours later pic.twitter.com/19YTXp142n

— Rosie Gray (@RosieGray) November 24, 2014
"We remain convinced that, based on the progress made and on the new ideas which continue to be explored, there is a credible path through which a comprehensive solution can be reached," the statement said. "We intend to build on the current momentum in order to complete these negotiations within the shortest possible time."
Ashton added the June 30 extension was needed to deal with technical questions and drafting.
Both stressed that parties will try to conclude negotiations in four months and the extra time would only be taken if there are still unresolved issues. According to Zarif, Tehran would not want to spend seven entire months on extra negotiations.
Zarif cited mutual distrust as a hindrance to successful talks. "The main obstacle was the compounded mutual distrust, but more so distrust towards Iran," Zarif said during a press conference.
Zarif: Major obstacle was compounded mutual distrust. We believe Iran is a trustworthy country.

— Milad Jokar (@Milad_Jokar) November 24, 2014
Russian Foreign Minister Sergei Lavrov earlier stated that "considerable progress" had been made but there was no final agreement. Meanwhile, the Geneva agreement remains in place, he added, and he expressed expectations that the "basic principles" of a final agreement would be made within three or four months.
British Foreign Secretary Philip Hammond also commented that "significant progress" was achieved.
As of yet, the site of next month's round of talks remains unknown. Meanwhile, Tehran will still have access to $700 million per month by way of sanctions relief.
Iranian President Hassan Rouhani said on Monday that "during the talks in Vienna many gaps were narrowed and our positions with the other side got closer," according to state television reports.
Our #nuclear negotiation team has worked tirelessly around the clock and positive steps have indeed been taken. #IranTalksVienna

— Hassan Rouhani (@HassanRouhani) November 24, 2014

US Secretary of State John Kerry also added his comments later on Monday, giving a potentially more realistic assessment of the challenges that would be faced by all sides in the coming months,

"If we can do it (get a deal) sooner, we want to do it sooner," Kerry told reporters. "These talks are not going to get easier just because we extend them. They're tough. They've been tough. And they're going to stay tough."
However, he added that now was not the time for backing out and that tentative steps towards resolution were being made.
"In these last days in Vienna we have made real and substantial progress and we have seen new ideas surface," he said, adding there were still "some significant points of disagreement."
The announcements were made after the six world powers' foreign ministers arrived in Vienna on Monday for what was previously claimed to be the final round of negotiations on Tehran's nuclear program. However, as the deadline approached, it started to become apparent that reaching a final settlement and breaking the deadlock before the end of the day would be unlikely, and from Sunday, various sources started claiming that an extension would indeed take place.

The talks, which have so far lasted for more than a year, focus on Iran's nuclear ambitions - the country's uranium enrichment capacity and the lifting of sanctions slapped on Tehran in 2012 over its nuclear program.
Lavrov: Today's #Iran nuclear talks not in vain http://t.co/cNcFFhbKkLpic.twitter.com/OPuUgc9fMc

— RT (@RT_com) November 24, 2014
On Monday, prior to official announcements, a source told Reuters on condition of anonymity that Iran and the world powers would be postponing talks and would continue them in mid-December, possibly in Oman.
"Some progress has been made," said a diplomat involved in the negotiations. "But we need to discuss some issues with our capitals. We will meet again before the New Year. This is an ongoing process."
Further negotiations underway with #Iran's Foreign Minister @JZarif#IranTalkspic.twitter.com/4BLSp0laPD

— Philip Hammond (@PHammondMP) November 24, 2014
On Sunday, US Secretary of State John Kerry and Iranian Foreign Minister Mohammad Javad Zarif discussed the possibility of extending negotiations, according to a US official,
"Our focus remains on taking steps forward toward an agreement, but it is only natural that just over 24 hours from the deadline, we are discussing a range of options both internally and with our P5+1 partners," a senior US State Department official said on condition of anonymity.
We're continuing to chip away in Vienna. P5+1 united. #IranTalksVienna

— John Kerry (@JohnKerry) November 23, 2014
The source added that "an extension [of the negotiations] is one of those options."
Spoke with many counterparts today incl @HonJohnBaird, @MFATurkey#FMCavusoglu & @netanyahu abt #IranTalksViennapic.twitter.com/H1GcmXGqz2

— John Kerry (@JohnKerry) November 22, 2014
On Sunday the Iranian Students News Agency (ISNA) cited an unnamed member of Iran's negotiating team in Vienna that the deal on Tehran's nuclear program with six world powers "will be impossible" to reach.
"The issue of extension of the talks is an option on the table and we will start discussing it if no deal is reached by Sunday night," the source added.
In the meantime, UK Foreign Secretary Philip Hammond said the powers will try one more attempt to reach the agreement.
"At the moment we're focused on the last push, a big push [on Monday] morning to try and get this across the line," said. "Of course if we're not able to do it, we'll then look at where we go from there."
En route to #Irantalks for further mtgs with partners & #Iran. Negotiations tough. All efforts focused on trying to reach successful outcome

— Philip Hammond (@PHammondMP) November 23, 2014
Germany's Foreign Minister, Frank-Walter Steinmeier said that Iran and the six world powers were "still far apart on many issues" concerning negotiations on Tehran's nuclear program.
"We are negotiating here with the ambition to reach an agreement," he said. "If this task should not be completed, one definitely would need to look at opportunities so that the road does not end here, but that the negotiating process can be continued."
His thoughts were echoed by his French counterpart, Laurent Fabius.
"We have a final deadline of tomorrow night to find an agreement, but it has to be positive and enables us to work for peace. There are still differences to resolve."
Israel's Prime Minister Benjamin Netanyahu expressed relief that a deal was not reached and talks have been extended.
"It is very important that this agreement has been prevented as of now ... a struggle is yet before us and we intend to continue this struggle in order to prevent Iran from becoming a nuclear threshold state that would endanger us and others," Netanyahu said in a statement. "We are anxiously monitoring the nuclear talks with Iran."
According to the Israeli leader, who considers the nuclear deal with Iran "a very bad and dangerous agreement for Israel, for the region and...for the future of the entire world," inconclusive talks are "preferable to a bad agreement."
The nuclear reactor in Arak and underground enrichment facility at Fordo, currently under construction, are focal points of discussions between Iran and the six world powers.
READ MORE:Iran refuses to address Arak reactor claims, nuclear energy needs cited
There is still significant distance between the two sides regarding the number of centrifuges Iran should be allowed to keep functioning. There is also argument about the amount of leeway international inspectors would have, and how quickly sanctions against Iran would be rescinded.
Iran says it wants enrichment capabilities to develop reactor fuel, and for other peaceful purposes. But the West believes it has been using its civilian atomic energy program as a cover for the developing a nuclear weapons program.
You can share this story on social media: