​Surgeon pays out $90,000 after terrorism joke 'bombs' at Miami airport
The joke is on a prominent neurosurgeon after he unwisely cracked a funny to ticket staff at Miami International Airport about having explosives. The wisecrack is costing him close to $90,000, after he had to pay for delaying passengers.
Dr. Manuel Alvarado, of Venezuela, has agreed to pay $89,172.53 after his joke about a bomb sent police into action, forced the evacuation of two departure gates and delayed thousands of passengers two months ago.
READ MORE:Islamists plan Christmas attacks on 5 planes in major European hubs – report
On Oct. 22, he was preparing to board a flight to Bogota, Colombia, when an Avianca ticket agent asked if he had any explosives in his luggage.
After Alvarado quipped that he had "C4," the agent asked if that was a gun. Alvarado proceeded to explain that it was a type of explosive. Despite efforts to explain that he was joking, the agent quickly called police, who arrested Alvarado.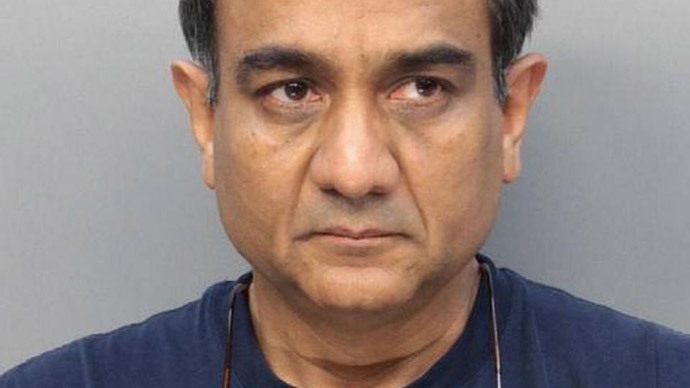 His attorney said Alvarado was "sleep deprived" when he made the ill-advised remark.
About $84,000 of the penalty will go to five airline companies that had to delay flights following the incident. The rest of the will go to Miami-Dade Police, which deployed a bomb squad to search the surgeon's luggage, the Miami Herald reported.
No bomb was found.
READ MORE:Homeland Security to destroy government network surveillance records
In return for paying the fine, Miami prosecutors have decided against filing formal charges of making a false bomb threat.
"I commend the Miami-Dade State Attorney's Office for evaluating the facts and making the right decision," said Alvarado's defense attorney, Brian Bieber, as quoted by AFP.
"He is extremely remorseful. He had no intent to place anyone in fear. He made what turned out to be the worst mistake of his life."
"I feel very ashamed and sorry for that stupid thing I said," Alvarado wrote in a statement to police. "I am very, very sorry."