'Active shooter' at US air base in S. Korea sparks lockdown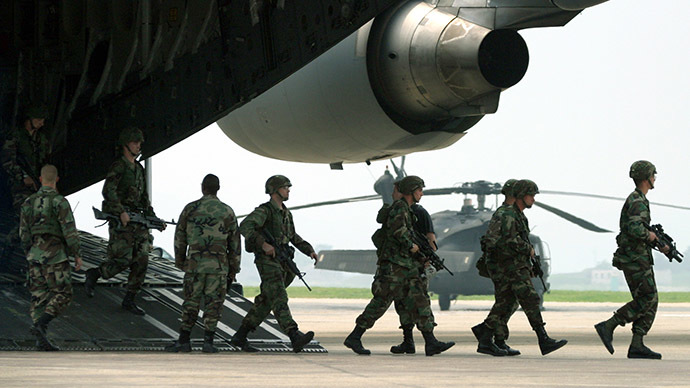 The US Air Force's Osan Air Base, located south of Seoul, was forced to lock down Monday due to reports of an active high school shooter. Security forces were dispatched to sweep the base, only to find it was a false alarm.
Following reports of shooting, people on the base have been told to remain in their quarters or workplaces until further notice, AP cited Osan spokesman Tech. Sgt. Stacy Foster as saying.
The US base published a statement on its website, saying that "Osan American High School, Middle School and Elementary School are on lockdown here, along with the entire installation following reports of an active shooter in the location of the school."
The lockdown was lifted at the base after the "all clear" signal was given as a result of the search.
No suspicious activity was detected and no injuries were reported, according to the air base's Facebook page.
Morgan Nugent, principal of Osan American High School, has explained in a Facebook post that the move was triggered by an anonymous caller reporting an "active shooter drill." No such drill was scheduled for Monday, so officials "decided to error [sic] on the side of safety" and lock down the premises.
Osan Air Base, which is 64 kilometers (40 miles) away from Seoul, is home to the Pacific Air Forces' 51st Fighter Wing and includes the headquarters of the US Seventh Air Force. Some 28,500 troops have been stationed there as a deterrent to North Korea. The base, as well as joint annual US-South Korean drills, has been causing outbursts of tension from Pyongyang, which sees US presence in the region as a sign of planned aggression.