​US, Russia bicker over US antimissile plans for South Korea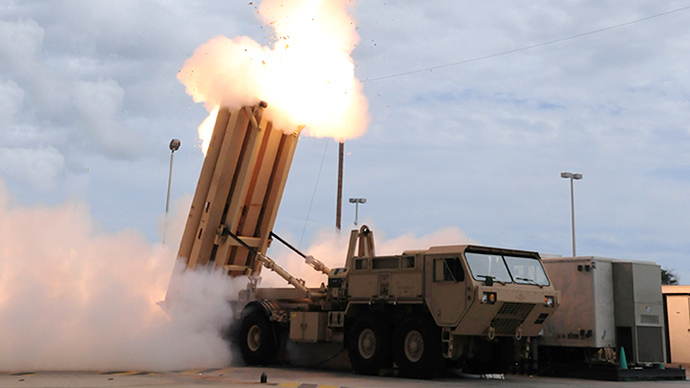 Washington has brushed aside Moscow's concerns that US plans to deploy a missile defense battery in South Korea would have an impact on regional stability, saying the system is not aimed against Russia.
The US military plans to deploy its Terminal High-Altitude Area Defense (THAAD) missile defense in South Korea and, according to some media reports, is pressuring Seoul to do so instead of developing a national missile defense system.
"There was consideration being taken in order to consider THAAD being deployed here in Korea. It is a US initiative, and in fact, I recommended it as the commander," General Curtis Scaparrotti, the commander of United States Forces Korea (USFK), said last month addressing a forum hosted by the Korea Institute for Defense Analyses, in Seoul.
The plans are justified by a growing missile threat from North Korea against America's allies South Korea, Japan and military bases. Washington is looking for a region-wide, operational anti-missile defense system, with military experts believing that it would be actually aimed against China's increasing military presence.
Russia voiced concerns over THAAD deployment. While previously South Korean officials maintained that they want to provide protection from possible missile attacks domestically, on Wednesday South Korean acting Defense Minister Kim Kwan-jin said he would not object to Korea hosting the American system, as long as Seoul does not pay for it.
"We expect the leadership of the Republic of Korea to thoroughly weigh possible consequences of such a move, including for the security of their own country," the Russian Foreign Ministry warned in a statement on Thursday.
"In fact there is a prospect of expansion of America's global anti-missile defense system into South Korean soil. Such a development will inevitably impact the strategic situation in the region and may trigger an arms race in North Eastern Asia," the ministry added.
The concerns were belittled by Washington.
"I understand there are strong opinions in Russia about missile defense. We have been very clear that it is not aimed at them and we are looking at a variety of other threats and we will continue talking to them and being transparent with them about why we are doing what we are doing," State Department deputy spokeswoman Marie Harf said in a media briefing.
Beijing earlier voiced its concerns over THAAD plans, with Chinese Foreign Ministry spokesman Qin Gang saying last month that "deploying missile defense on the Korean peninsula would not be in the interest of regional stability or strategic balance."
Seoul gave an assurance that even if deployed, THAAD in South Korea would not be a threat to China. But Beijing may have additional considerations, since the system would be integrated with Amerian X-band radar hosted in Korea, which can cover most of China's eastern part.
Washington so far has not officially proposed Seoul host its anti-missile system, with the plan being currently internally debated, South Korean Defense Minister Kim said.
You can share this story on social media: