Surprise talks: North Korea officials arrive to South for highest-level visit in years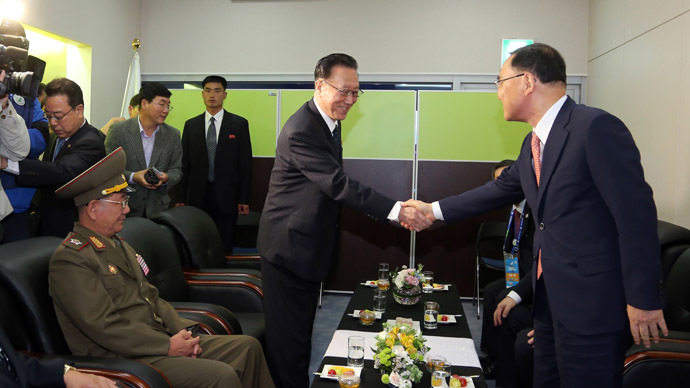 North Korean delegates have met with the South's top officials in an unusual and rare visit, as both countries agreed to resume high-level talks which have been strained by military tensions on the peninsula.
READ MORE: Pyongyang calls for Koreas' federalization & reunification without outside interference
After giving a 24-hour notice, North Korean delegates arrived to South Korea to formally attend the closing ceremony of the Asian Games on Saturday, according to South Korea's state news agency and the Ministry of Unification. The South's ministry was only informed of the visit late on Friday.

The senior delegates of the North included such high-ranking officials as the director of the People's Army's general political bureau, Hwang Pyong-So, who is believed to be the second most powerful man in North Korea. Choe Ryong-Hae, a senior aide to the country's leader Kim Jong Un, was also present.

Pyongyang's former intelligence chief, Kim Yang-Gon, also attended the meeting with the South. He now heads the United Front Department, which oversees relations between the two neighbors.

South Korean Prime Minister Chung Hong-won met with the delegates at the main stadium of the Incheon Asian Games, marking the first time that such high-level talks have been held since 2007, Yonhap news agency reported.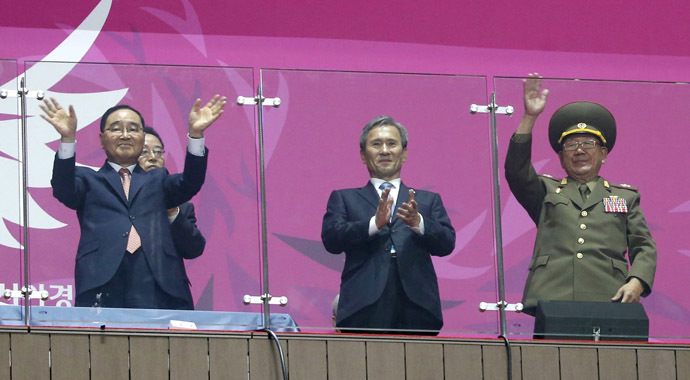 Although the two sides are officially still at war – since no peace treaty was signed after the 1950-53 conflict – the two sides reportedly agreed to another inter-Korean high-level meeting in the coming weeks. However, the officials did not specify the topic of the talks.

"The delegates agreed to have working-level consultations on specific matters ahead of the high-level meeting," the Unification Ministry said in a statement. "The North explained that it intends to continue inter-Korean dialogue by naming the upcoming meeting the second round of talks."

Korea was divided into North and South as a result of WWII. After the 1950-53 conflict, the two sides were separated by the Korean Demilitarized Zone.

Since then, relations between the two countries have been further marred by cross-border fire and mutual threats. Pyongyang's nuclear and ballistic missile tests, as well as joint Washington-Seoul annual military exercises – which North Korea sees as a threat to its national security – contribute to unabating tensions.