​Pyongyang calls for Koreas' federalization & reunification without outside interference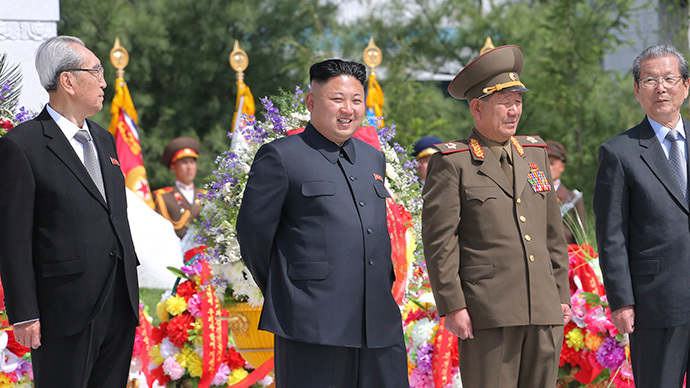 North and South should no more be victims of outside efforts to exploit Korea's division, Pyongyang has stated, calling on Seoul to make steps toward reunification through federalization in which differing ideologies and social systems would co-exist.
"The north and the south should specify the reunification proposals by way of federation and confederation and make efforts to realize them and thus actively promote co-existence, co-prosperity and common interests," Pyongyang said in a statement.
The Democratic People's Republic of Korea (DPRK) says that both nations should seek "reasonable reunification proposals" supported by all "to achieve reunification through a federal formula in Korea where differing ideologies and social systems exist."
Presently a concrete wall runs 240 kilometres along the front line south of the Military Demarcation Line as a barrier across the Korean peninsula. Now the North is calling on the South to "join hands" to settle disagreements and pursue "the reunification issue of the country in line with the desire and wish of the nation."
DPRK urged to focus on the joint declaration of 15 June, a document that was signed in 2000 in Pyongyang between South Korean president Kim Dae-jung and North Korean leader Kim Jong Il.
"In the June 15 joint declaration the north and the south recognized that there are common points in the north-proposed low-level federation and the south-proposed confederation, and agreed to work for reunification in this direction in the future."
To start with the communist state is proposing to "create the atmosphere favorable for reconciliation and unity" and to end "calumnies and vituperations" that create misunderstanding and distrust among Koreans.
Legal and institutional measures that block family reunification should be lifted and a "broad avenue for contacts, visits, cooperation and dialogue should be opened."
Meanwhile, the North says that both states should "end reckless hostility and confrontation" for the reconciliation and unity process.
"The grave situation in which even a single remark and act and tiny friction may lead to a dangerous conflict and destruction of the nation is prevailing on the Korean peninsula as hostility and confrontation have reached the extremes."
Pyongyang urged its neighbor to stop all kinds of "north-targeted war exercises" and reject dependence on "outsiders" to resolve Korean problems.
"[North and South] should solve all issues by their own efforts in the common interests of the nation from the stand of putting the nation above all, attaching importance to the nation and achieving national unity," the statement reads. "The north and the south should never fall a victim to outsiders keen on catching fish in troubled waters through the division of Korea."
You can share this story on social media: