#DontShootPDX: 10 arrests, flash bangs in Portland at Ferguson support rally
At least 10 activists, including one teenager, were arrested overnight in Portland, Oregon, amid on-going protests against a grand jury decision not to indict a white police officer for killing an unarmed black teen.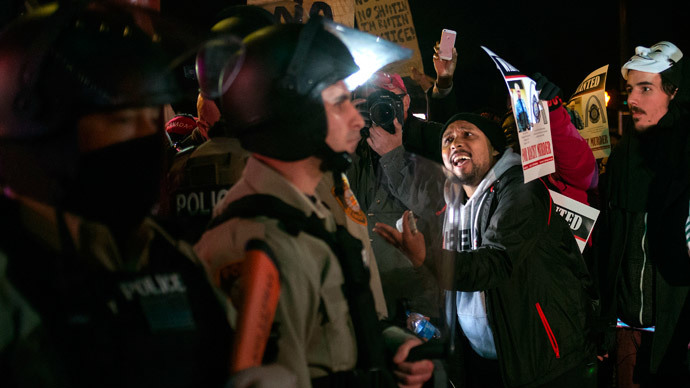 "Officers arrested 10 people at Southwest 2nd Avenue and Main Street at approximately 11:15 pm [Saturday], after a large group of protesters laid down [sic] in the street and refused lawful orders to clear the roadway. Those arrested include nine adults and one juvenile," Portland Police Bureau (PPB) said in a statement.
At least 400 protesters attended the rally dubbed DON'T SHOOT PORTLAND. The event was created on Facebook under the #DontShootPDX hashtag.
Officers have made a few arrests of protesters Downtown at SW 2nd & Main, telling others to leave and stay on sidewalk or face arrest.

— Portland Police (@PortlandPolice) November 30, 2014
According to the police, a larger group of people "was briefly detained" during the demonstration, but then they were "released and told to leave the area."
Earlier, social media users shared a video in which police officials use flash bangs, a device designed to stun its target with a blinding flash of light and intense noise. Also Twitter users said police reportedly used rubber bullets to disperse the activists.
However, PPB said "no 'rubber bullets' were used as was being erroneously reported on Twitter."
My photog and I locked in area with #DontShootPDX protesters, told we can't leave @KGWNews@PortlandPolicepic.twitter.com/BAxP2kWU0H

— Mike Benner (@MikeBennerKGW) November 30, 2014
Activists damaged a police car during the demonstration, PPB said, adding that some protesters "have thrown bottles" at police officers and "have been very confrontational."
"One protester jumped onto a police car, which seemed to incite the crowd further. Officers ordered the crowd to move, but they instead approached officers, who used two 'flash bangs' (no projectiles) to stun the senses," said Jesse Jackson, an American civil rights activist and Baptist minister, who attended the demonstration.
Talking to the crowd from the top of a #Portland Police car. #ferguson | photo @toofy | live http://t.co/R7rK4t9AAXpic.twitter.com/twrNnTCrSe

— Revolution News (@NewsRevo) November 30, 2014
Protesters at Pioneer Square #portland#Fergusonpic.twitter.com/miNfsT5JXT

— Cassandra (@CassieRamirez) November 30, 2014
"Today, Michael Brown is more alive than his killers," he said, as cited by OregonLive.com.
According to Jackson, the jury remained elusive and found no wrongdoing from Darren Wilson, an officer who killed unarmed black teenager Michael Brown.
"The fact is, for three and a half months, this was no jury of substance," Jackson said. "No jury of integrity. No real America. This was a hangman's noose. It's not right, and we all deserve better."
READ MORE:Arrests, protests & 'Xmas carols': Ferguson unrest enters fifth day, c15 detained
The police are even blocking the sidewalk at the #Ferguson solidarity march here in #Portlandpic.twitter.com/jVn6aZTtBV

— Crystal Contreras-G (@CrystalCo530) November 30, 2014
Bob McCulloch, the prosecuting attorney for St. Louis County, announced the grand jury's decision in the Michael Brown case on Monday evening. He said that "no probable cause exists" to file any charges against Wilson. A statement from Wilson's attorney said his client had followed his training, as well as the law, when he shot Brown.
After the jury's decision a wave of violent protests and peaceful marches swept over Ferguson and many other major US cities.
March begins in #PORTLAND after Jesse Jackson speaks. #Ferguson | LIVE http://t.co/fA6a9E8dt1 | pic @CassieRamirezpic.twitter.com/3mMY4pJmPx

— Revolution News (@NewsRevo) November 30, 2014
Rev. Jesse Jackson expected to speak at 7pm at Portland's Ferguson rally put on by "Don't shoot PDX" @fox12oregonpic.twitter.com/8vpNJSw8JS

— Kelsey Watts (@KelseyWattsKPTV) November 30, 2014
#DontShootPDX protesters being arrested @KGWNewspic.twitter.com/Ynf9mmtiV2

— Mike Benner (@MikeBennerKGW) November 30, 2014
Hugs not wars!
In the meantime, not everyone in Portland or the US wants to be at war with the police over Michael Brown.
A photo of a young demonstrator hugging a police officer amid the on-going protests in Portland went viral in social media. It was posted on the Instagram account of AP freelance photographer, Johnny Nguyen.
I want to thank everyone who shared my photo today!!! You guys are playing a great role in spreading the message of hope and humanity as seen here in the photo of Sgt. Barnum and Devonte Hart. I also want to thank @theoregonian for being the first to publish my photo and writing the incredible story behind it. You guys are the best. I don't really use Twitter but now I have a reason to. Follow me on Twitter @chambersvisuals to stay updated! Tune into NBC Nightly News tonight at 6:30 EST. They're covering the photo and story as well! Spread love, Johnny.

A photo posted by johnny h. nguyen (@chambersvisuals) on Nov 11, 2014 at 2:24pm PST
On Tuesday a 12-year old African-American boy Devonte Hart was standing in Portland downtown holding signs "You Matter" and "Free Hugs." He was trembling, tears were rolling down his cheeks, his mother told the local media.
Police Sgt. Bret Barnum who was standing a few meters away from the boy, noticed that the teen was crying and came to him. A father of two teenage sons, the officer saw the sign "Free Hugs" and asked Devonte if he might get a hug as well.
"Knowing how he struggled with police, his bravery and courage to catch my eye and approach me were impressive,"Barnum told AP. "And it's a blessing for me that I didn't miss an opportunity to impact this child."
The moment was about "listening to each other, facing fears with an open heart," he said.
"@RealKyCampbell: #Portland#Fergusonpic.twitter.com/F1IpxQEf1s" damn

— Sarah Lilley (@SarahTsunami_) November 30, 2014
This was an entirely peaceful protest. Close to dispersing as it was & then this showed up. #Ferguson#DontShootPDXpic.twitter.com/buPTkw53cO

— Abou Ben Adhem (@TheAbouBenAdhem) November 30, 2014
#Ferguson#DontShootPDX now at Pioneer Square. pic.twitter.com/BFw0FFJzte

— Nostalgic Millenial (@SeanOngley) November 30, 2014
Jackson: "we've come too far, and we're not going back." #DontShootPDX#Portlandpic.twitter.com/bWEse9t0Y5

— Taya Alami (@reporterta7) November 30, 2014
"We've got to get some forgiveness so we can move forward." #DontShootPDXpic.twitter.com/fgBijaJqxf

— Taya Alami (@reporterta7) November 30, 2014
You can share this story on social media: