Death wish: Missouri kills 9th inmate this year in record spate of executions
Published time: 19 Nov, 2014 11:27
Edited time: 19 Nov, 2014 11:35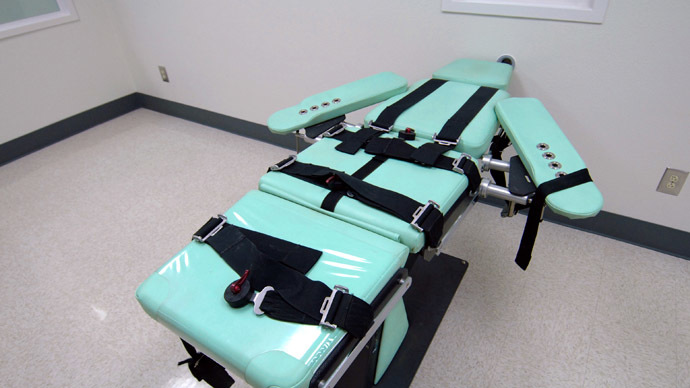 The US state of Missouri has executed a black man who killed a worker of a suburban Kansas City gas station in front of his eight-year-old stepdaughter in 1994. It was the ninth execution in the US state this year.
Leon Taylor, 56, was put to death early Wednesday at the state prison in Bonne Terre with a lethal injection. Four members of his family looked on reactionless as pentobarbital killed him in about eight minutes.
A day before, Missouri Governor Jay Nixon declined to grant him clemency. Earlier Tuesday, the US Supreme Court rejected two appeals from Taylor.
Taylor's execution was delayed as he wanted to have his half-brother Willie Owens, an accessory, as a witness. But Owens eventually decided not to attend the execution.
Leon Taylor's execution is planned for 12:01 Wednesday. Ask @GovJayNixon for peace instead of more violence. 573-751-3222

— MADP (@MADPMO) November 18, 2014
According to court records, Taylor teamed up with his half-brother and half-sister and robbed a gas station in suburban Kansas City on April 14, 1994.
After taking $400 from the till, he shot a 53-year-old worker, Robert Newton, in the head in front of his stepdaughter, despite his pleading to save the eight-year-old girl from this horror. Afterwards, Taylor attempted to kill the child, but the gun jammed, so he just locked her in the room.
"She had the gun turned on her," said Michael Hunt, an assistant Jackson County prosecutor who worked on the case. "It didn't fire. If it had fired, we'd have had a double homicide."
Leon Taylor apologized to the Victims family that "our lives had to entwine so tragically", then thanked his family for their support & love

— Death Penalty Info (@Death__Penalty) November 19, 2014
Hunt said the girl's testimony was crucial in the court's original decision. After the jury deadlocked, a judge sentenced Taylor to death, but this was later changed to a death sentence handed down by an all-white jury.
"You can imagine what a horrible crime this was, but when you see it coming out of a young person like that, it was hard to listen to," Hunt said.
READ MORE: Texas executes second woman this year
Missouri Attorney General Chris Koster said in a written statement that Taylor "coldly murdered" Newton. "Those who knew and loved Robert Newton waited two decades for the imposition of justice that finally came early this morning," Koster said.
However, defense appeals claimed the death penalty for Taylor to be unfair. During his 20 years behind bars, he became a devout Christian who helped other prisoners.
According to a petition, Taylor was abused in his childhood, and his addiction to alcohol and drugs was explained by the fact that his mother began giving him alcoholic drinks when he was five.
The execution of Taylor makes 2014 the year of the most executions alongside with 1999 in the state of Missouri, which rounds out the top five US states on the scale of executions per capita.
A total of 32 US states permit capital punishment, and Texas has the highest cumulative number of executions.