Plan to stop 4.5mn deportations leaked, White House denies accuracy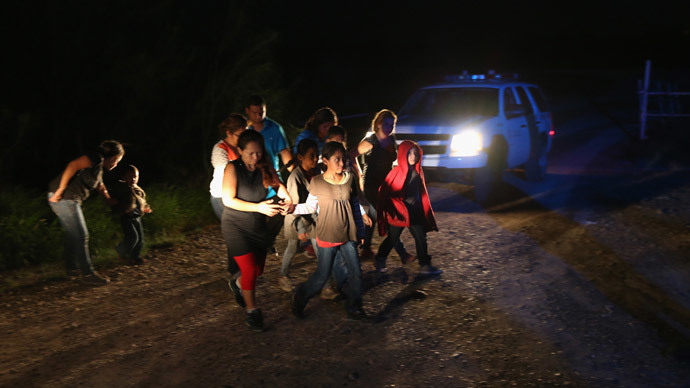 A copy of President Barack Obama's 10-point immigration executive action plan has reportedly been leaked to the press, and an announcement to halt the deportations for more than four million people could come as soon as next Friday.
Obtained by Fox News, the plan for overhauling immigration would also allow the parents of children born in the United States to stay in the country, while simultaneously boosting border control. The details allegedly come from a draft proposal by an unspecified US government agency.
The Obama administration had already called on the Department of Homeland Security and the Department of Justice to make recommendations for the immigration reform plan, and Buzzfeed previously reported those were being drafted.
READ MORE:Obama vows to defy GOP Congress and pass immigration reform with executive order
A senior administration official, however, told the Huffington Post that the president had yet to decide on immigration action, and had not actually received recommendations from the Department of Homeland Security.
Other reporters online also expressed some skepticism over the plan.
Hearing doubts from sources on this report: http://t.co/GD6sMcmFFY

— Adrian Carrasquillo (@Carrasquillo) November 13, 2014
According to Fox, though, Obama's plan calls for expanding deferred action for illegal immigrants who came to the US as children, the parents of US citizens, and legal permanent residents. The latter could allow upwards of 4.5 million undocumented adults with US-born children to stay, according to estimates. These individuals could also receive work authorization, Social Security numbers, and government-issued IDs.
Another item would expand deferred action for young people, under the program known as DACA. It already permits anyone who entered the US before they were 16 to stay, but the new plan would retroactively apply to those who entered before 2010 instead of June 2007. That change would allow another 300,000 immigrants to remain in the US.
Pay raises would be in the works for Immigration and Customs Enforcement officers, which would be intended to boost morale.
READ MORE:Immigration surge? Obama administration to order millions of blank IDs, 'green cards'
The plan also proposes abandoning the Secure Communities program – which led to the deportation of immigrants with criminal records – and the start of a new program.
Some 500,000 immigrants who took tech jobs through a State Department immigrant visa program would be offered a path to citizenship, Fox reported. This would include their spouses as well.
READ MORE:Obama considering immigration reform with executive actions, Congress readies to sue him
Despite conservative victories in Congress, President Obama promised to take executive action on immigration reform by the end of the year.
"What we can't do is just keep on waiting," he said. "There's a cost for waiting."
"I think it's fair to say that I've shown a lot of patience and tried to work on a bipartisan basis as much as possible and will keep doing so," Obama added immediately after the midterm elections. "I've consistently said that it is my profound preference and interest to see Congress act on a comprehensive immigration reform bill."
You can share this story on social media: