CNN ratings plummet to historic low in primetime slot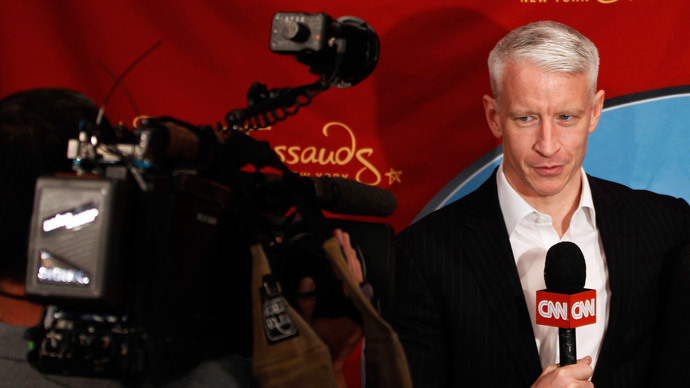 CNN's ratings hit a record low Monday night during the vaunted 9 p.m. slot once held by legendary Larry King. Not only did the network come in fourth among the cable news channels, it had its lowest number of viewers in nearly a quarter of a century.
During Monday's second live hour of Anderson Cooper's show AC360, CNN drew 181,000 total viewers, of whom 53,000 were in the all-important 25- to 54-year-old demographic, according to Nielsen.
That makes the primetime slot "the lowest for the time period since at least Oct. 1, 1991," TV Newser noted, which is "as far back as Nielsen electronic records go."
Cooper's show only adds a second hour on Monday nights. The rest of the week is filled with non-fiction shows from Lisa Ling, Mike Rowe and John Walsh. The new attempt at a lineup began after Piers Morgan Live was canceled; the last episode aired March 28th. Host Piers Morgan had been tapped in to fill the slot starting in January 2011 to replace CNN's longest-running show, Larry King Live.
The talk show was anchored by Larry King from 1985 to 2010. King now hosts two programs on RT America, Larry King Now and Politicking.
AC360 has aired on CNN since September 2003. Cooper gained popularity during his coverage of Hurricane Katrina, but the network has moved around his timeslot, added and removed hours, and aired repeats over the years, causing ratings to flounder when there is no major news event occurring.
The primetime show is not the only one that has taken a huge ratings hit recently. In the first full week of October, The Weather Channel's morning show, Wake Up With Al ‒ hosted by Al Roker ‒ beat out the A.M. programs from MSNBC, CNBC and CNN, bringing in more viewers than each of the three major networks.
On Election Night last Tuesday, CNN was crushed in the Nielsen ratings by Fox News, pulling in one-third the number of overall viewers during primetime ‒ 2.11 million vs. 6.31 million. In fact, the Rupert Murdoch-owned channel drew in more eyes than its combined cable competitors CNN and MSNBC, which totalled 1.69 million viewers that night. CNN had a disadvantage, however, in that it was not carried by satellite provider DISH Network due to a contracting dispute. CNN projected that the impact of the blackout was roughly 13 percent of the network's audience among the 25-54 demographic.
CNN has been struggling for years, with seemingly annual layoffs. The network just laid off more than 300 people – roughly eight percent of CNN's workforce. Offices in Atlanta, Los Angeles, New York and Washington, DC were affected. Before the layoffs, staffers over the age of 55 with at least 10 years of experience at the company were offered voluntary buyouts, former employees reported. About 130 people accepted overture in exchange for stepping down, while another 170 were made redundant and let go.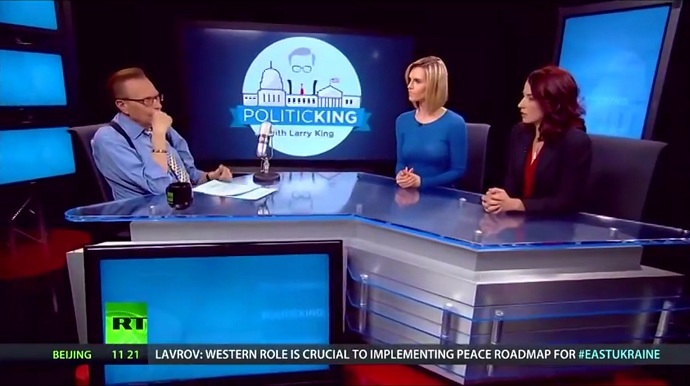 The cuts were part of a larger downsizing by parent company Turner Broadcasting ‒ a subsidiary of Time Warner ‒ which eliminated some 1,475 positions among all its networks. The layoffs "are at all levels of the company's news, entertainment, kids, young adult and sports networks and businesses, as well as corporate functions, in 18 Turner locations around the world," Turner Broadcasting CEO John Martin said in a letter to employees.
The downsizing came shortly after Time Warner survived a June takeover bid by rival media conglomerate 21st Century Fox, which owns Fox News. The company then changed its bylaws in July to prevent an unwanted takeover in the future. Murdoch's media corporation offered Time Warner $80 billion – a deal which would have awarded the octogenarian from Australia the third largest broadcasting and cable company in the world in terms of revenue
CNN made news itself on Monday, when it announced that its foreign arm, CNN International, will stop broadcasting in Russia before December 31. A letter from Turner Broadcasting System Europe, the channel's managing company, that was distributed to Russian cable operators ‒ and obtained by TASS and Vedomosti newspaper ‒ did not state the reasons for the move.
You can share this story on social media: