CNN cancels Piers Morgan Live over gun control position?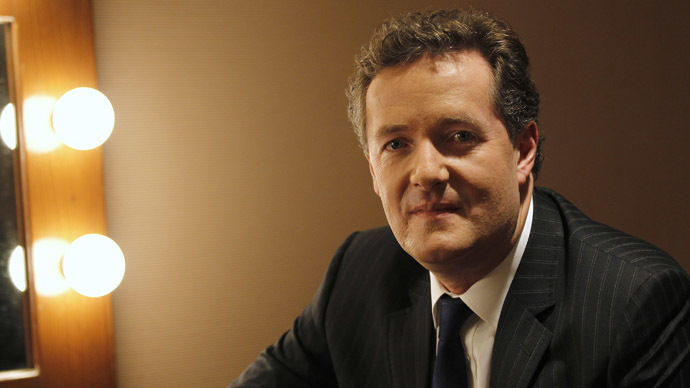 CNN is pulling the plug on its weeknight talk-show Piers Morgan Live, and the British journalist says his staunch anti-gun stance may be what's getting him sacked.
Insider sources at the news network told reporters at POLITICO over the weekend that CNN President Jeff Zucker signed-off on the decision to take 'Live' off the air after three years. The network's head of communications confirmed the news on Sunday, but said it hasn't been decided when the prime-time program will run its last show, or if Morgan — the 48-year-old former editor of the Daily Mirror — will stay at CNN to begin work on another project.
Speaking of the network's decision to New York Times media reporter David Carr, Morgan suggested his outspoken anti-gun stance and the subsequent criticism he attracted from Second Amendment proponents gave CNN executives a reason to want him gone.
"Look, I am a British guy debating American cultural issues, including guns, which has been very polarizing, and there is no doubt that there are many in the audience who are tired of me banging on about it," Morgan said.
Indeed, the Times' Carr continued in his article that he considered Morgan's take on gun control as being "more akin to King George III, peering down his nose at the unruly colonies and wondering how to bring the savages to heel." Morgan regularly discussed his opinion on gun control during his show's broadcast, and famously squared off with radio host Alex Jones during a firearms debate last year that drew a whole new audience to 'Live,' including even those who didn't agree with the host's opinion on gun control.
"I'm in danger of being the guy down at the end of the bar who is always going on about the same thing," Morgan agreed, adding he has assumed he has made critics out of viewers by coming off as "this British guy telling them how to lead their lives and what they should do with their guns."
When a gunman committed a mass shooting spree at a Connecticut elementary school in late 2012, Morgan's anti-firearm response was so outspoken that more than 56,000 people signed a petition in a single day asking that he be deported due to his alleged targeting of the Second Amendment. And just last week, Morgan took to Twitter to call an RT.com article about a surge in American gun production "HORRIFYING."
HORRIFYING > @RT_America Gun production in US sets new record with 30 percent increase http://t.co/64iDsi91m8

— Piers Morgan (@piersmorgan) February 21, 2014
On Monday, the National Rifle Association relayed the news about 'Live's' cancellation with a tweet Monday morning that ended with an exclamation mark to express the gun group's excitement about Zucker's decision.
"I wouldn't get too excited @NRA - I'm not done with you yet," Morgan tweeted back.
But it wasn't necessarily the host's opinions on gun control that got his show canned after three years. Speaking to Carr, Morgan admitted that his program has failed to perform as well as CNN execs had hoped.
"It's been a painful period and lately we have taken a bath in the ratings," he acknowledged.
As RT reported earlier this month, Morgan also testified in secret late last year in the UK to answer questions about a high-profile hacking scandal that has rocked the British media. Morgan has not been charged with any crime related to the investigation.
You can share this story on social media: