'Deport Piers Morgan' petition: Pro-gun advocates demand CNN host out of US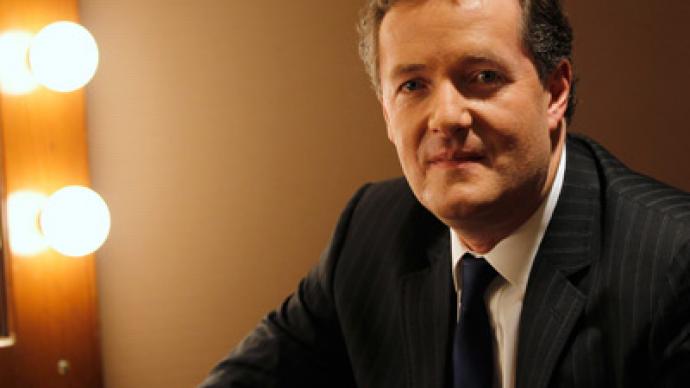 British CNN host Piers Morgan has reacted defiantly against a US petition calling for him to be deported from the US for his views that America should change its gun control laws.
In one message, Morgan urged his detractors to "bring it on" and sign the petition, as he tracked its progress on Twitter. Morgan infuriated the US gun lobby with his outspoken view that gun laws in the US should be changed to avoid further mass shootings in the wake of the December 14 shooting massacre at Sandy Hook Primary School in Newtown, Connecticut. In less than a day, the petition earned more than 56,000 signatures, surpassing the 25,000 required for a formal response from the White House.
The petition, begun on December 23rd, was posted by a Texas journalist writing for infowars.com, alleged that Morgan "is engaged in a hostile attack against the US Constitution by targeting the Second Amendment.""We demand that Mr. Morgan be deported immediately for his efforts to undermine the Bill of Rights and for exploiting his position as a national television host to stage attacks against the rights of the American citizens," the petition reads.The Second Amendment of the US Constitution, which enshrines a "well-regulated militia" with the "right to bear arms," is interpreted literally by many Americans. Morgan insisted he is not attacking the Constitution, and said that America could outlaw military-style assault weapons and high capacity magazines without infringing on people's rights under the second amendment. "Ironic US gun rights campaign to deport me for 'attacking 2nd amendment rights' – is my opinion not protected under 1st Amendment rights?" Morgan wrote on Twitter on Saturday, referring to the Constitution's freedom of speech provisions. In response to Morgan's claim about the first amendment, James Taranto, a journalist from the Wall Street Journal, pointed to a 1972 ruling by the American Supreme Court, which ruled that a decision by attorney General Richard Kleindienst, where a Belgian journalist, Ernest Mandel, was refused entry into the country, did not violate the first amendment. The row between the outspoken British journalist and US gun advocates blew up last Tuesday after Morgan interviewed Larry Pratt, the executive director of Gun Owners of America, in the wake of the Sandy Hook tragedy.When Pratt suggested that the answer to the America's gun problem was more firearms in schools, Morgan fired back, saying, "You're an unbelievably stupid man aren't you? You have absolutely no coherent argument. You don't actually give a damn about the gun murder rate in America." The former Daily Mirror editor has continued to post similarly incendiary comments on Twitter. On Sunday, in response to an NBC interview with Wayne Lapierre, head of the powerful pro-gun lobby the National Rifle Association (NRA), Morgan wrote, "Watching David Gregory expose Lapierre for what he is – a dangerous, dim-witted, deluded menace to American safety."Some Americans have voiced support for Morgan. "I'm a native-born US citizen and I 100% agree with Mr. Morgan. If he goes back to the UK, should I go with him?" Lee Cox of Arizona wrote on Twitter.As the Twitter war continued, many users decided to take the issue a little less seriously. "Thousands of Americans want him deported but millions of Britain's don't want him back." Mahmun Ribadu wrote.Jeremy Clarkson, the British TV presenter famous for 'Top Gear,' joked, "Americans. It took us 40 years to get rid of Piers Morgan. Pleease don't send him back."
And Morgan himself quipped Monday, "If I do get deported from America for wanting fewer gun murders, are there any other countries that would have me?" The White House insists that its 'We the people' online petitions don't fall on deaf ears. However, since the program was launched in September 2011, it is unclear how successful the petitions have been in garnering a response from the White House.
You can share this story on social media: