Time Warner enacts changes to fend off any future Murdoch takeover bids
Published time: 23 Jul, 2014 01:49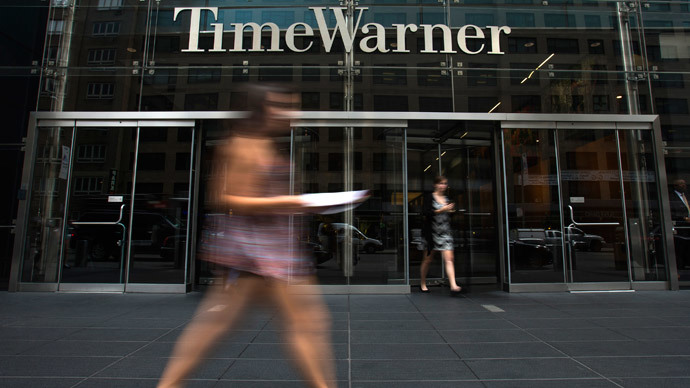 Time Warner has changed its bylaws to prevent an unwanted takeover in the future. The move comes after the CNN parent company turned down an offer to be bought out by Fox News owner Rupert Murdoch last week.
The Time Warner board, led by CEO Jeff Bewkes, voted unanimously to remove a provision in the company bylaws that allowed shareholders to call special meetings. The change prevents shareholders from combining their holdings to reach the 15 percent threshold and call a meeting, the Financial Times reported. The bylaws now say that only the CEO or a majority of the board can call a special meeting.

The move delays action by Time Warner investors until its annual meeting in June 2015, a person familiar with the change told Bloomberg.

"They want to keep tighter control of the flow of the process so they are not overwhelmed if something happens that they don't like," Hal Vogel, CEO of Vogel Capital Management, told Variety.

Murdoch's 21st Century Fox conglomerate offered Time Warner $80 billion for the company in late June – a deal which would have awarded the octogenarian from Australia the third largest broadcasting and cable company in the world in terms of revenue.

The multinational corporation currently includes Fox News as one of its major assets, and separate conglomerates overseen by Murdoch provide him with control of media entities including the New York Post, The Wall Street Journal, and Dow Jones. Had the deal worked out, 21st Century Fox would have acquired Time Warner's impressive cable channel business, which includes the HBO, TNT, and TBS networks, as well as Fox News' main competitor: CNN.

According to The New York Times, 21st Century Fox offered Time Warner 1.531 of its Class A non-voting common shares and $32.42 in cash for every Time Warner share, coming to around $86.30 a piece.

"The Time Warner board of directors declined to pursue our proposal," Murdoch's company said last week. "We are not currently in any discussions with Time Warner."

But on Monday, Bloomberg reported that 21st Century Fox was considering increasing its offer for the rival media conglomeration. To do so, it would use proceeds from the sale of its Sky Italia unit and its 57 percent stake in Sky Deutschland AG, two people familiar with the attempt told the news outlet. The two pay-TV assets would be sold to British Sky Broadcasting Group in the next two weeks.

Time Warner shares are down 1.6 percent in post-market trading, following disclosure of the change. The company's stock closed Tuesday at $86.78 a share. The company, named after Time Magazine and Warner Bros. Pictures, says that it intends to restore the 15 percent threshold at the 2015 annual meeting, Deadline reported.

The move "has a chance of backfiring, of annoying shareholders," Chris Marangi, a money manager at Gamco Investors Inc., said in an interview on Bloomberg Television. "It's not particularly shareholder-friendly, certainly. He's clearly, at best, trying to get a higher price."

Some analysts predict that 21st Century Fox will eventually offer $100 a share for Time Warner, according to Hollywood Reporter.