'I hacked into govt to expose truth': Jeremy Hammond confesses from jail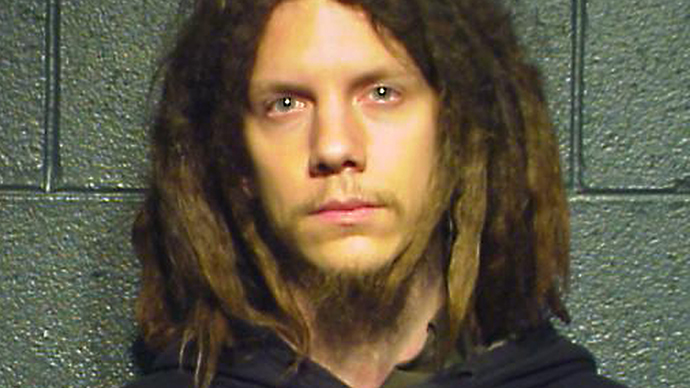 Jailed hacker Jeremy Hammond says hacking government websites is all he ever wanted to do. He is worried about the invasive power states have with computer technology and justifies his actions by the need to expose the truth and confront justice.
He is currently serving a 10-year jail sentence at Manchester Federal Prison in rural Kentucky, one of the longest a US hacker has ever received, after breaking into the Stratfor intelligence company's website. November 15, will mark his first anniversary behind bars. Hammond believes it is laughable that he could be seen as a threat to national security because of his actions.
"I mean, I didn't kill anybody," he said an interview with the AP.
The 29 year-old was initially faced with the possibility of spending the rest of his life behind bars and he realizes the power that countries and others can wield with computers. "If I was capable of doing these things on my own, what about a well-financed team that trained for years?"
#JeremyHammond sacrificed his freedom to bring us truth - he deserves our support! http://t.co/FJZEUPE0dy#FreeJeremypic.twitter.com/4rvcld0lx0

— Free Jeremy Hammond (@FreeJeremyNet) November 7, 2014
During his crusade for social justice, Hammond got a distinct buzz from trying to get the better of some of the most high profile websites in the country. He was like a kid in a candy shop: "I was like damn man, this is crazy."
"From the start, I always wanted to target government websites, but also police and corporations that profit off government contracts," he told AP. "I hacked lots of dot-govs."
READ MORE: FBI provided Anonymous with targets, new leaks show
Hammond, who hails from Chicago, has been a hacktivist for over a decade and during this time he has been in and out of prison for sticking to his beliefs and his, "sense of duty to take action."
"I hacked into dozens of high profile corporations and government institutions, understanding very clearly that what I was doing was against the law, and that my actions could land me back in federal prison. But I felt that I had an obligation to use my skills to expose and confront injustice—and to bring the truth to light," Hammond stated in a video, released on the day he was incarcerated on November 15, 2013.
AP caught up with him at the Kentucky prison where he is being held. "This is the nicest room in the place," he said, when speaking with in a drab cinderblock visiting room about how and why he did what he did. Prison authorities barred cameras and recorders, citing security.
However, behind the ordinary demeanor, is an individual with prodigious talent. He has been able to hack into some of the most important websites in the US.
"Could I have achieved the same goals through legal means? I have tried everything from voting petitions to peaceful protest and have found that those in power do not want the truth to be exposed," the Chicago native added in his video.
Hammond became one of the FBI's most wanted cybercriminals. He enjoyed the challenge of trying to hack into websites. Sometimes it would take him months and on other occasions he would give up. However, the 29 year-old recalls hacking into the Stratfor website – the incident which eventually landed him behind bars.
Hammond was amazed at just how easy it was to gain access to the system, while he was astonished that the company's credit card data had not been encrypted. This proved to be a major embarrassment for the intelligence firm, with CEO, George Friedman, acknowledging, "We did not encrypt credit card files," Friedman said, as reported by AP. "This was our failure."
READ MORE: Anonymous hacker-turned FBI informant Sabu avoids jail time
Expanding his own bank balance has never interested the Chicago native. After hacking into Stratfor, he used some of the credit card numbers to make donations to charities such as the Red Cross.
The company lost over $1 million due to the 29 year-old's actions.
"I targeted information security firms because they work in secret to protect government and corporate interests at the expense of individual rights, undermining and discrediting activists, journalists and other truth seekers, and spreading disinformation," Hammond stated in his video.
Jeremy Hammond is in solitary confinement: here is what we know, and how you can help https://t.co/UHfT3Fzodr

— Free Jeremy Hammond (@FreeJeremyNet) October 20, 2014
He was eventually arrested after being outed to the authorities by a fellow hacker, who was working as an informant for the FBI. Hector Xavier Monseguer, who went by the name of Sabu, advised Hammond to hack the Stratfor website before he turned him into the authorities.
Unlike Hammond, 'Sabu' strangely escape punishment for his role as a serial hacker. He had faced the prospect of 124 years in jail for his misdemeanors but in the end miraculously did not face any time behind bars, due to helping the authorities in return for leniency in regards to his own criminal matters.
It has since come to light that Monsegur, a single father from New York directed others towards vulnerable targets and orchestrating cyberattacks against the websites of foreign governments, all while under the constant watch of the FBI.
READ MORE: New leak exposes how the FBI directed Anonymous' hacks
The latest releases now lend credence to Hammond's claims that the FBI guided Anonymous into conducting cyberattacks at their behest, regardless of the sheer illegality involved. The documents — a previously unpublished statement purported to be authored by Hammond and never-before-seen court files — now corroborate the role of the feds in these proxy cyberwars of sorts.
The Chicago native remembers the circumstances of his arrest. On March 5, 2012, he was smoking pot with friends, when police kicked in the front door and someone threw a flash bang.
"There were all these dudes with assault rifles," he said. Everyone else hit the floor, but Hammond dashed to his bedroom to slam shut his encrypted Mac laptop.
He is up for parole in 2020 and spends his time in prison working in the laundry department, while he uses his spare time to learn Spanish and play chess.
Since his teenage years, Hammond has been critical of increased government surveillance and has hailed the actions of Chelsea Manning for helping to expose US atrocities in Afghanistan and Iraq.
"She took an enormous personal risk to leak this information – believing that the public had a right to know and hoping that her disclosures would be a positive step to end these abuses. It is heart-wrenching to hear about her cruel treatment in military lockup," he added in the video he released in November 2013.
►#FreeHammond Fundraising "We have an ethical duty to #support Jeremy Hammond in prison" http://t.co/z08mTUESw2pic.twitter.com/bSXghkPoAl

— AnonymousVideo (@AnonymousVideo) November 4, 2014
He also cited the influence of Anonymous, saying he was drawn to the group because he believes in autonomous, decentralized direct action.
"I had a lot to contribute, including technical skills, and how to better articulate ideas and goals. It was an exciting time – the birth of a digital dissent movement, where the definitions and capabilities of hacktivism were being shaped."
Hammond had a lot of success in hacking into the websites of numerous organizations, praying on their weak security. However, it was a rare elementary mistake that eventually let the Chicago native down as a weak password reportedly allowed the authorities to crack his encryption codes.
"My password was really weak." It was his cat. "Chewy," he said, looking down at his hands. "Chewy 123," AP reported.
You can share this story on social media: