Chelsea Manning sues Pentagon for refusing to treat gender dysphoria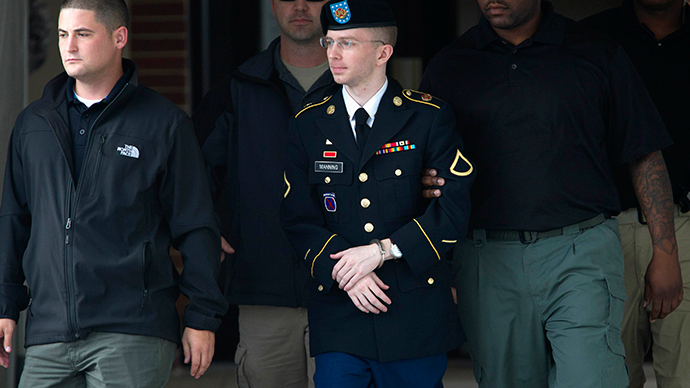 WikiLeaks source Chelsea Manning filed a federal lawsuit against the United States military on Tuesday this week over the Pentagon's ongoing unwillingness to properly treat the former Army intelligence analyst for gender dysphoria.
Manning, 26, has been diagnosed with gender dysphoria — an incongruence between one's expressed gender and what's assigned at born — no fewer than five times by military doctors during the four years she's been in Army custody for sharing a trove of sensitive government documents with the secret-spilling group WikiLeaks. Despite these repeated diagnoses, however, Manning's attorney say the soldier has received nothing close to what the World Professional Association for Transgender Health (WPATH) — the leading authority on gender dysphoria, or gender identity disorder — advises with regards to treatment.
Now after multiple requests and complaints — and in the midst of a 35-year prison sentence handed down by an Army judge last year over the soldier's role with WikiLeaks — attorneys for Manning officially sued the US Department of Defense this week for what lawyers say is the Pentagon's persistent denial of access to medically necessary treatment concerning her gender dysphoria.
According to the complaint, Pentagon officials have been far from forthcoming with respect to WPATH's recommendations. The lawsuit alleges that military brass starting with Defense Secretary Chuck Hagel and down to the director of treatment programs at the Fort Leavenworth, Kansas disciplinary barracks where Manning is serving her sentence are responsible for violating the prisoner's constitutionally-rights by continuing to deny her treatment, and cite gender dysphoria experts who say staying on course could cause the symptoms of the soldier's condition to greatly worsen.
"This action seeks declaratory and injunctive relief to redress Defendants' refusal to provide Plaintiff with medically necessary treatment in violation of Plaintiff's rights under the Eighth Amendment to the United States Constitution," Manning's attorneys write in reference to the provision that prevents the federal government from imposing cruel and unusual punishment. "Defendants have violated the Constitution by denying Plaintiff medically necessary treatment for her diagnosed gender dysphoria, a serious medical condition."
"It has been more than four years since Plaintiff was first diagnosed with gender dysphoria by Army medical personnel and more than a year since that diagnosis was confirmed at the USDB [Disciplinary Barracks]," continues the complaint filed on Tuesday in the US District Court for the District of Columbia. "Every day that goes by without appropriate treatment, Plaintiff experiences escalating anxiety, distress and depression. She feels as though her body is being poisoned by testosterone."
Specifically, Manning has asked during her confinement at Fort Leavenworth for hormone therapy and permission to grow out her hair, but her attorneys say she "continues to be denied treatment in the form of the real-life experience in that she is denied permission to outwardly express her female gender."
The Defense Dept. does not provide hormone therapy to transgender inmates, and the Bureau of Prisons — the federal office that handles civilian correctional issues — has rejected a transfer request placed by the Pentagon earlier this year that aimed to move Manning to a non-military facility. Yet while some military officials have expressed willingness in recent months to provide Manning with sufficient care, the soldier's lawyers argue in Tuesday's filing that the result thus far remains well short of what is needed.
Dr. Randi Ettner — an expert in the diagnosis and treatment of gender dysphoria, according to the soldier's attorneys — concluded after a recent visit to Fort Leavenworth that Manning "is experiencing significant distress and is at high risk for serious medical consequences, including self-castration and suicide, if such medically necessary treatment is not promptly provided."
"As a direct and proximate result of Defendants' purposeful and intentional actions, Plaintiff has suffered and continues to suffer injury, including, without limitation, serious physical, psychological and emotional harm, mental anguish, distress, humiliation and indignity," Manning's attorneys write.
As of earlier this month, the complaint continues, the offerings at Fort Leavenworth have been well short of what should be required for any transgender inmate. On their part, the suit reads, military officials insisted in a memorandum sent earlier this month that the soldier has been "permitted to begin the 'real-life-experience' treatment by being issued female undergarments, specifically female underwear and sports bras."
"Treating severe gender dysphoria with sports bras is like treating a gunshot wound with a Band-Aid," Chase Strangio, a staff attorney at the American Civil Liberties Union, wrote in a blog post published by the ACLU this week. "Such inadequate treatment sends the message to Chelsea and the rest of the world that the Army is not taking her health needs seriously."
Along with David Coombs — the civilian attorney who worked with Manning during the soldier's months-long court-martial last year — the ACLU has signed on to the lawsuit in hopes of forcing the Defense Dept. to provide Manning with what they consider to be medically necessary treatment.
"[T]he Constitution does not permit medical care to be provided sluggishly when it is urgently needed," Strangio wrote. "And for Chelsea, the care is critical and the consequences for withholding it are dire."
"I am proud to be standing with the ACLU behind Chelsea on this very important issue." Coombs said in a statement published by the civil liberties group this week. "It is my hope that through this action, Chelsea will receive the medical care that she needs without having to suffer any further anguish."
Manning supplied the WikiLeaks website with a trove of classified documents — including field reports from the wars in Afghanistan and Iraq, Guantanamo Bay detainee assessment briefs and State Dept. diplomatic cables — during her tenure as an intelligence analyst stationed near Baghdad where she served under her birth name, Bradley. One day after being sentenced to prison for the unauthorized theft and disclosure of those documents, Manning said in a statement read by her attorney that, "Given the way that I feel, and have felt since childhood, I want to begin hormone therapy as soon as possible." She legally changed her name to Chelsea Manning earlier this year.