Pentagon considering moving Manning to civilian prison to receive hormone therapy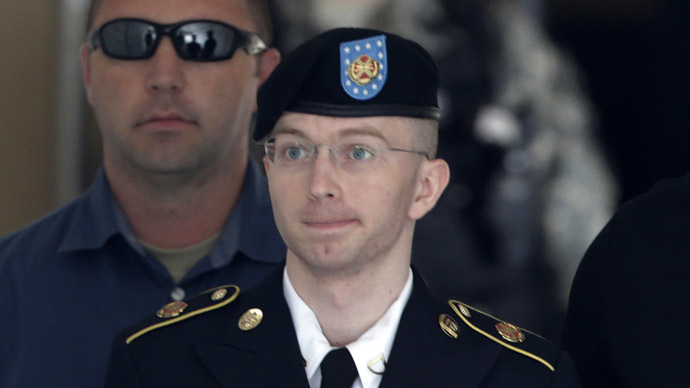 The United States Army may soon send WikiLeaks source Chelsea Manning to a civilian prison so that she can receive treatment for gender identity disorder, a Pentagon spokesperson told reporters on Wednesday.
US Defense Secretary Chuck Hagel personally signed off on the decision to consider possible avenues to take with regards to Manning, the spokesman said, paving the way for the soldier to potentially be transferred out of a military prison in Ft. Leavenworth, Kansas and moved to a federal facility that leases beds to the Pentagon.
The spokesman — Rear Adm. John F. Kirby — told the Associated Press on Wednesday that Hagel approved a request from the Army to "evaluate potential treatment options for inmates diagnosed with gender dysphoria."
Only hours after being sentenced to 35 years in prison last August, Manning, 26, announced that she identifies as a woman and would be pursuing hormone replacement and other treatment while imprisoned for her role in one of the largest intelligence breaches in American history. When the Army said they wouldn't provide that treatment, Manning's attorney suggested suing the military.
Unlike the 119 institutions operated by the Federal Bureau of Prison, military-run facilities offer inmates neither hormone therapy nor sex-reassignment surgery for gender identity disorder, or gender dysphoria; no fewer than two medical experts testified during the soldier's high-profile court-martial last year that they had diagnosed Manning with that condition, which the American Psychiatric Association says applies to "people whose gender at birth is contrary to the one they identify with."
The Pentagon prohibits transgender people from serving in the US military, but can't discharge Manning while she is serving her sentence. The commanding general of the US Army Military District of Washington last month rejected the soldier's plea for clemency, and Manning's new counsel said they'd consider taking her appeal to the Supreme Court.
Days later that clemency request was shot down, a district court judge approved the soldier's request to have her name changed to Chelsea Manning.
"Today is an exciting day," she said in response."I've been working for months for this change, and waiting for years."
At the same time, though, Manning wrote that for eight months she had requested that the military provide her with a treatment plan "consistent with the recognized professional standards of care for trans health." As of mid-April, Manning said she had not received that plan.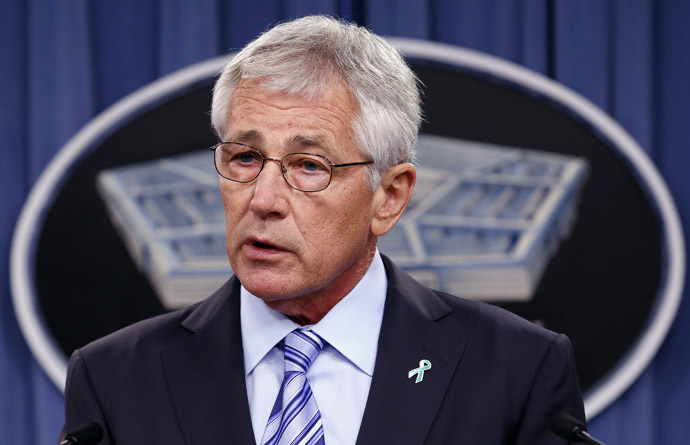 Now only weeks later, Sec. Hagel has reportedly ordered the Pentagon to weigh the logistics involved in letting Manning receive the same treatment that Federal Bureau of Prison inmates are offered.
Both the Federal Bureau of Prisons and the Pentagon have begun those discussions, two officials told the AP, but no decision has been made yet. Should the military agree to transfer Manning out of the Ft. Leavenworth facility, though, then she will likely be among the 15 or 20 inmates sent from the Pentagon to civilian prisons each year, where several hundred beds are put aside for service members serving time.
A transfer like that, Pauline Jelinek and Lolita C. Baldor wrote for AP, normally does not occur until all military appeals have been exhausted. Manning's case is unprecedented, however, and no transgender military inmate has ever made such a plea.
According to the journalists, "[s]ome officials have said privately that keeping the soldier in a military prison and unable to have treatment could amount to cruel and unusual punishment."
Nevertheless, any decision to transfer the soldier to a civilian facility, Kirby added to the AP, would "properly balance the soldier's medical needs with our obligation to ensure Private Manning remains behind bars."
Last year, a University of California survey estimated that upwards of 15,000 service members identify, albeit privately, as another gender. According to the New York Times, Hagel added to reporters during his remarks on Wednesday onboard a flight in Saudi Arabia that the Pentagon should "continually" review its prohibition against transgender people.
"Every qualified American who wants to serve our country should have an opportunity if they fit the qualifications and can do it," Hagel said.
Manning reached the rank of Private first class before being demoted during last year's sentencing. During her court-martial, she admitted to sharing hundreds of thousands of sensitive military and US State Dept. files with the anti-secrecy website WikiLeaks.
You can share this story on social media: