Bong brothers? Obama, pot enthusiast Willy Nelson sing 'On the Road Again'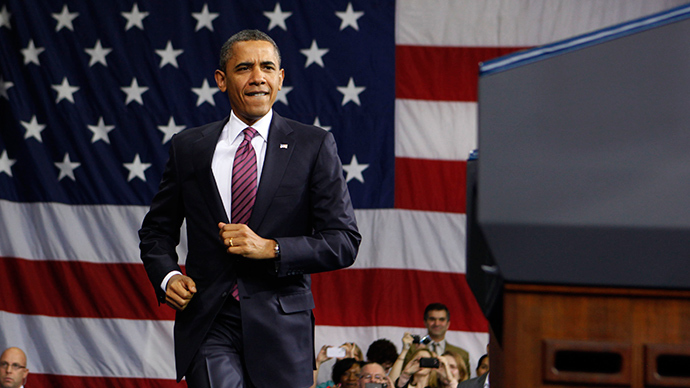 President Barack Obama joined country music legend Willie Nelson and Creedence frontman John Fogerty onstage to perform the classic tune "On The Road Again" during an event to recognize US servicemen in the run up to Veterans Day.
Hundreds of military vets congregated on the White House South Lawn on Thursday for the spectacle, which also included performances by R&B Queen Mary J. Blige pop-rock chart topper Daughtry.
Here is @willienelsonofficial, @barackobama & John Fogerty singing "On the Road Again" on @pbsofficial earlier tonight. I still don't know what's happening. I probably never will.

Een video die is geplaatst door Ryan Cormier (@ryancormier) on Nov 11, 2014 at 7:30 PST
Nelson, the iconic country star and renowned marijuana aficionado, had a few things to say about his green politics just hours before getting on stage with the commander-in-chief and not so fortunate son.
"Well, I really think stress is the cause for a lot of our problems and I really believe the best medicine for stress is pot and yeah, I think it would make us get along better all over the world," Nelson told CNN.

Regarding Obama's opinion on legalized pot, Neslon said the fact that Obama had "delved into the matter a little bit" as a teen might have made the president "happy" to see recent state legalization referendums, including in the nation's capital.
As for the performance, well, Obama didn't totally bomb on stage, though the harmonization left much to be desired and Obama seemed slightly off tempo.
That's not a knock on the president's singing chops, as he's clearly established himself as a commanding crooner.
During a 2012 fundraiser at the famous Apollo Theater in Harlem, Obama wowed those in attendance by dropping a few lines from Al Green's seminal hit "Let's Stay Together."
The great Reverend Green, who was on hand to witness the performance, gave the president props for "nailing it."
"I was thrilled that the President even mentioned my name, and if the President can get the economy going again and get everything going that he wants to, then we'll all be together," Green said at the time.
Riding high on the tide of his newfound singing fame, Obama later joined Buddy Guy, B.B. King, and a whole slew of blues legends in the East Room of the White House to belt out a few bars from his home city's anthem, Sweet Home Chicago.
And considering how many Americans would rather see Obama hit the road based on the latest midterm results, maybe a post presidential gig as a bard is in the cards for the 44th president.