President Darth Vader? Americans prefer Star Wars characters over Obama and 2016 hopefuls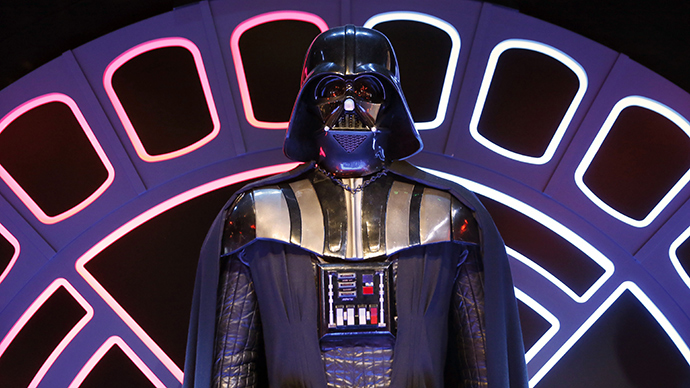 "President Darth Vader" is probably never going to appear in any United States history books, but polling figures suggest that the Sith lord of Star Wars lore is more popular than any actual likely 2016 oval office candidates.
At the Washington Post this week, reporter Christopher Ingraham pondered how the results of a recent poll measuring the popularity of several fictional characters from the Star Wars saga stand up against the ratings received by politicians considered to be likely contenders during the 2016 presidential race, as well as current commander-in-chief Barack Obama, the US Congress and a handful of other top dogs within Washington's elite.
According to Ingraham's research, Darth Vader — the dark side cyborg who served as the antagonist throughout George Lucas' cinematic series — polls higher than any potential future US president.
On Wednesday, Ingraham wrote that he compared the results of a new survey published by the website FiveThirtyEight concerning Americans' opinions on the Star War characters with the net favorability ratings of several, actual human beings potentially running for office, as measured by recent polling conducted by Gallup.
To be clear, no one poll was waged to measure what the same audience has to say about both Star Wars characters and American politicians. After comparing surveys that measured the favorability ratings of each group separately, however, Ingraham determined that the Sith lord is still more likely to become president than, say, Senator Rand Paul (R-Kentucky).
With the results of both polls combined, the Post reported that Luke Skywalker, Han Solo and Yoda have the highest favorability ratings among the individuals in either pool, each receiving a net favorability rating of more than 80 points according to the FiveThirtyEight poll. Yet Vader placed fourth most popular, Ingraham added, ahead of not just some other Star Wars characters, but also Hillary Clinton, Mike Huckabee, Marco Rubio, Paul Ryan, Rick Perry, Pres. Obama and, of course, the US Congress; according to recent Gallup polling, Congress has a net favorability rating of -65.
"None of the 2016 hopefuls is polling higher than Darth Vader. You'll recall that Vader chopped off his son's arm and blew up an entire planet, but evidently in the eyes of the American public these are minor sins compared to Benghazi, Bridgegate and Gov. Rick Perry's hipster glasses. These numbers suggest that if 'Star Wars' were real and Darth Vader decided to enter the 2016 presidential race, he'd be the immediate front-runner," Ingraham wrote.
You can share this story on social media: