Worst president since WWII? New poll says it's Obama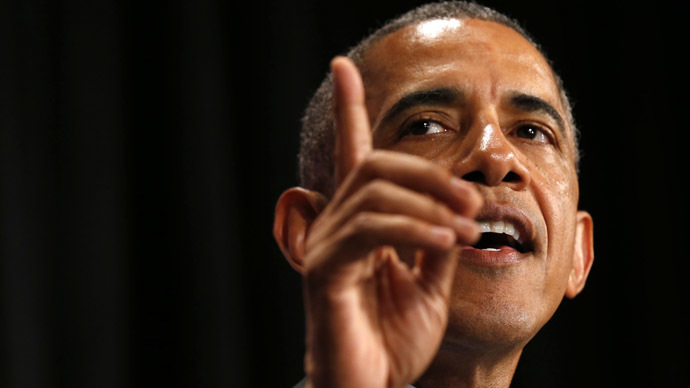 Poor polling results keep rolling in for President Barack Obama, with a new survey showing that a plurality of American voters think he is the worst chief executive in the modern era.
According to a new Quinnipiac University poll conducted between June 24 – 30, roughly 33 percent of Americans believe Obama is the worst president since World War II. These numbers are even worse than his predecessor, George W. Bush, who 28 percent of voters pegged as the worst.
Compared head-to-head, neither of the two most recent presidents received high marks, either. In results that split largely across party lines, 39 percent of voters said Obama has been a better chief executive than Bush, while 40 percent said he is worse. Men favored Bush by seven points, while women went with Obama by four percent.
"Over the span of 69 years of American history and 12 presidencies, President Barack Obama finds himself with President George W. Bush at the bottom of the popularity barrel," said Tim Malloy, assistant director of Quinnipiac University's polling unit.
"Would Mitt have been a better fit? More voters in hindsight say yes."
As for who Americans actually believe is the best president, 35 percent of voters said Ronald Reagan topped the list. Bill Clinton and John F. Kennedy fell into second and third place, respectively, with 18 percent and 15 percent.
Interestingly, despite Obama's poor showing as the worst president since World War II, eight percent of voters also called him the best, a result good enough for fourth place on the "best president" list.
In addition to asking voters to compare Obama to his predecessors, Quinnipiac also took the temperature on their approval of the job he's doing. Although the president's rating went up two points to 40 percent, his performance in specific areas was largely underwater. Fifty-three percent disapproved of his performance, while 54 percent believe his administration is not competent when it comes to running the government.
On the economy, only 40 percent approved of his handling, while 37 percent approved of his approach to foreign policy. The only category in which Obama's approval hit 50 percent was on environmental policy.
The numbers arrive just a couple of weeks after a new NBC/Wall Street Journal poll also delivered bad news for the president. Only 41 percent approved of Obama's job performance – a slide of three points since April – and 54 percent of respondents believe he is unable to lead the country and get the job done.
A new Gallup poll, meanwhile, found that among all living US president's, Obama's favorability has dipped below that of George W. Bush and Jimmy Carter.