Harvard University offers students 'Anal Sex 101' class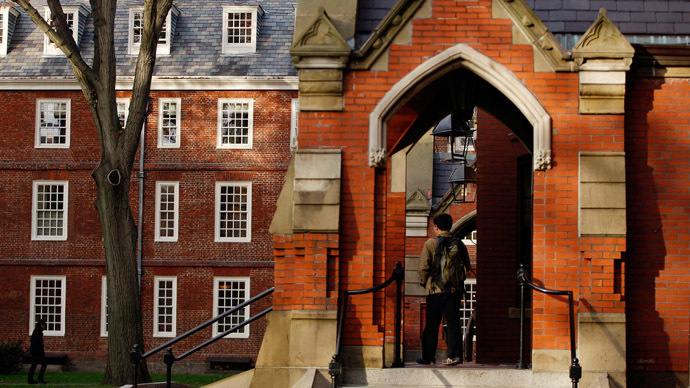 Harvard University is renowned the world over for the Ivy League education its students are offered, and the curriculum there this week indeed contains a class or two you'd be hard press to find elsewhere.
As part of its annual Sex Week, "a week of programming that is interdisciplinary, thought-provoking, scholastic, innovative and applicable to student experiences in order to promote a holistic understanding of sex and sexuality," a student-run group at the school will be hosting classes that contrast quite sharply with the comparably run-of-the-mill offerings a Harvard education typically involves.
Starting this Monday, Sex Week attendees can sit-in on events that range from a sexual health career panel on Tuesday evening, to a class offered that afternoon called "What What in the Butt: Anal Sex 101."
"Come learn everything about anal sex from the experts of Good Vibrations, a sex-positive store located right in Brookline!" reads the course description posted on the official Harvard Sex Week website. "They will dispel myths about anal sex and give you insight into why people do it and how to do it well."
According to the website, topics that will be covered during the class include anal anatomy and the potential for pleasure for all genders; how to talk about it with a partner; basic preparation and hygiene; lubes, anal toys, and safer sex; anal penetration for beginners, and much more!
"Learn the facts about this exciting yet often misunderstood form of pleasure, find out the common mistakes people make, and get all your questions answered!" continues the course description.
This year's session marks the fourth consecutive run of Sex Week at the school, which is coordinated annually by Sexual Health Education & Advocacy throughout Harvard College, or SHEATH, a student-run group that describes itself as being "dedicated to empowering the Harvard community to explore their experiences with love and sex by providing comprehensive programming addressing a wide range of issues relating to sex, relationships, dating, sexual health, and sexuality."
California Exotic Novelties, "the world's largest pleasure product company" according to a recent press release, will also be shipping educational materials to the event all the way from the West Coast to Harvard's Cambridge, Massachusetts campus.
"We're always honored to support Harvard Sex Week and everything that SHEATH does throughout the year," CEO
Susan Colvin said in a statement. "We share a common goal: helping people learn and understand sexual wellness."
Others aren't so optimistic, though, and have raised concerns about the types of classes that are offered during Sex Week. One Harvard student, Molly Wharton, reportedly told The College Fix website that she wasn't initially well versed in what this year's installment will involve, but added, "after looking at the schedule of events, though, I do question the amount of time and resources that went into planning and funding these events, some of which are downright vulgar, at a place like Harvard."
"I can't imagine that there are not more worthwhile educational programs and initiatives to which Harvard's resources should be devoted," the student said.
A review of the SHEATH website, however, suggests that such concerns aren't likely to cause any changes: according to the group's site, the anal sex class has previously been offered to attendees at least once, during Sex Week 2012.
You can share this story on social media: