Human trafficking? American couple in Qatar faces execution over adopted child's death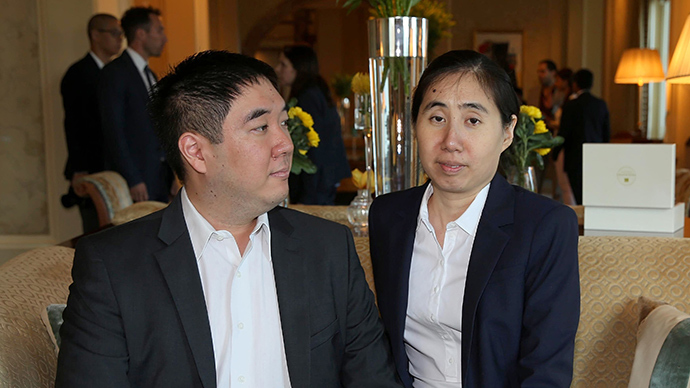 An American-Asian couple faces a death penalty sentence after a Qatari court alleged they were engaged in human trafficking when their adopted daughter died.
Matt and Grace Huang are scheduled to go to appeals court on November 30 to face a possible death sentence in a case that charges them with murdering their own adopted daughter in order to traffic her organs. The US government has tried to intervene but the Huangs remain under house arrest. They are not allowed to leave Qatar.

With the death penalty on the table, the Huangs believe the US government must act before their sentencing date.

"We want them to get us home before the 30th. On the 30th, we do not know what this court will do," Grace Huang told Katie Couric in an interview for Yahoo Global News.

The Huangs – originally from Los Angeles – moved to Qatar in 2012, when Matt, a Stanford trained engineer, was asked by his employer to oversee a major infrastructure project related to the 2022 World Cup, which will be hosted in Qatar.

READ MORE:World Cup 'slaves' scandal: Qatar holds 2 UK rights researchers over 'emigration violations'
The Asian-American couple had adopted three African children before their move, and the case is centered on their eight-year-old daughter Gloria, who was found unresponsive on her bedroom floor in January 2013. Despite 40 minutes of CPR at the local hospital, she died. The Qatari police suspected foul play, arrested the couple, and put their other children – two boys – in an orphanage.
A very disturbing case from #Qatar as US couple charged with trafficking and murder of adopted African daughter http://t.co/QgXlEz8t9e

— Nicholas McGeehan (@NcGeehan) August 5, 2013


The Huangs were subsequently charged with murdering Gloria and were told the motive was to harvest her organs or to conduct medical experiments on her, according to the California Innocence Project, which is assisting them in their case.
READ MORE:Qatar bans migrant labor in summer heat after 'World Cup slaves' criticism
Gloria did have an eating disorder as a result of her childhood in Ghana, the Huangs said. They added that she would on occasion go for days without food, sometimes binging on junk food, rummaging through garbage, or stealing food and hiding it in her room. The defense argued that Grace has struggled with a variety of medical and psychological problems since she was adopted from Ghana at the age of four. The judge was not swayed.

The Huangs spent a year in jail, going to court multiple times for hearings, and were eventually sentenced to three years in prison for undeclared reasons. The court did not find them guilty or not guilty of murder, or any other crimes for that matter.

"We have just been wrongfully convicted, and we feel as if we are being kidnapped by the Qatar judicial system," Matt Huang told reporters after the judge's decision.
In case you missed, US TiP report slams Thailand and Qatar for #trafficking records http://t.co/qKXW9wDIO5

— Anti Slavery (@Anti_Slavery) June 24, 2014

The court never offered any evidence for the human organ-trafficking allegations, would not let the Huangs' attorney cross-examine the witnesses, and the autopsy report was missing an analysis on organ tissues. The Huangs still do not know why their daughter died.

"I was outraged. I am outraged by the court system here, by the process, by the inability for the court process to identify and bring truth. We feel that there have been lies spoken to us by the Qatari government over and over. And the court process is just not rational," Matt told Couric.
READ MORE:FIFA investigator: 'I had access to Qatar bribe docs before media leaks'
The couple appealed the sentence and are now under house arrest as the process unfolds. The prosecution has appealed the sentence as well. It is now asking for the death penalty.

"We have no idea what will happen. The court continues to use adoption as the reason that we are bad people. We love our two sons, and our sons miss us greatly, and they need us," said Grace.

The California Innocence Project believes the Huangs are being treated with suspicion by the Qatari government because they are a mixed race family. It suspects racially motivated suspicions to be behind the Huangs' arrest and prosecution.

"I am very fearful about speaking out," said Matt. "I'm scared of this court. I'm scare of what the authorities might do to us. We remain hopeful the US government will be able to step in and come to our aid."