FIFA investigator: 'I had access to Qatar bribe docs before media leaks'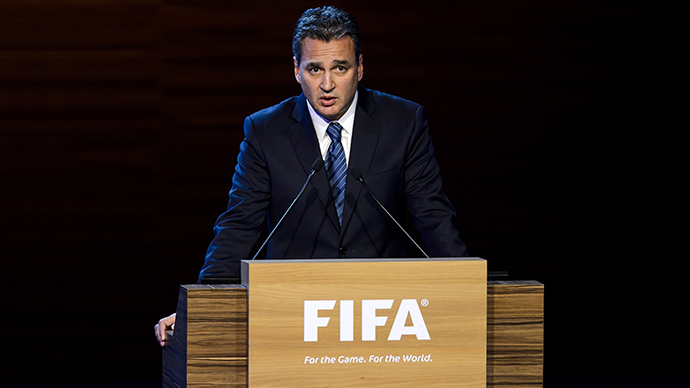 FIFA investigator Michael Garcia said he had prior access to the "vast majority" of data recently disclosed by media which reportedly reveal millions of dollars in bribes to help Qatar secure the 2022 World Cup.
Garcia said he would use the documents published by Britain's Sunday Times in his investigation, denying previous media allegations that he may ignore them.
"The vast majority of that material has been available to us for some time, since well before the recent wave of newspaper reports. That material has been and will continue to be examined and reviewed to the extent relevant to the investigation into the World Cup bidding process or any other investigation or inquiry," Garcia said, as quoted by AFP.
The Sunday Times has recently published several reports based on documents detailing on alleged massive bribery staged by former Asian football chief Mohammed bin Hammam.
Major sponsors of the 2022 Qatar World Cup are now calling for a thorough probe into the matter, while some FIFA delegates urge a re-vote if corruption is proven.
According to Garcia, investigators looked through the newspaper's reports and all the documents attached, and found "what appears to be the original source." They currently have the entire data.
The probe also consisted of interviews with members of all the bidding teams for the 2018 and 2022 World Cups, as well as with the members of FIFA's executive committee at the time of the 2010 vote.
German football legend Franz Beckenbauer, an executive committee member at the time, is reportedly facing sanctions for failing to cooperate with the investigation.
Garcia finished his probe on Sunday, but he isn't due to submit his report to the adjudication chamber of FIFA's ethics committee for another six weeks, AFP reported.
"What we cannot do and what I will not do is postpone indefinitely our work on the possibility someone may publish something we may not have seen. <…> we will follow our process, a process being considering the greatest number of allegations and issues in as thorough manner as possible," Garcia underlined.
The decision of the adjudication chamber is expected in September or October. The body has the authority to hand out sanctions, open a disciplinary procedure or make a decision there is no case to answer.
The scandal started at the beginning of June when reports emerged that top football officials in Africa received over $5 million in bribes to make sure Qatar would win the bid for the 2022 World Cup.