Ford seeks to monitor drivers for heart attacks behind wheel
Published time: 20 Oct, 2014 21:28
Edited time: 21 Oct, 2014 05:00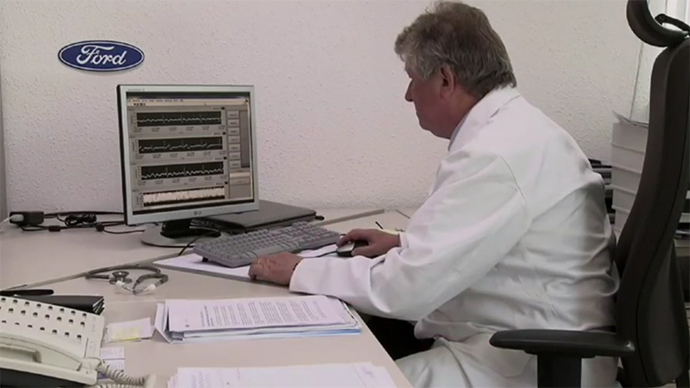 Ford is banking on an innovative plan to woo aging motorists to purchase their vehicles by developing a monitor in the driver's seat that will detect a potential heart attack, bring the car safely to a stop and notify the authorities.
Ford is developing a driver's seat that will monitor a driver's heart activity and that it hopes could one day reduce the number of accidents and fatalities that occur as a result of motorists having heart attacks behind the wheel, the company said in a statement.
"We observe mega trends, and we observe what customers want and what they will spend their money on," Pim van der Jagt, managing director of the Ford Research Centre, told FT. "100-year-olds driving cars will be not abnormal in the future."
The baby boomer generation is living longer and is more active than their parents were once they reached retirement age, and that's making companies around the world take notice. It's not just pharmaceutical companies who are paying attention to the world's rapidly aging population these days. By 2050, the number of people aged 65 and older will outnumber children aged five and under for the first time, the Financial Times reported. And that's creating challenges and opportunities for companies targeting the $15 trillion "silver" economy.
Jody Holtzman, the senior vice president of AARP's Thought Leadership group, told FT, "We asked our members 'What is the one thing you don't want to give up?' They said 'It's the car keys.' The fact is that the auto industry knows this."
But as drivers age, the risks increase and their skills decrease. They can lose peripheral vision, creating more blind spots in the car. Their hearing can disappear, so they can't hear horns and sirens. And they are more likely to have heart problems, leading to accidents behind the wheel.
Engineers from Ford's European Research Centre in Aachen, Germany, began working closely with Rheinisch-Westfälische Technische Hochschule, Aachen University on the prototype in 2011.
The seat "employs ECG (electrocardiograph) technology that monitors the heart's electrical impulses and detects signs of irregularity that can provide an early warning that a driver should seek medical advice, because he might be impacted by a heart attack or other cardiovascular issues," Ford Motor Company said. The prototype has six sensors built into the seat, and will work through the driver's clothing, unlike sensors in a doctor's office that require direct skin contact.
"The system will be able to detect if someone is having a cardiovascular issue, for example a heart attack, and could also be used to detect the symptoms of other conditions such as high blood pressure or electrolyte imbalances," said Dr. Achim Lindner, Ford Research Centre medical officer. "This not only benefits the driver; but also could make the roads safer for all users."
The sensors will work with a camera that would pick up on the driver has slumped at an unusual angle, the Independent reported. Once the seat identifies a heart attack, automated steering and braking systems will be activated. The seat can also be programmed to send an emergency call from the driver's mobile phone.
Van der Jagt explained the appeal of the prototype to baby boomers and their children.
"About 30 per cent of people above 65 have some kind of heart irregularity," he told FT. "If they are still driving, then they will have a real interest in this, that they will have it monitored in the car."
RWTH Aachen University Professor Steffen Leonhardt, who originally proposed the partnership between the research school and Ford, believes heart monitoring in the car is an ideal direction for automotive innovation.
"With increasing life expectancy meaning higher numbers of people and therefore drivers at risk of heart diseases, the ability to monitor hearts at the wheel could offer massive benefits in terms of health and road safety, both for the user and the wider public," he said in the Ford statement. "The car is an obvious choice; it's a place where occupants spend long periods sitting in a rather calm position and a place that's increasingly less physically demanding, making it the ideal environment to measure heart activity."
But the technology doesn't come without its drawbacks in an age of increased privacy concerns. And Ford Motor Company has had its own issues with coming off as "Big Brother" when it comes to customer data. At the January CES electronic trade show in Las Vegas, the global vice president for Ford's marketing and sales division got into hot water after discussing exactly how much data is being collected by his company's latest line of smart cars.
"We know everyone who breaks the law, we know when you're doing it. We have GPS in your car, so we know what you're doing," Ford's Jim Farley told the Vegas crowd.
"By the way, we don't supply that data to anyone," Farley assured attendees.
Farley later backtracked and apologized for the remarks. He told Business Insider that he didn't accurately portray the company's operations with regards to recording and logging user data.
Ford is yet to announce when the car seat will be made available but Mr van der Jagt said that it could take less than five years to put it into full production.